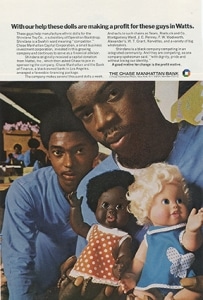 It all began following the 1965 Watts Riots in Los Angeles, California. Louis S. Smith, II and Robert Hall worked with civil rights activists and community members to form Operation Bootstrap, a cooperative that sought to rebuild the community and provide jobs for its residents. Operation Bootstrap's neighbor, Mattel, was impressed by its success. In 1968, Smith and Hall met with Mattel leadership. The makers of Barbie wanted to support Bootstrap's initiative and offered to back a toy business. That led to the 1968 launch of Shindana Toys, a community-owned company dedicated to making toys that "reflect Black pride, Black talent, and most of all, Black enterprise."
In its first year, Shindana produced Baby Nancy. Smith advocated that the doll was not to be a white doll "dipped in chocolate" like many of her predecessors. Black sculptor Jim Toatley meticulously fashioned Baby Nancy's face mold to retain Afrocentric features, which was key, since some manufactures had used the same production molds for both white and Black dolls. Baby Nancy had a dark complexion and her nose, mouth, and facial structure were designed to look Black. The first Baby Nancy dolls had rooted black synthetic hair in pigtails, a style that likely came from Mattel's suppliers.
Baby Nancy was born amid the Black Power movement, Civil Rights movement, and Black Arts movement. By Thanksgiving, she was the best-selling Black doll in Los Angeles, and before Christmas, retailers couldn't keep Baby Nancy in stock. In a 1968 Newsweek article, Smith noted, "Until now, it's always been a white Christmas. We've been left out. After all, can you imagine Black kids trying to identify with blond, blue-eyed dolls?" Shindana had proved that the market for Baby Nancy was there and soon began national distribution.
The following year, Shindana was determined to replace Baby Nancy's pigtails with a short, coarse Afro. Black hair had long been political. Some white plantation mistresses shaved enslaved women's heads as punishment. In the early 1900s, the growing middle class of Black people used various techniques to copy the hairstyles of white people. Style expert Lloyd Boston noted that their "look was a calling card to make people feel comfortable and unthreatened." In 1904, Nannie Helen Burroughs, founder of the National Training School for Girls and Women, stated that "what every woman who straightens her hair needs, is not her appearance changed, but her mind changed."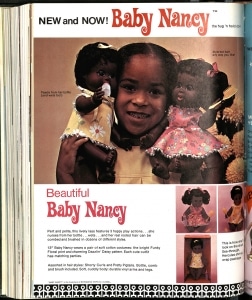 Shindana set to work to replicate natural Black hair with a special oven imported from Italy. They slid synthetic doll hair under the heat to crimp the hair. The factory workers then used a comb to fluff it out and give it a more natural appearance and texture. With the introduction of Baby Nancy with an Afro, Shindana demonstrated solidarity with challenging white beauty norms. This also marked the first time someone from the toy industry authentically attempted to replicate Black hair.
Over the subsequent years, Shindana produced Black dolls and games that never wavered from Operation Bootstrap's principles. However, Shindana never fully recovered from the tragic death of Smith in 1976. To further complicate business, Mattel's investments were not as altruistic as they had seemed. Some speculate that Mattel used Shindana as an idea incubator for how to reach Black consumers and had the power to pull Shindana products off the shelves when the company was ready to release its own set of Black dolls. Shindana ceased operations in 1983.
Baby Nancy stands as a landmark doll that made commercial and cultural breakthroughs, demonstrating precisely the type of innovation and iconic status that has earned her entry into the National Toy Hall of Fame.