Mary Valentine
The Strong Museum Trustee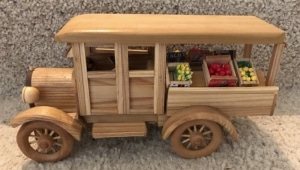 When I was a kid I loved to play "grocery." Every Saturday morning, I would hear Mr. Maroni's old produce truck groan as it came up the hill, turned the corner and slowly limped down my street. I would throw open the screen door on the porch, scamper past the glider, and fly down the steps out front to be there just as the big, uncovered wood-sided truck ground to a stop directly in front of my house on Lafayette Avenue.
My mother would follow with her change purse in hand. From the crates of fiery red beefsteak tomatoes and the orange-fleshed yams, to the bright yellow bananas, and the purple eggplant, I got to gently place the chosen pieces into the faded and dented aluminum scale in the rear of the truck, and watch the arrow spin around and stop at the weight of each selected fruit or vegetable. Then Mr. Maroni placed my chosen produce into small paper bags and handed them to me with a smile.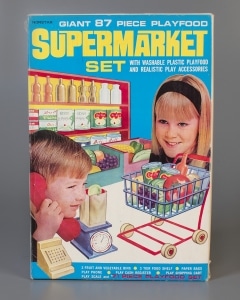 Then came my favorite part of the game. My mom handed me her change purse, and I got to sift through the shiny coins and choose the right amount to pay for my treasures. I counted out each nickel, dime, and quarter and proudly handed them to Mr. Maroni. Sometimes I would even get change back!
I discovered at an early age that learning was fun, and a big part of that was my mother encouraging me to choose the vegetables and fruit from that old wooden truck. How to pay for my purchases taught me not just arithmetic, but the value of each precious coin and spending it wisely. It also gave me a feeling of accomplishment, independence, and made my mother proud.
The ability to try to make good choices and learn the value of money are traits I have tried to foster in my life. Every time I shop for produce, I still remember my mother telling me to pick out a shiny onion or shake a musk melon to hear the seeds inside that would tell me it was ripe. I use a credit card now to pay for my purchases, instead of counting out change. But I still smile as I approach the produce aisle and recall fond memories of the "grocery game." I think I'll thump a watermelon on my next trip to the store.