Inducted: 2023
In 1996, at a time when most games were marketed toward male players, Barbie Fashion Designer proved that a game designed for girls could succeed. Widely acknowledged as the first market success in games for girls, in two months the game sold over 500,000 copies, outselling contemporary market leaders like Quake and DOOM. A market success, the game made $120 million in the first year.
Barbie Fashion Designer bridged the gap between the digital and the physical. Players used the software to design clothing for their Barbie dolls. Once designs were completed, they were printed at home on a paper-backed fabric. Players then decorated these printed designs with markers, paint, and more, dressing their dolls with the finished fashions. The game inspired a line of Barbie design and dress-up games—including other PC games and a variety of online games—but stood out in its integration of digital play with physical dress-up.
The game's design possibilities made it a creativity engine for fashioning and crafting, offering a plaything that had many of the same capabilities as high-end design tools. Girls loved it, and in the process gained better familiarity with computers' potential for designing both digital and physical things. In a 1998 interview Nancie S. Martin, Executive Producer of Barbie Fashion Designer, explained, "I have this sort of mission, if you will, that I want all those girls who are now six and seven, when they're twenty-six and thirty-six and forty-six, to still be using computers as a tool, and to remember that it's all because of Barbie."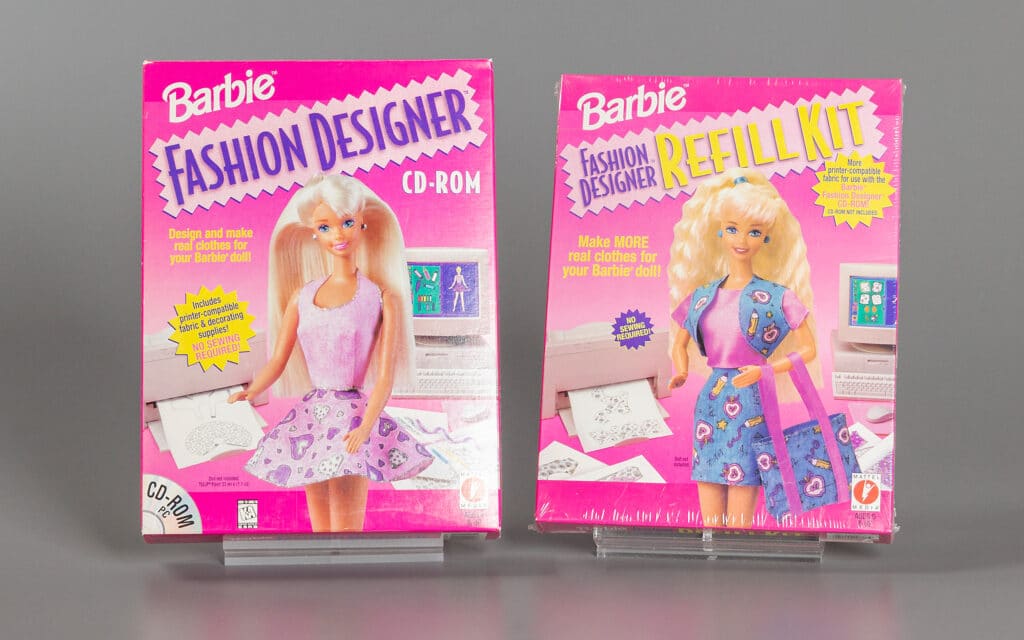 The success of Barbie Fashion Designer came at a time when stores treated "girl games" with skepticism and the idea of a successful and marketable CD-ROM for girls seemed preposterous. Jesyca Durchin, producer of the game, explained that when they first launched, "Nobody knew about it, nobody knew where to find it. I had a meeting with the Toys R Us buyer, and he literally said, 'Girls are never going to buy this, because girls don't play with technology, that's not for them.'" However, with persistence and the help of TV advertisements, Barbie Fashion Designer took off and showed the real market potential of girl gamers.
As Marsha Kinder of Intertext Media explained in a 1998 interview, "One reason girls haven't tended to play computer games as much as boys is that everything about these games—their player-positioning, content, and packaging, and the way they are advertised and sold in stores—everything is saying, 'THIS WAS DESIGNED FOR BOYS, NOT GIRLS'."
While lauding the game's success, Kinder also cautioned in the same interview that "pink games" like Barbie Fashion Designer potentially highlighted gender stereotypes and expectations even as they shattered them. Barbie Fashion Designer, like the Barbie brand itself, is at the center of many discussions about games for girls. Are these games reinforcing gender stereotypes? Do they play an important role in introducing girls to gaming? Do they prescribe identity for girls?
Barbie Fashion Designer became a jumping-off point for the girls' games movement, helping grow that segment from practically non-existent in 1996 to more than 200 titles in the American market in 1997. Where Barbie drew on many of the traditional assumptions about girls' interests, studios like Purple Moon and Her Interactive used the momentum to put out games inspired by extensive research that tried to identify what girls were looking for in games. The girls' games movement only inspired more questions and debate. What does it mean to be a game for girls? Should there even be games "for girls"? What are the implications of these games? What are the consequences of gendering games?
Nevertheless, what is undeniable is the way Barbie Fashion Designer shook up the software and gaming scene. No longer were girls excluded from the software aisle. No longer were boys the exclusive target audience of games. PCs were introduced to a new generation of gamers through a game that spoke to the existing play patterns of many young girls, in the process generating sales that narrow-minded executives had been missing out on.
Did You Know?
That Seventies Show (1998 – 2006) and Bad Moms (2016) actress Mila Kunis appeared in the 1996 television commercial for Barbie Fashion Designer.
Related Content
Venturing into Barbie's World
Heroines Just as Interesting as Heroes
Haute Couture Popping Up in Video Games