Coco Chanel said, "fashion is not something that exists in dresses only. Fashion is in the sky, in the street. Fashion has to do with ideas, the way we live, what is happening." I share Chanel's sentiments. During the Roaring Twenties, women abandoned corsets and opted for bust-less, waist-less, knee-length dresses. Post-war culture of the 1940s embraced tiny waists, full skirts, and for that matter, full breasts. Punk culture in 1970s London responded to the economic crisis by filling the fashion scene with ripped t-shirts, Doc Martens, and chains. Lately, we have witnessed the return of 1950s polka-dots, 1980s spandex, and 1990s rocker-chic red lipstick and safety pins. However, one new trend remains unique—video-game inspired haute couture.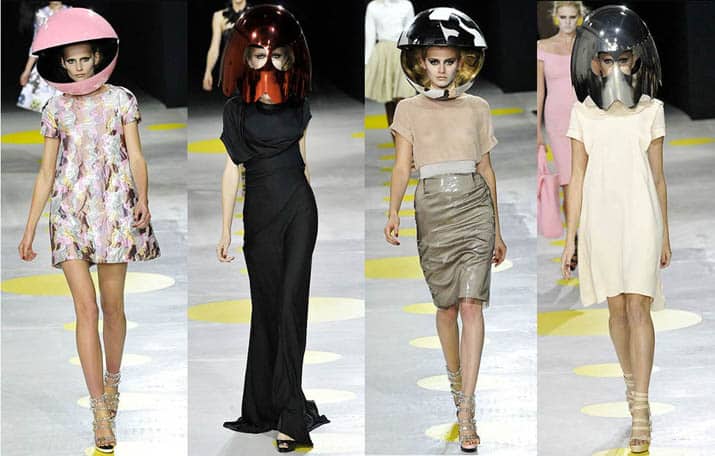 From cereal boxes to television, companies constantly seek innovative ways to market their products. The Italian design firm Diesel is one of the first companies to market their garments in video games. The protagonists of Capcom's Devil May Cry, Dante and Lucia, both wear custom-made Diesel outfits.
In Second Life, cosmetic and apparel companies such as Reebok, Aveda, American Apparel, Union Bay, and Addias sell their goods in the games' virtual stores. Second Life's game preview shows a tall, curvaceous woman in a red leather jacket and boot-cut jeans entering a store. Her face lights up as she models a skimpy purple number, militia attire, and a velvet ball gown. The fundamental appeal of fashion is similar to video games—both are highly interactive and often provide instant gratification. After seeing the preview, I couldn't resist some impulse shopping myself. Since my weekend wear typically includes leggings, scarves, and long sweaters, I opted to avoid dressing my avatar in the game's "Street Clothing" and instead selected the gothic number described as "Haute Couture." With untold numbers of creators—game players and professional designers—fabricating clothes on Second Life, we get to play dress-up with styles from around the globe directly from our home computers.
Fashion designers recognize the aesthetic and emotional appeal established between clothing and video games. During the 2008 London Fashion Week, Giles Deacon (British fashion designer for clients such as Princess Beatrice, Drew Berrymore, Scarlett Johansson, and Gwen Stefani) presented a futuristic collection based on the 1980s arcade game Pac-Man. Runway models wore oversized helmets in the shape of the character.
Examples of fashion labels incorporating video game logos and designs are increasingly popping up. In 2001, designer Masaaki Enami persuaded Nintendo Ltd. to permit him to produce original Nintendo shirts under the label King of Games. His Kyoto-based design team, EDIT MODE, achieved much success—Shigeru Miyamato (designer of Mario Bros., Donkey Kong, and many other hits) himself has been spotted in K.O.G. shirts. Joystick Junkies is another fashion label inspired by video games and digital culture. At the label's 2000 launch party, guests played 30 available arcade machines and attendees celebrated t-shirt titles such as "Chasing Ghosts," "Atari Confetti," and "Blue Invader."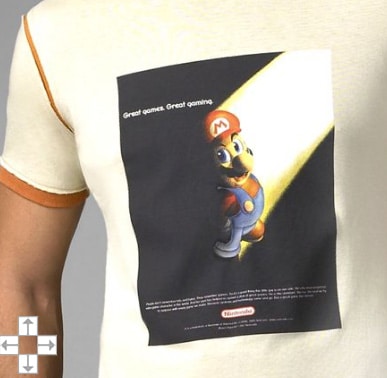 Some companies take fashion and video games to an extremely interactive level. In 2008, EA hosted a project runway contest on TheSims2.com Exchange. Participants submitted original outfits created with the help of The Sims 2 Body Shop, and a panel of Swedish H&M designers selected the winner. Beau Fornillos uploaded a nautical-inspired creation to the online runway, and shortly after, H&M stores worldwide were selling his winning design. In an Electronic Arts press release, Steve Seabolt, VP of Global Brand Development said, "Marrying a fashion forward company with a game and community recognized around the world for their user-generated content will allow people to reflect their personalities and express their creativity." Here at ICHEG, we have artifacts that illustrate this relationship, including collage-style poster boards created by teenage girls in conjunction with the Tech Savvy Girls program established by the University of Wisconsin at Madison. The board demonstrates how to "design cool clothes for the Sims 2".
As long as Dolce & Gabbana continue to make Mario tees, and designers like Karl Lagerfeld make cameos in games like Grand Theft Auto, Chanel's philosophy will continue to thrive. Next time you get ready for the day or play a video game, think about why you select a particular costume.