Video games have transformed the way we play, and The Strong National Museum of Play has long been at the forefront of collecting, preserving, and interpreting the history of gaming. Now, as part of a 90,000 sq. ft. museum expansion, guests have the opportunity to explore 24,000 sq. ft of new exhibits dedicated to video games. Among these new exhibits, ESL Digital Worlds: High Score provides guests with an unparalleled look at the historical and cultural significance of video games. But what can you expect to see and do in this dynamic exhibition space?
Six Thematic Sections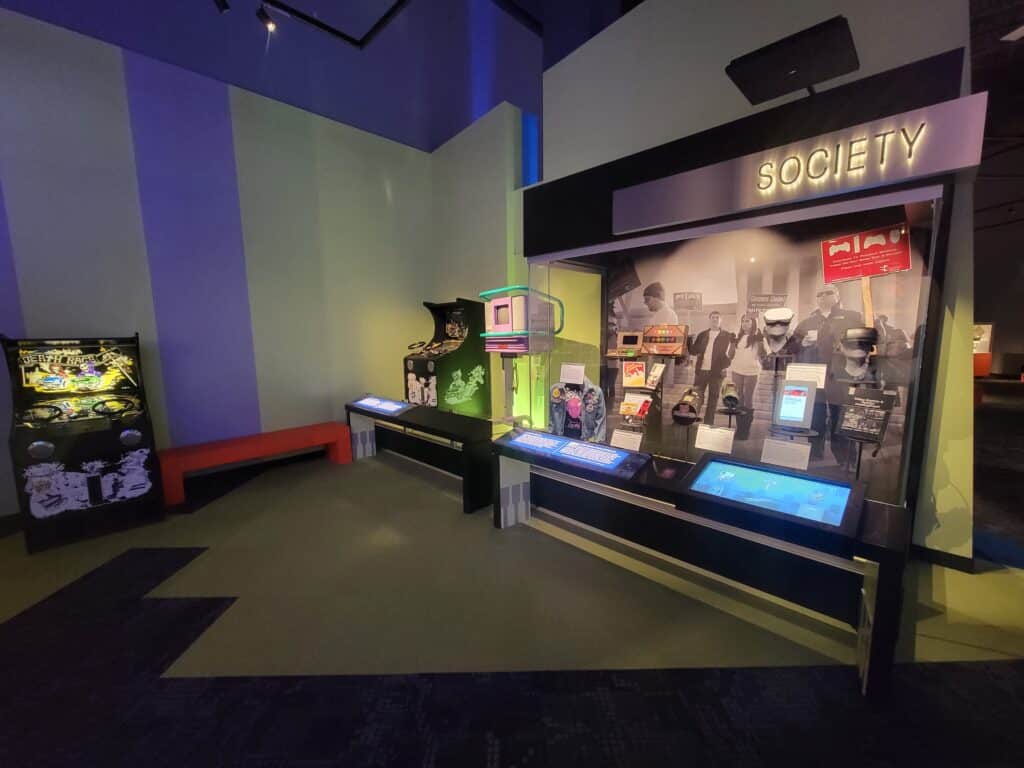 Because video games are a complex medium that blends art forms, technologies, and traditions, we've organized High Score around six major thematic sections focused on art, story, play, technology, business, and society. Each area includes a display of remarkable video game artifacts. For example, the technology section features a display of video game pioneer Ralph Baer's desk from his Florida home, Denise Chaudhari's Xbox controller design drawing, and designer and programmer Mark Lesser's prototype for Mattel Electronic Football (1977). The society section includes an original protest sign from the November 2010 rally on the steps of the U.S. Supreme Court during oral arguments for the Schwarzenegger v. Entertainment Merchants Association case. In this section, guests can also see and play a recreated version of Death Race, the 1976 arcade game that sparked the first public outcry over video game violence.
World Video Game Hall of Fame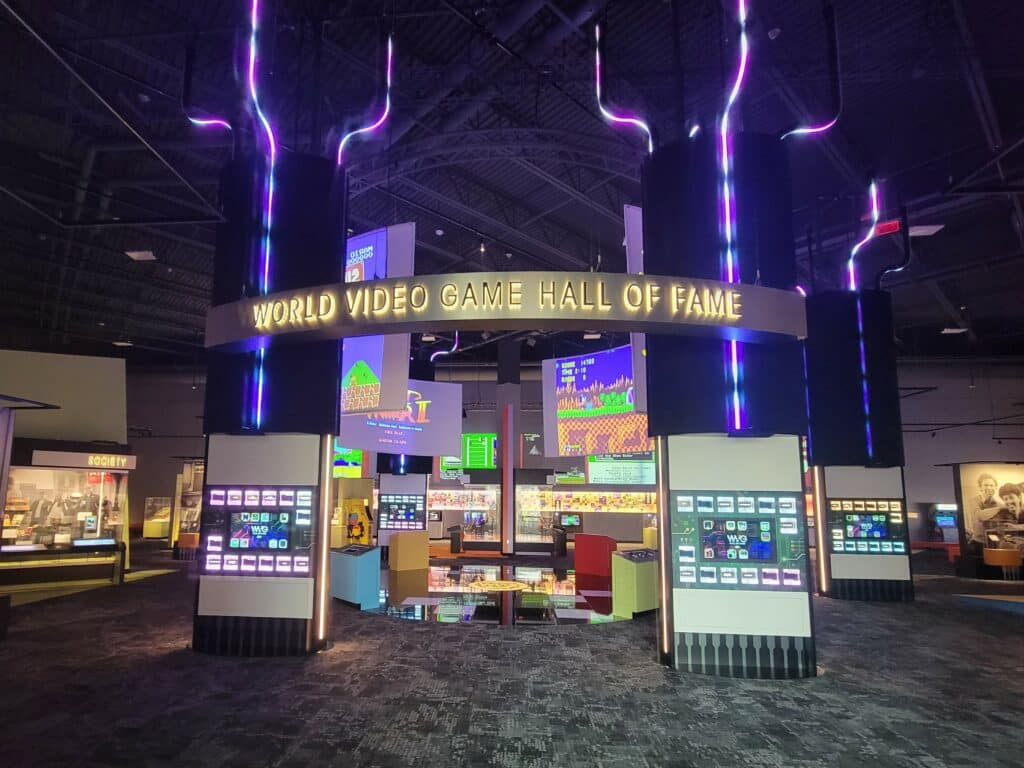 At the center of High Score, a circle of towering columns and four enormous overhead screens introduce guests to The Strong's World Video Game Hall of Fame. Here, we celebrate, and explore the Hall of Fame's inductees through informative videos, playable games, and a series of artifact cases that highlight the key criteria for hall of fame induction, such as icon-status, longevity, geographical reach, and influence.
Timeline of Video Game History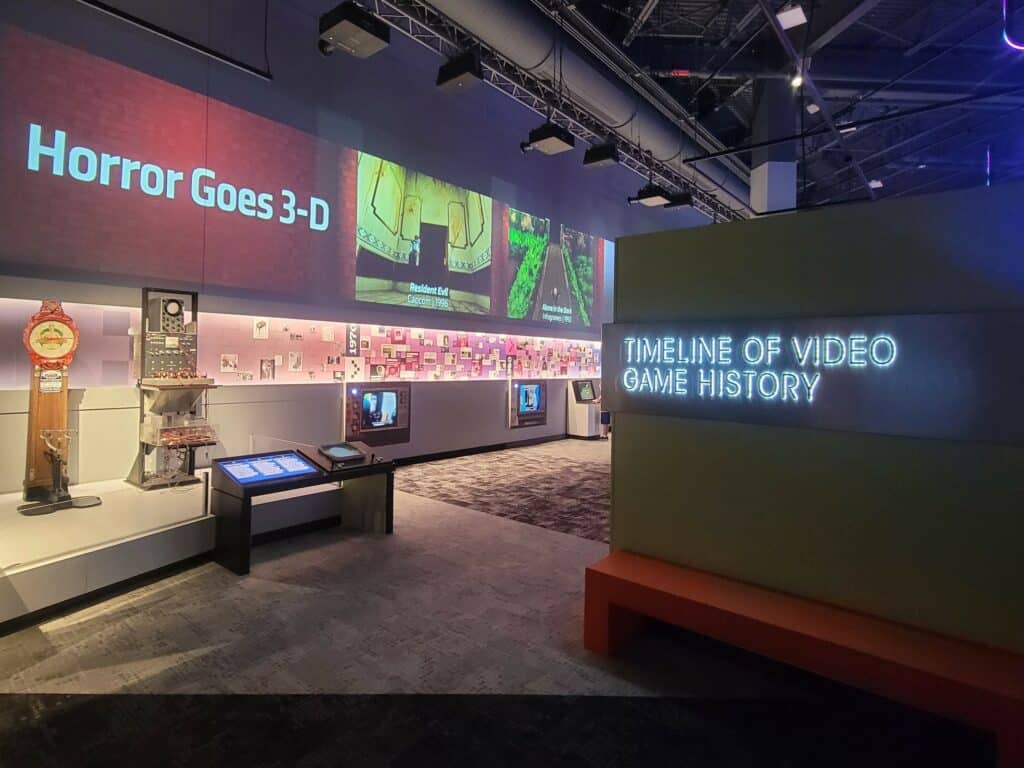 Guests looking for a chronological view of video game history are in luck. High Score features a massive 90-foot-long multimedia timeline that explores more than five decades of video game history. See iconic artifacts like a recreation of one of the earliest video games, Tennis for Two (1958); the first commercial video game, Computer Space (1971), and an Atari 2600 E.T.: The Extraterrestrial (1982) video game cartridge dumped by Atari and excavated from an Alamogordo, New Mexico landfill in 2013. Along the way, play a version of the 1962 minicomputer game Spacewar! and sit in a period room where guests can compete at the fighting game Super Smash Bros. Melee (2001).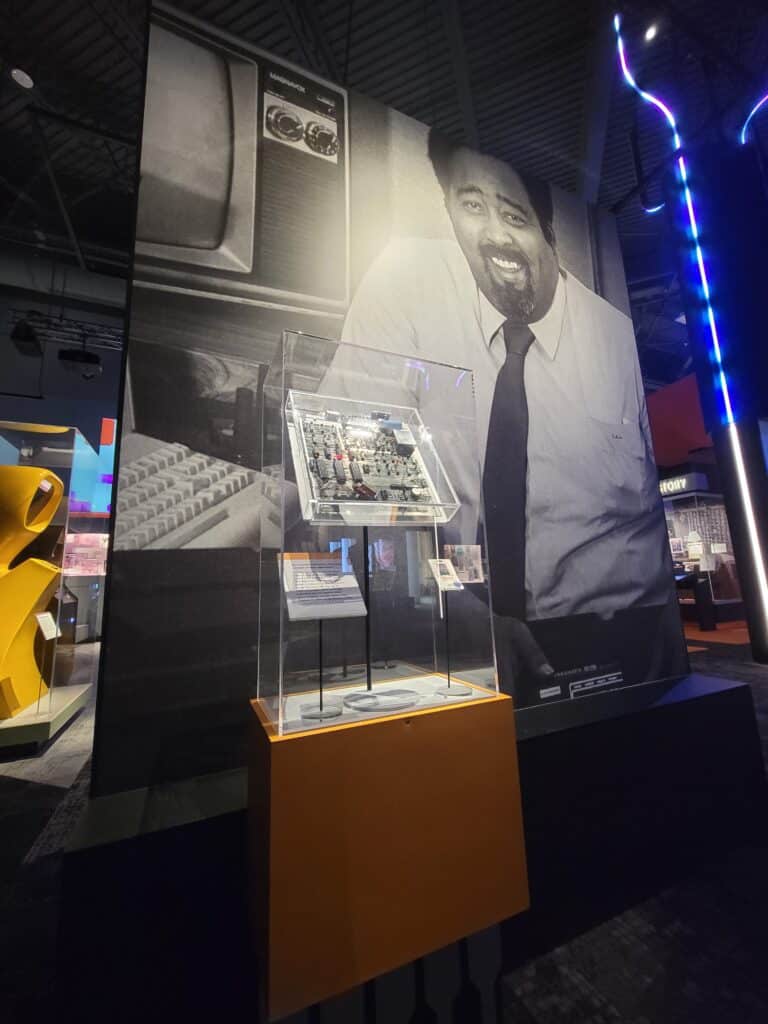 Video Game Luminaries
Because video game histories often focus on the games themselves at the expense of the people who helped build the industry, guests can learn about key video game luminaries through a series of eight displays. These 9-foot-tall graphic panels and accompanying artifact cases, help shine a light on the work of trailblazers such as Jerry Lawson, the Black engineer who led the team that developed the first cartridge-based home video game console, and Carol Kantor, who created the game industry's first market research program while working at Atari.
Women in Games Initiative
High Score is also the new home for The Strong's Women in Games Initiative. Although women's stories are featured throughout High Score, guests interested in focusing on these stories in particular can take the Women in Games Artifact Tour using the Bloomberg Connects app. The tour highlights 12 Women in Games artifacts, including Sierra Online cofounder Roberta Williams' game design notes from King's Quest II (1985), and artist and graphic designer Evelyn Seto's Wonder Woman pinball prototype playfield artwork.
Indie Arcade
The independent games movement has transformed gaming over the last two decades. Initially viewed as a reaction to the growth of big budget games, today independent and experimental games offer genre- and convention-breaking alternatives to mainstream titles. In High Score's Indie Arcade, guests can play a variety of independent games, including Trombone Champ (2022), a game that lets you play a digital trombone with a computer mouse. Guest can also play an arcade version of Hair Nah, artist Momo Pixel's 2017 game about "a Black woman who is tired of people touching her hair."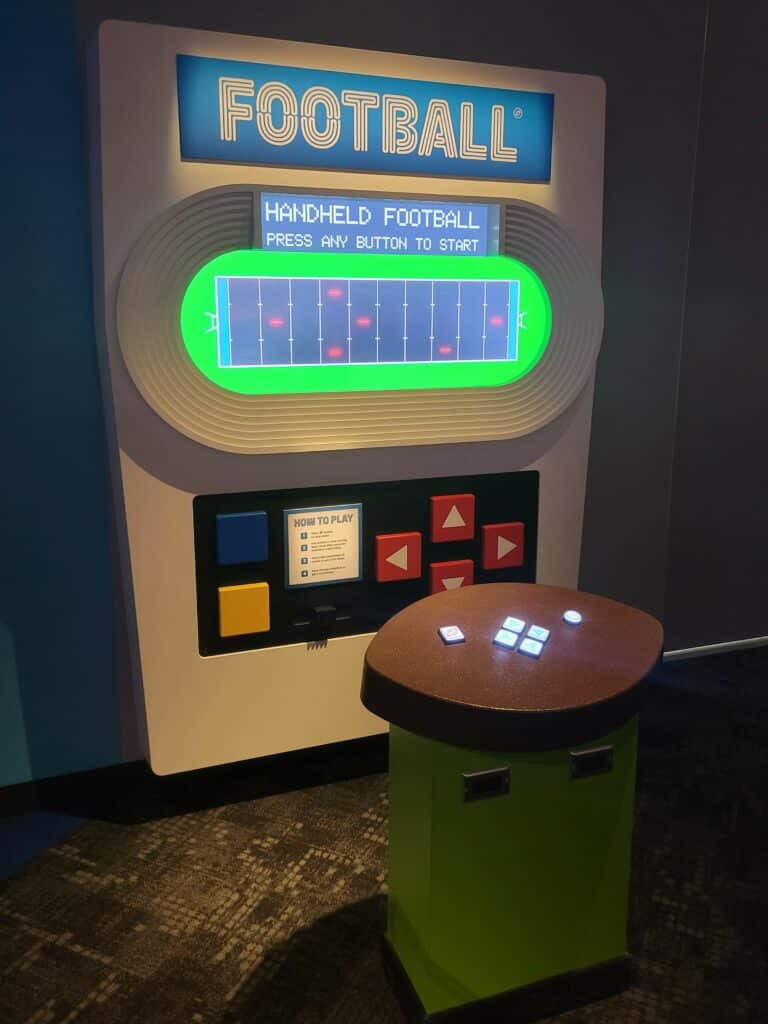 In addition to all this, guests can also play video game tennis on a giant 1970s-style console television or dodge digital tacklers on an oversized handheld electronic football game. There's so much to play, see, and discover in High Score, there's no doubt you'll walk away with a new, or greater, appreciation for the history of gaming.