In the very few movies that have depicted museum staff, the characters have usually worn little white cotton gloves when handling precious collections items (for example, 2004's National Treasure, where an archivist helps protect the Declaration of Independence from being stolen). When I tell people I work in a museum, they almost always mention or ask about the white cotton gloves. But is that a realistic depiction of how actual museum staff handle collections?
Are gloves necessary for handling collections?
As part of my job as conservator at The Strong, I have the pleasure of providing collections training to new staff members who will be working directly with the museum's artifacts. My last blog covered hazardous materials in collections, which is another topic I cover in the training, but one of the more important topics we discuss is the museum's policy for wearing gloves while handling the collection. But why wear gloves? At The Strong, we wear gloves to handle the collection because of the diversity of our objects (we have items that have various components including metals, plastics, electronics, wood, film, photographs, etc.), for the safety of those handling the objects (unidentified dirt/debris, mold, hazardous materials, etc.), and for the long-term preservation of our collection (a fingerprint on the right surface can actually be permanently etched in over time). However, there are a few exceptions for our staff to wearing gloves: handling two-dimensional works on paper and what we call "use-ifacts." Gloves are not necessary for handling two-dimensional works on paper due to their inherent fragile nature and the need for the highest tactile ability for the handler. Typically, freshly washed and dried hands are suggested for handling two-dimensional works on paper. Gloves are also not worn for use-ifacts, which are items in our collections that guests actually get to interact with and play when they come to the museum. Use-ifacts include items like our pinball and arcade games. Books are also often the other exception to the rule for wearing gloves, however the decision to wear gloves or not for books usually comes down to the handler's preference. Again, typically freshly washed and dried hands are suggested for handling books. For me personally, unless the book is extremely fragile or difficult to handle, I will wear gloves for handling. Often, books come into conservation for cleaning, which means there is an unidentified material that needs to be removed. Sometimes that unidentified material is just dust or grime, other times it could possibly be mold. So, I often choose to be protective of myself and the book by wearing gloves.
What type of glove to wear?
White cotton gloves were the museum standard for decades. They were easy to come by, cost effective, and could be washed and reused. Cotton gloves however, can snag on textured surfaces or fragile areas and actually cause significant damage. They also do not provide a good grip for items with smooth or slick surfaces or when something is heavy. With modern research and changing practices, nitrile gloves have now become the museum standard. Why wear nitrile gloves you might ask? They are made of a synthetic rubber that does not irritate many people's hands (unlike latex, which many people are allergic to). They provide the most dexterity for handling objects safely and will not snag on fragile surfaces of objects. They also protect the handler from dirt/debris or toxic materials on/in objects and can easily be disposed of.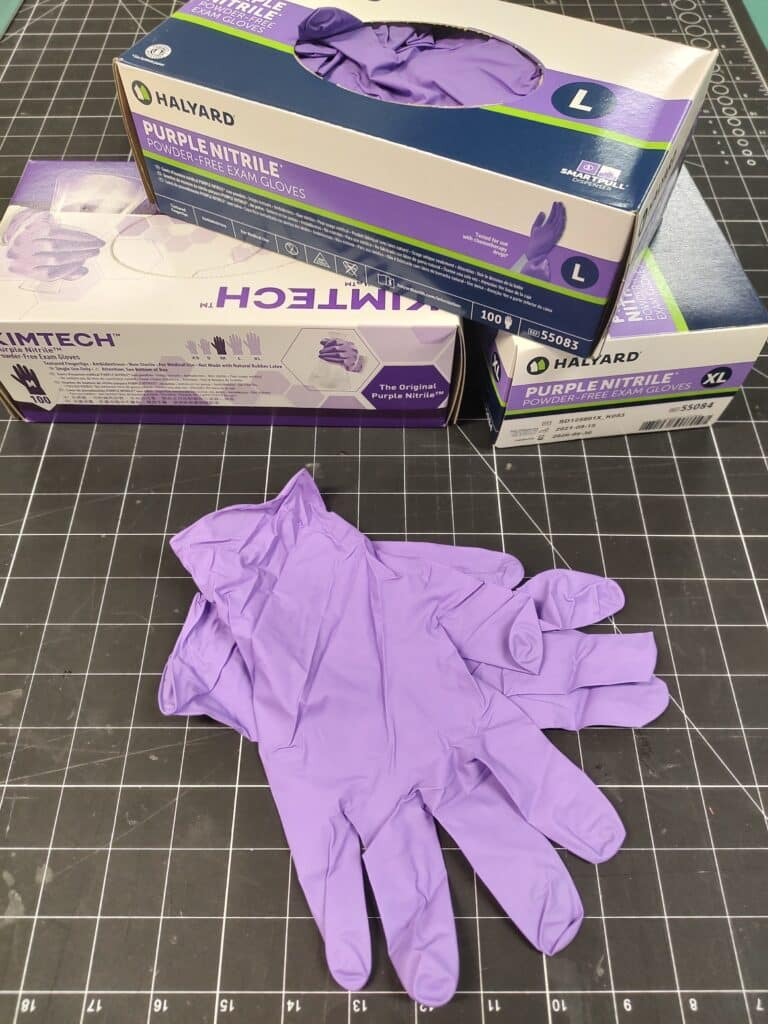 Summary
My personal rule of thumb for handling anything in a collection—especially if there's ever a question of whether to glove or not to glove—I often tell colleagues that wearing gloves is usually your best bet (and safest). Exceptions may include two-dimensional paper-based collections and books, in which case freshly washed and dried hands are recommended.