By Adam Nedeff, researcher for the National Archives of Game Show History
Last month, our National Archives of Game Show History blog post shared excitement about the release of our oral history interview about Jack Barry & Dan Enright Productions. Because of that, we didn't get a chance to acknowledge an important milestone in the month of September. It may already be getting into the next month, but we want to revisit September 18 and 19, 1983. In hindsight, they were two of the most important days in game show history, although at the time, none of the people involved could anticipate just how special any of it would become.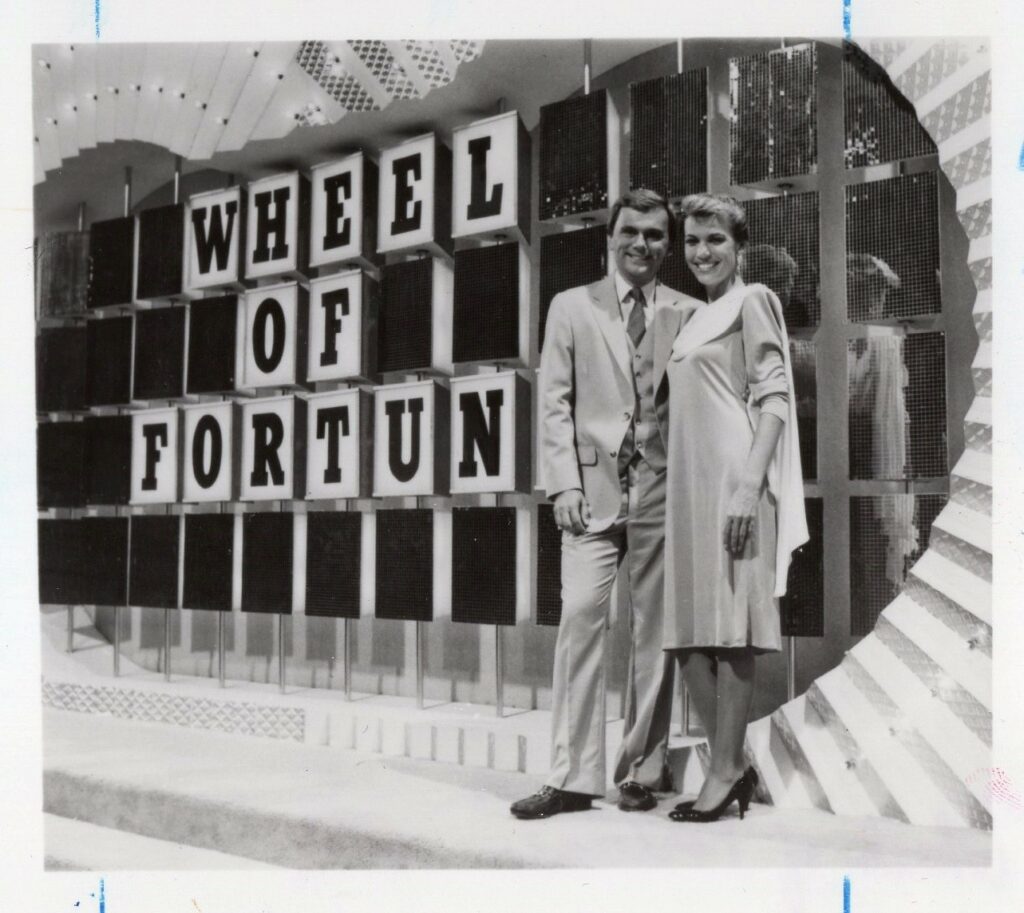 On Sunday, September 18, 1983, Alex Trebek walked onstage to host his first game of Jeopardy! The game had previously enjoyed 12 years on NBC with original host Art Fleming. In the 80s, the popularity of the board game Trivial Pursuit convinced Jeopardy! creator Merv Griffin that the audience was hungry for a tough trivia quiz on television. What better quiz than the classic game that they already knew and loved?
Art Fleming would sit out the new version, replaced by Alex Trebek, best known to viewers at that point for High Rollers and Battlestars. The game he hosted on September 18 never aired, nor was it intended to; it was a pilot, for Griffin and King World (the company that would sell the show to local stations) to evaluate. The first outing was a strange looking one. The game board for the pilot was designed to look like a gigantic Apple home computer, with the contestants seated at three smaller "computers." Despite the high-tech look, it was a low-tech operation. The clues on the board were printed on cardboard slabs (as on Art Fleming's incarnation), with concealed crew members revealing them by hand.
But one familiar element was there—the confident, erudite hosting of Alex Trebek. Jeopardy! went on the air the following autumn and became—well, explanation unneeded.
Another note about that pilot; before the audience arrived, a rehearsal game was played to help acclimate Alex Trebek to the game. One of the contestants for that rehearsal was National Archives of Game Show History co-founder Bob Boden.
The following morning, Monday September 19, saw the debut of a modern game show classic: Press Your Luck, the game of big bucks and Whammys. CBS daytime boss Michael Brockman (who spoke with us for an oral history now available for viewing on our website) had originally bought the show for ABC in 1977, under the title Second Chance. The show had a short run due to commitments that Brockman had already made to other productions, but the executive saw something special in the game and kept it in mind. By 1983, he was at another network, with a 30-minute gap to fill in the morning schedule. He asked Second Chance creator Bill Carruthers to modify and modernize the game slightly.
Carruthers reinvented the static 18-square board of the original series to a lively, flashing, 54-square board that mixed and matched different prizes, cash values, instructions, and the vile Whammys, those little red monsters that taunted the contestants and took away all their money. The host was commercial pitchman Peter Tomarken, who later quipped that he was the host of the most popular game show whose title nobody remembered (most fans didn't know the title Press Your Luck when they recognized him in public; they all thought the name of the show was Big Bucks No Whammys). Press Your Luck became a cult classic, running for three years before enjoying a phenomenal afterlife through reruns in syndication, on USA Network, Game Show Network, and Buzzr. It would be revived twice in the 21st century, as Whammy! The All-New Press Your Luck for Game Show Network, and again under its original title for ABC, where it is now beginning its fifth season in prime time.
That evening, game show fans settled in for the nighttime debut of Wheel of Fortune. Wheel had been a daytime game on NBC for the past 8 ½ years, and while 8 ½ years is certainly a respectable tenure for any show, it had never been a particularly noteworthy success.
And that's why the TV business was blindsided by what happened when nighttime Wheel quietly debuted in the fall of 1983. The show exploded. It became a national phenomenon; by 1986, it was averaging 40 million viewers per night. To put that in perspective: on an average night in 1986, more people saw Wheel of Fortune than saw the movie Star Wars in all of 1977. "Vanna-Mania" swept the country, with letter-turner Vanna White releasing an autobiography and even a line of Barbie-style dolls in her own image. Host Pat Sajak's bone-dry wit was a unique style that made him stand out in his own way in the television landscape. And a simple game—hangman with a wheel, a game that anybody could play—turned into a game that everybody would watch.
Jeopardy!, Press Your Luck, and Wheel of Fortune: Three iconic game shows that have almost nothing in common except for two details. They all got their start in that two-day stretch in 1983—and all three of them are still on the air in the fall of 2023.
DO YOU REMEMBER…THESE OTHER GAME SHOWS ON THE AIR IN SEPTEMBER 1983?
DREAM HOUSE (NBC) – Bob Eubanks hosted a Q&A game played by young married couples. Winning the game earned a room's worth of furniture and appliances. The winners played the bonus round for the grandest grand prize on television: a house, to be constructed anywhere that the couple wanted.
TATTLETALES (CBS) – Bert Convy hosted this series, in which celebrity couples played a game similar to The Newlywed Game. The studio audience was divided into three rooting sections, one for each couple onstage. All the money that a couple won by correctly matching answers was divided among the audience members in their rooting section. CBS installed a check-cutting machine in the back of the studio, and the audience collected their winnings on the way to the exit.
SALE OF THE CENTURY (NBC) – Jim Perry was the host as contestants answered trivia questions worth $5 apiece. The game would be interrupted several times by Instant Bargains, in which players were given the chance to buy prizes at extreme discounts: A sailboat for $6, or a dream vacation for $13. The champion accumulated money in their "savings account," with bigger prizes available as they won more games—a Cadillac on sale for $530, or a briefcase stuffed with $75,000 for $650.