Any state fair, carnival, or amusement park needs to have a Ferris wheel. Ferris wheels rank up there with carousels, roller coasters, and cotton candy as essential elements of those summer destinations. Despite their familiarity today, the Ferris wheel first impressed riders and onlookers as a dazzling new mechanical wonder more than 100 years ago.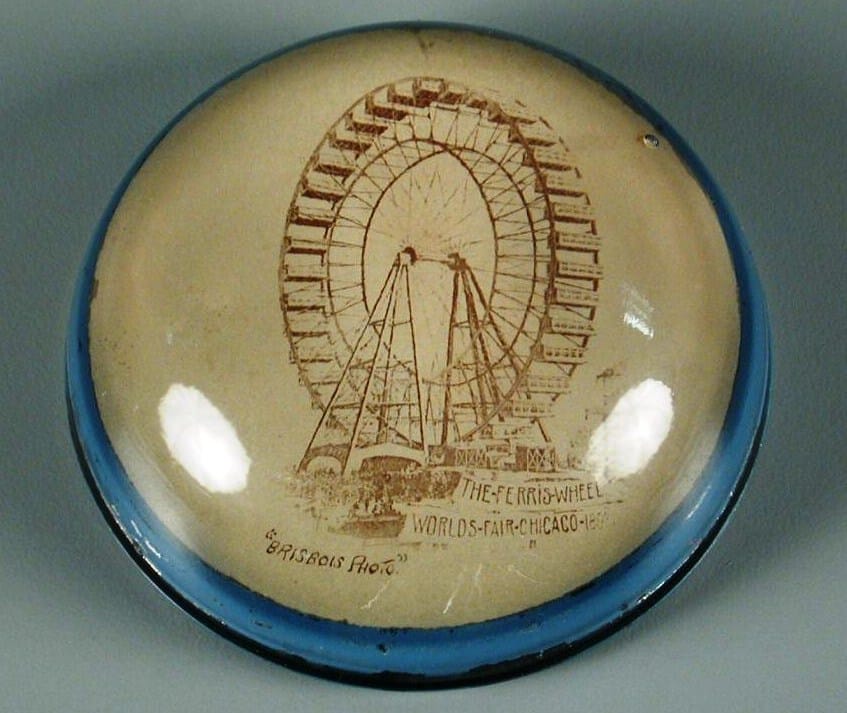 The great world's fairs of the 19th century aimed to showcase their host nations' technological prowess. In 1851, the Great Exposition trumpeted Great Britain's industrial might and took place in an architectural wonder, the Crystal Palace. The 1876 Centennial Exposition in Philadelphia featured the massive Corliss steam engine, and the Eiffel Tower anchored the Paris Universal Exposition of 1889. The Columbian Exposition, held in Chicago in 1893 to commemorate the 400th anniversary of Columbus's arrival in the New World, needed to offer something even more spectacular than those previous creations.
George W. Ferris, inventor of the Ferris wheel, started his career as a bridge builder. His intuitive sense of the importance of using structural steel in bridges and railroads made him a successful and prominent engineer. In 1891, Ferris attended an informal meeting of architects and engineers responsible for the World's Columbian Exposition. The project's construction chief, architect Daniel H. Burnham, implored the group to come up with a way to outdo the Eiffel Tower. Based on his engineering background, Ferris decided to apply structural steel to the solution he offered. Though initially dismissed as lunacy, Ferris eventually got permission to create an enormous, rotating steel wheel that people could ride on—the world's first Ferris wheel. Standing 250 feet tall and capable of carrying approximately 2,000 riders at a time, Ferris' wheel was nothing short of an engineering marvel. It became a hit attraction at the Exposition and, at 50 cents a ride, earned more than $725,000 during the fair. Though the original Ferris wheel only survived until 1906, Ferris wheels soon became a staple of fairs and amusement parks across the country.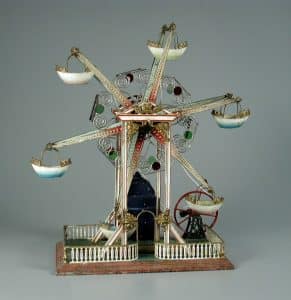 Ferris wheels also soon appeared as toys, and The Strong holds a rich variety in its collections. The Hy-Lo Ferris wheel carries its riders in what seem to be little Quonset huts—not so great for appreciating the view from the top of the ride. By contrast, the riders on this Ferris wheel seem to almost float in mid-air, supported by an airy superstructure. A 1915 German Ferris wheel sends its riders aloft on a skyward voyage in little boat-shaped gondolas.
Toy Ferris wheels make a special appearance this summer at The Strong in Boardwalk Arcade, an exhibit that takes guests into a scene reminiscent of Coney Island and Atlantic City of a century ago. Come take a look at these and other Ferris wheel examples from the museum's collections. And after you've finished admiring these mechanical marvels, you can test your skill at such classic seaside activities as Skee Ball, ring toss, pinball machines, and arcade video games. Although none of the Ferris wheels on display are big enough to ride on, the exhibit is sure to transport you to memorable fun.