The presents have been unwrapped, the new year celebrated, and the holiday treats devoured. Now what? For many folks, the post-holiday season appears bleak, with only frigid weather and sunless days stretching out over the weeks ahead. But for some, the fun has only begun. If you're an avid skier, snowboarder, or snowmobiler, you've just started enjoying the season and delighting in fresh white blankets of snow. Perhaps you've even pulled out your snowshoes or the old Sno Bronco.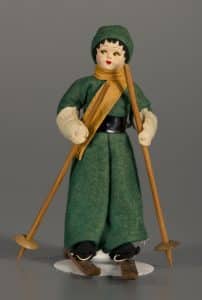 As a child I looked forward most to summer, but primarily because it signified the end of the school year. On the other hand, I loved winter, too, for the many outdoor activities it offered (and the possibility of a few snow days). Around age five, I learned to ski down the hills in our backyard with the steady guidance of family members. Those same hills also proved the ideal crowd-free sledding location for my friends and me—and the close proximity to a warm kitchen stocked with cocoa didn't hurt either. Despite our household's assortment of molded plastic sleds, I always preferred snow tubes, since they skimmed across the surface of the snow faster, particularly when pulled by a snowmobile. I eventually discovered an alternative use for those molded plastic sleds: makeshift snowboards. I also found the sled bearing my brother's name in black permanent marker worked best.
Snow play also offered tremendous room for creativity and strategic thinking. Snowball fights required quick thought and agility, and perhaps the use of a Sno Baller or two for the most dedicated competitors. Constructing snow forts and snowmen made the hours melt away, as perfecting an igloo or getting the mouth just right on your new frosty friend can be tricky. Each year, my mother and I saved empty cardboard milk cartons to fill with colored water and leave outside. Once they froze, we'd peel off the cardboard exterior, revealing a beautiful, colored ice block, the perfect whimsical accent for any igloo or fort.
Even without sports equipment or a saucer, snow inspires play. In the second grade, my fellow classmates and I devised a new game once we had grown bored with the snow-covered playground. Snug in our colorful snowsuits, we would get a running start and then drop to our knees at the top of a small incline, sliding downward at what felt like lightning speed. Needless to say, our snow pants didn't fare very well, but we certainly had fun.
Whether you enjoy outdoor sports, sledding, or simply a fireside game of Blizzard of '77, I hope this winter provides you with countless hours of snow related play … and a good cup of cocoa, of course.