As video game graphics became more advanced, the tools required to create them also became more advanced. Artists today can choose from any number of free and paid software tools, allowing for the creation of both 2D and 3D graphics that could only be dreamed about just decades prior. In the past, though, developers needed to develop those specialized tools themselves.
Following the release of 1972's Pong, Atari's arcade games grew increasingly complex. Lunar Lander in 1979 was the company's first title to use a vector display, which drew lines rather than the individual pixels of more common raster displays. Atari pioneered the use of flat-shaded 3D polygons with 1984's I, Robot, but 2D graphics still dominated for the years that followed.
Atari developed a new graphics format, RAD, around the time of 1987's Blasteroids. This format allowed for high-quality 2D asset creation, with the ability to define cells of fixed pixel sizes. This made it easier for artists to create and view the animations they were creating.
The RAD graphics terminals included a digital drawing tablet to aid artists. The machines connected via network to central VAX machines, one of which, Gawd, is in the museum collection. This machine not only provided internal communication for Atari, but also the ability to work directly on their games using computers that were more capable than many individual computer workstations of the time.
While I have been unable to recreate the VAX environment that Atari used, a RAD tool does exist for DOS computers, created by the Tengen team to format graphics for the SEGA Genesis home console. This tool isn't a full-fledged editor and cannot open every RAD file in the collection, but it can give us a glimpse at previously inaccessible graphics files.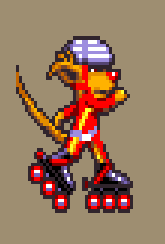 One Tengen title to use RAD files was Awesome Possum…Kicks Dr. Machino's Butt. What did we learn? A documentary by Gaming Historian on YouTube pointed out that the design for the lead character was changed to be more cute, though no graphics were known to still exist. While no playable version exists with this early design, the RAD files do reveal what the main character looked like early in development. Another file includes an alternate title for the game, Wacky Raccoon. The Gaming Historian states that Tengen decided on "Awesome Possum" on May 13, 1993. This RAD file, from May 18, 1993, is likely the only surviving example of any alternative titles ever being considered.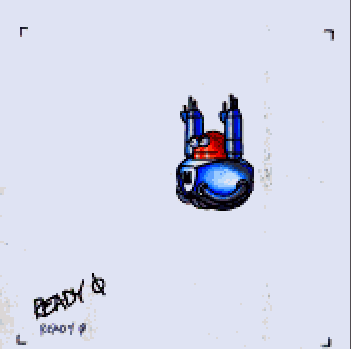 RAD files also give insight into the artistic process. For one title, Cyber Storm, paintings originally on paper were imported into the computer, where they were edited for the game. Cyber Storm was never finished, though the museum acquired a prototype of the title from February 1993. Despite the incredible archival collection of Atari material, none of the physical paintings are included, meaning that these digital versions may be the only surviving versions of the art. These files also reveal art that was created after the prototype, showing that work continued on the game.
Many other Atari titles between 1987 to 1993 used the RAD format, with multiple games that never reached market. As the artists began to create more assets directly on computers, physical art became less common, giving these digital files even more importance, as they allow us to better understand the company. Seeing art that likely hasn't been looked at since the 1990's is pretty rad, if I say so myself.