In the Autumn, 1975 issue of Strategic Review, the precursor to Dragon Magazine, Gary Gygax wrote:
John Bobek and Bill Hoyt have used D&D as a teaching aid in grade school classes. Bill has a great little book of accounts of adventures and illustrations of monsters prepared by his 6th graders. Wish I'd have had such luck as a child . . .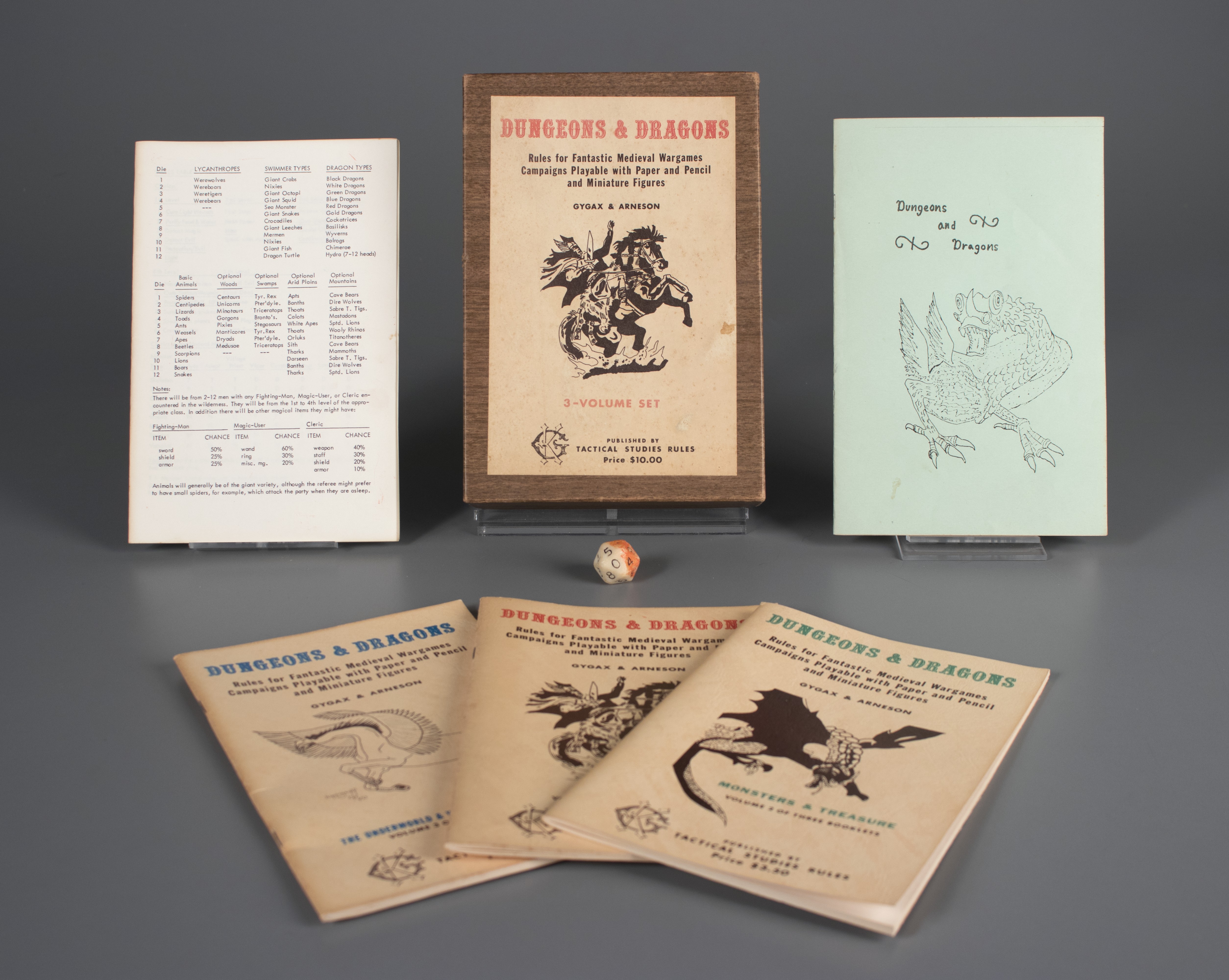 Role-play gaming as a formal and specific game type began with the invention and introduction of the original Dungeons & Dragons (D&D) game set, and two men—Gary Gygax and David Arneson―worked out the basics of the game. These two played games with friends, many of whom witnessed and played the new role-playing games (RPGs). Sadly, few of those players are left alive today, some 47 years later. But former teacher William (Bill) Hoyt was there, and I recently interviewed him about those times. And Bill used one of the first editions of D&D to teach a sixth-grade history lesson. The Strong holds that very game, as well as his printed instruction manual for the class and one of the booklets mentioned in the Gygax quote above, produced by the students and describing their role-playing experiences.
The Strong purchased this early D&D set, known among collectors as an original or "first alpha" set, from an online auction. The vendor knew that Bill Hoyt had taught with it; she worked with him in the past and his handmade teaching booklet was still inside. The game became part of Strong's online collections and Bill heard about it and telephoned me. "I'm Bill Hoyt, and your old Dungeons & Dragons set used to belong to me!" We were grateful, too, when he donated a booklet his students made, his handmade polyhedral die, and a set of the first dice that D&D maker TSR, Inc. sold separately from the games. He also provided us with some written history.
Hoyt's school lesson "Medieval Fantasy Unit" began with a set of rules, just like any RPG. Here is just a sample of parts of the rules page:
Objectives:
To teach mythology and legends of the medieval period.
To teach Map reading and map making skill…
Setting:
This world is a small town with no modern conveniences.
For years barbarians have killed and stolen and ridden through the countryside…
Roles for students:
Magician: to know the myths and legends
Priest: to make the maps
The Bard: to write the stories
The fighters: to protect and help the others.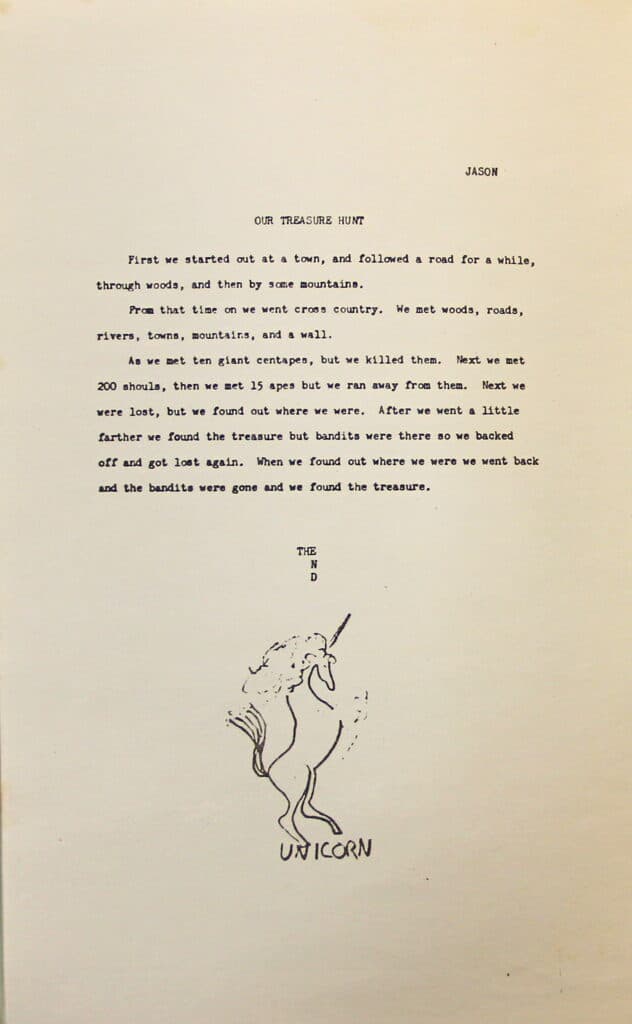 What follows are numbered descriptive paragraphs of potential outcomes specific to students' roles in the story, and they are directed to other paragraphs depending on which choices they make, or what has befallen them as they journey. All this is fascinating to read now, but even more captivating are the notes the student bards recorded of each group's adventures in the students' booklet, simply titled "Dungeons and Dragons."
First we ran into one hundred centipedes that were poison. Then we ran into sixteen white apes that would tear you limb from limb. Then we ran into three green dragons that would spit out a big cloud of gas that would poison you, but they were sleeping—Julie K.
Scholars have shown that the 1960s and 70s were a time of experimentation in teaching, including the use of games. The Strong holds many board games that were developed specifically for classroom use. Other issues contributing to this experimentation in education included anti-Vietnam war sentiment and its effects on youth culture and counterculture that arose from the war and other events. Research has also shown that after the Civil Rights Act of 1964 passed, administrators and educators sought reforms and new methodologies for teaching desegregated classes with divergent backgrounds. They found that students from middle class areas learned differently than those from disadvantaged neighborhoods. It appears that teaching through the means of playing games was not such a new idea. But role-play gaming in this way was virtually unheard of in grade school. The Strong has Bill Hoyt to thank for sharing his experiences with us. We will use his story and experience when we interpret the early D&D set in future exhibitions.