While processing the Don Daglow papers for The Brian Sutton-Smith Library and Archives of Play, I had the privilege of sitting down with Daglow himself when he was in Rochester for an event here at The Strong. Though our time together was short, the stories he told me made a big impression. I think it's important to document these details that provide so much context for the materials we have in our archive and I'm happy to share these fun anecdotes with you.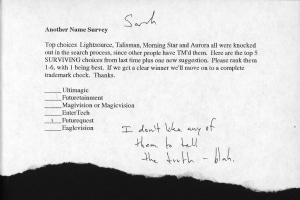 The first story relates to the company's name change from Beyond Software to Stormfront Studios. According to Daglow, the company had been trying very hard to find a new name that would differentiate itself in the industry. Finding one that employees liked and that also cleared the trademark search proved difficult. Daglow came back from lunch one day to find a post-it on his computer with the proposed name "Stormfront Studios" written on it. Thinking that it was co-worker Sarah Stocker's handwriting he asked if she wrote the note, to which she teased him about being able to recognize her handwriting. Daglow said the proposed name cleared the trademark search (no easy feat) and although one third of the company did not like it, the name stuck. The Don Daglow papers contain, among other employee surveys on the name change, the one on which Sarah Stocker wrote that she didn't like any of the proposed names.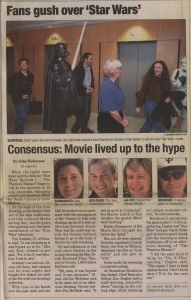 Just as the company solicited employee opinions for a new name, the firm also paid attention to its staff culture as evidenced by events, activities, and monitoring morale. One article in the collection, titled "Fans gush over Star Wars" describes a company outing to a Star Wars film, but in person Daglow filled in the details . He remembered calling an all staff meeting where invented speaker "Burton McKinney" was scheduled to give a boring presentation about "staying on the cutting edge, while retaining [a] unique corporate culture." The ruse was bolstered by a doctored photograph of the speaker, crayons and index cards laid out on tables—everything Daglow needed to fool staff members. When ten minutes had passed and "Burton McKinney" had faxed that he was running late, Darth Vader and a stormtrooper burst in to take staff members to the opening of Star Wars: Episode 1 —The Phantom Menace followed by lunch. Daglow had coordinated similar events, like attending the release of The X-Files film, keeping staff on their toes.
The final anecdote relates to groundbreaking video game footage from Eagle Eye Mysteries (1993), a kid-sleuthing mystery game which (along with the Dungeons and Dragons titles) was one of the games that allowed users to play as male or female characters, a rare occurrence in the early 1990s. ICHEG's corresponding collection contains nine model buildings from Daglow that were part of a miniature town used to create the first motion control shot (using stop motion) in a video game. The company had to rent another office space in order to create this dimensional town. Upon renting the space, they were given a warning to keep the door locked or things would disappear due a neighboring business employee with sticky fingers. Daglow said it wasn't worth the expense and effort; the 30-second motion shot in the game was interrupted by game text, a trade-off prioritizing the game's goal to encourage reading and learning for its players. 
I hope you have enjoyed this rare glimpse into how archival material can tell a story and how details, often in peril to be lost to time, are worth saving. Supporting materials related to these stories can be seen in the Don Daglow papers, which opened for research in January 2020.