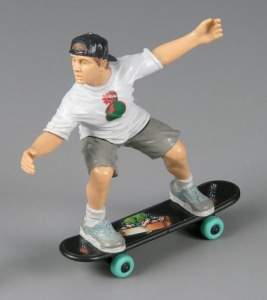 In Part I of my skateboarding blog series, I discussed how the first big wave of skateboarding took place from 1959 to 1965, and then skateboarding went mainly "underground" from about 1966 to 1972. Part II told about how the introduction of Frank Nasworthy's durable composite "Cadillac Wheels" enhanced the skateboarding experience, leading to the second big wave of skateboarding between 1973 to 1981. The third wave of skateboarding extended from 1983 to 1991 when famous skaters Tony Hawk (vert skater) and Rodney Mullen (freestyle) dominated the pro skateboarding scene. With a worldwide recession affecting all major industries in 1990, most skateboard manufacturers closed shop and the sport once again went into decline. By 1994 skateboarding had made a comeback and, for more than two decades has been a part of mainstream youth culture, bringing us to the fourth (and final?) wave.
In 1993 Don Bostick saw the need for a worldwide organization that would provide a platform for skaters to showcase their talent and skills. The following year, Bostick established the World Cup Skateboarding (WCS) with the first event "Slam Jam" taking place in Vancouver, British Columbia, Canada in May of 1994. Shortly thereafter interest and excitement over the sport began to reemerge and the first X Games (originally called Extreme Games) took place in Rhode Island in 1995. Since X Games were broadcast on ESPN, skateboarding, along with eight other sports including BMX, were catapulted into the mainstream sports scene. At the same time, skateboarding footwear made a comeback with Vans, and now popular manufacturers such as Nike and Adidas began making shoes specifically for skaters.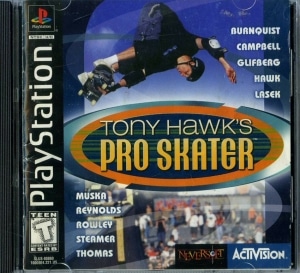 By the late 1990s, skateboarding had not only solidified its place among mainstream youth, but pro skaters started making a comeback to regain their popularity with showstopping performances in professional events. One such event was the 1999 X Games in San Francisco when, during his 11th try, Tony Hawk landed his first ever 900 (2½ revolutions, 900 degree spin) to the awe of a stunned crowd. That same year, Hawk's first video game, Tony Hawk's Pro Skater was released on Sony PlayStation, and shortly thereafter on Nintendo 64, Game Boy Color, Dreamcast, and N-Gage. With the resurgence of pro skating and a place in the video game market, skateboarding started its ascension and more skate parks started to be built again across the country.
In 2001 the documentary film Dogtown and Z-Boys, directed by Stacy Peralta, debuted at the Sundance Film Festival where it won several awards. Two years later, Grind, another skateboarding movie—this time a comedy—was released. By 2004 there were more than 2,000 skateparks in the U.S. (quite the jump from 1996 when there were fewer than 10). The International Association of Skateboard Companies (IASC) established "Go Skateboarding Day" on June 21st each year to promote the sport. The 2005 film Lords of Dogtown brought in almost $13.5 million. In 2008, the skateboard was inducted into The Strong's National Toy Hall of Fame and, to commemorate this special event, Tony Hawk donated his autographed "Bird of Prey" skateboard to the museum's collections.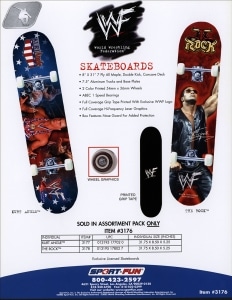 Interest in the sport continued to thrive, and in 2009 Skatelab in Simi Valley, California, established the Skateboarding Hall of Fame and a museum dedicated to people and places that revolutionized skateboarding as a culture and sport. In June 2016, the International Olympic Committee's executive board announced that skateboarding will be included in the 2020 Summer Olympic Games in Tokyo, Japan. In August 2018, the City of Rochester announced it was the recipient of a $250,000 grant from the Tony Hawk Foundation to start a public skatepark, Roc City Skatepark with hopes to open in 2019 in downtown Rochester, New York.
By this point it is clear that skateboarding is here to stay. Inclusion in the 2020 Summer Olympics not only legitimizes the sport, but also solidifies its international appeal. What started as crate scooters in the 1940s and 50s has developed into a perfectly engineered device that fills the role of both toy and professional sporting equipment. Bolstered by safety standards that have evolved over the years and exposure to the sport through local organizations and skateparks, skateboarding will continue to ride this monster wave for years to come.