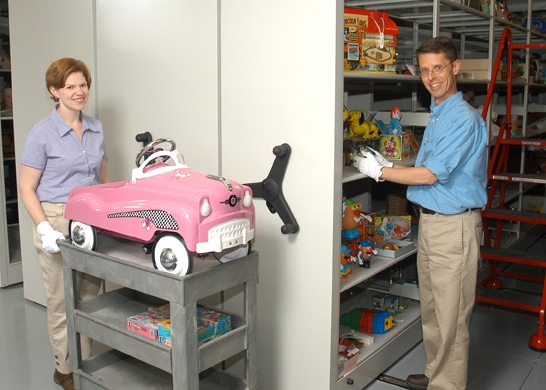 You might not think of museum curators as showoffs, but we are.  Personally, I love speaking in public and appearing on TV. However, the type of showing off that curators like best is the kind that involves sharing our collections with the world. Sometimes we show off our collections in museum exhibits or at educational events, but neither can display the thousands of great collection objects we want to share.
So I'm extremely excited to announce that the museum's collections can now be viewed online! Check out Online Collections and you'll find that a selection of the more than half a million objects in our collection can be browsed and searched, complete with images and museum cataloging information. The museum's Web site is, in effect, an extension of the physical building and the online collections database creates virtual real estate for the thousands of objects that we just can't put on display. Each month we're adding new acquisitions to the database, so our online offering will continue to grow.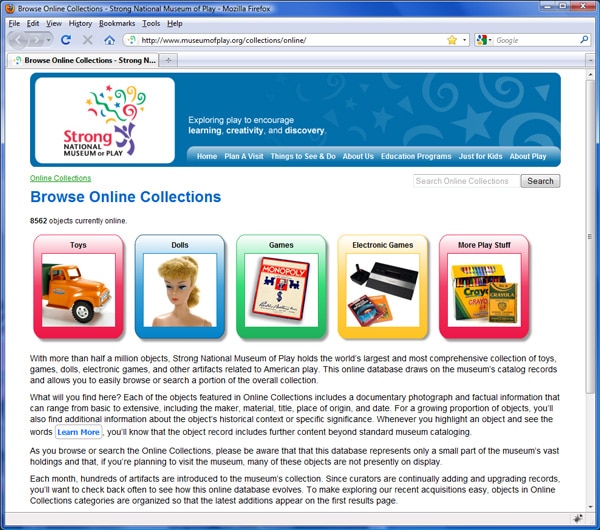 We decided to custom develop this application in-house, and here's why: the Web components for many collections database management systems are ugly. Most of them were designed with researchers and museum professionals in mind, and visual design was an afterthought at best. We wanted our system to appeal to everyday people (not just specialists) and to make it easy for them to find something of interest by browsing through pages rich with images.
Putting things together in this virtual space has turned up lots of little surprises like this great compilation of dollhouses we have in the collection. And here's just a portion of our Barbie doll collection. In preparation for our new American Comic Book Heroes exhibit, several recent acquisitions have been put online in the Action Figures and Character Toys category. Of course, our Online Collections database wouldn't be complete without Margaret Woodbury Strong's favorite doll, Mabel.
So give us a chance to show off for you.  Start your own browsing and exploring of all our collection has to offer. Head on over to the Online Collections database and see what surprises you'll find!