"All right, play time is over; it's time to get your head in the game," my friend Lauren sternly implores our team. We've been through six rounds. By our calculations, we must only be behind our chief rivals by a few points. Our highly competitive team has its regular starting line-up this week, and we haven't sustained any major injuries (yet). This isn't an outdoor team sport or your ordinary parlor game, however—this is serious business. This is weekly pub trivia.
For as long as I can remember, I liked collecting facts. Details such as "which Teenage Mutant Ninja Turtle wore a red bandana?"[1] and "who wrote the Ramona Quimby book series?"[2] were part of my formative grade school years. My four Pound Puppies were named after the U.S. presidents depicted on Mount Rushmore[3] (though, I suspect my father had a hand in that). I cheerfully watched children's educational television shows, especially PBS's Square One and that geographic game show based on a Brøderbund computer game.[4] When I first joined in a family game of Trivial Pursuit at my aunt's house, I didn't know the answers to any of the questions. This left my pink pie playing piece woefully empty—yet, I knew that I liked this game that relied on knowledge rather than luck.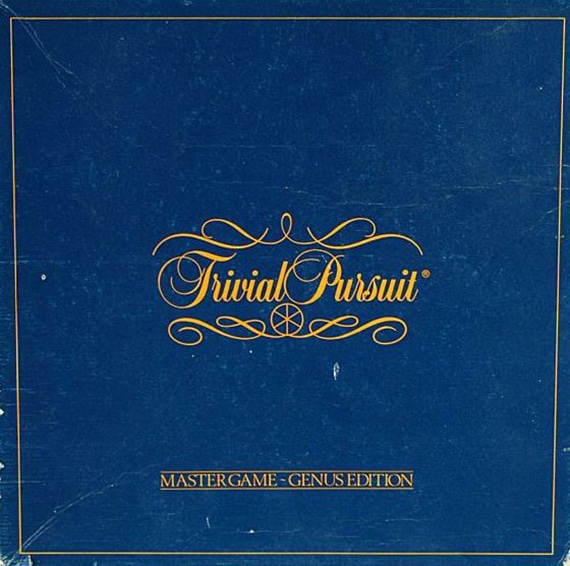 Trivial Pursuit made its appearance on the board game market at a time when the video game industry was booming. In 1981, two Canadian friends, Chris Haney and Scott Abbott, finalized their game which tested players in six (now-familiar) color-coded categories: Geography, Entertainment, History, Arts & Literature, Science & Nature, and Sports & Leisure. Players who responded correctly to questions like "What yellow Monopoly property is called Piccadilly in the British version?"[5] maintained control of the dice and continued his or her turn, moving around the wheel-shaped game board in hopes of acquiring colorful wedges. (Or as we casually called it, "a piece of the pie.") Game company Selchow & Righter purchased the rights to the game, and by the end of 1984, more than 20 million Trivial Pursuit games had been sold in the United States. Trivial Pursuit has released special themed variants, including the Silver Screen edition, questions by decade (like the '90s Time Capsule edition), and even licensed properties (such as versions based on Star Wars, World of Warcraft, and more). With a wide selection of Trivial Pursuit titles from which to choose, this is a satisfying franchise for people who specialize in one topic or those who know "a little bit about a lot of things."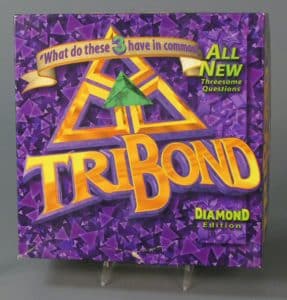 Another challenging board game is TriBond which asks players to determine the common thread between three clues. It was developed—rather appropriately—by three friends who met at Colgate College in the mid-1980s. Ed Muccini, Tim Walsh, and Dave Yearnick created a question-and-answer game that contained no questions. Players of TriBond moved around a triangular game board and attempted to get their three pawns to the finish line before their opponents. The quiz portion of the game came from five special categories, with brief clues such as "Cabbage Patch Kids, Superman, Moses."[6] The Tim Walsh papers here in the Brian Sutton-Smith Library and Archives of Play detail the history behind this award-winning, brain-stimulating game.
And then there's Jeopardy! America's favorite quiz show has aired in its current format since 1984 with the legendary Alex Trebek at its helm. Casual viewers of the television program know that contestants must respond in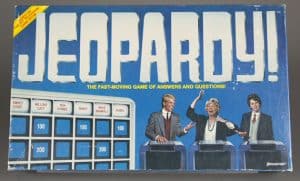 the form of a question, while avid Jeopardy! fans discuss elaborate game strategy (such as the approach of the divisive Arthur Chu, who confounded his opponents by bouncing all around the board). Naturally, the success of the televised game show has spawned board games, video games, and mobile games for players to get their fix of quiz competition outside of primetime viewing. The iconic theme song has a one-word title—can you name it?[7]
People drawn to trivia games seem to be naturally inquisitive, information gatherers. You never know when a tidbit you read in a news article will come in handy. For those of us who have been accumulating facts our whole lives, weekly pub trivia is an excellent outlet for making use of the subjects we've learned (the periodic table, famous artists, minor characters from The Simpsons…) and determining which topics we need to explore further (1960s music, Eastern religions, and movies starring Kevin Bacon).
Do you want to brush up on your trivia knowledge before tackling a quiz game with your friends? The Mental Floss website (which also prints a monthly magazine) posts intelligent, informative articles peppered with interesting details and amazing factoids. If you prefer a podcast, then Good Job, Brain! is an excellent listen; this quiz show and "offbeat trivia" podcast features themed episodes, with every fifth show presenting an "All Quiz Bonanza." When you're ready to put yourself to the test, try Sporcle to play solo online tests about a wide range of topics. Though your ultimate goal may be to win, it can be rewarding when you magically recall the answer to an extremely difficult question. (A recent favorite? "Each of the letters in the word QUIZ corresponds to only one world capital. Name each of the world capitals which begin with Q, U, I, and Z."[8]) So put on your thinking cap, gather a group of friends, and go play a quiz game together. You may know more than you realize!    
[1] Raphael is the Ninja Turtle with the red bandana. The weapons he carries are called sai.
[2] Beverly Cleary is the beloved author of the Ramona series, which included titles Beezus and Ramona, Ramona the Pest, Ramona the Brave. Cleary also wrote dozens of other children's books, such as Henry Huggins, Muggie Maggie, and The Mouse and Motorcycle.
[3] The Presidents on Mount Rushmore shown from left-to-right are George Washington, Thomas Jefferson, Theodore Roosevelt, and Abraham Lincoln. This massive sculpture was designed by Gutzon Borglum.
[4] The educational (and entertaining) Where in the World is Carmen Sandiego? show was based on a Brøderbund video game of the same title. The super-catchy theme song was sung by Rockapella.
[5] Marvin Gardens is called Piccadilly in the British version of Monopoly.
[6] They are all adopted!
[7] The Jeopardy! theme song, which also plays for 30 seconds during the Final Jeopardy round, is titled "Think!" Merv Griffin, the show's creator, composed the award-winning tune.
[8] The world capitals which begin with Q, U, I, and Z are Quito (Ecuador), Ulaanbaatar (Mongolia), Islamabad (Pakistan), and Zagreb (Croatia).