"Victoria? I have to tell you something… And you're definitely going to roll your eyes."
I stare at my stepson and brace myself for whatever words are about to follow. We are sitting around the table at my in-laws home eating spaghetti and he's looking a bit worn out from the NHL hockey game he attended earlier that day in Montreal. I set my fork down in anticipation.
"Hit it," I prompt.
"Well…." he draws out the word so it becomes multisyllabic. "Dad bought another bobble head at the game. It's Youppi."
Silently and without thinking, I do just as anticipated—sigh and roll my eyes to the right where my husband sits, fork in hand. He gives me a wide-eyed childlike smile and a shrug. "It's Youppi." He rationalizes. "We don't have a Youppi."
For those of you who may not be familiar, Youppi is a friendly, furry, orange monster who serves as the mascot for the Montreal Canadiens hockey team. Previously the mascot for the Montreal Expos baseball team, Youppi found his way to the NHL after a brief stint as a free agent after the dissolution of the Expos. My husband has never quite recovered from the loss and mourns it regularly, often noting Youppi's very existence as the only consolation. In this particular instance, however, he is leveraging my own fondness for Youppi to rationalize the purchase of yet another bobble head. 
Why do I like Youppi? As it happens, it's not because of baseball or hockey at all. It's because Youppi stems from the imagination of talented artist and longtime designer for the Jim Henson Company, Bonnie Erickson. Erickson developed a number of iconic characters including Miss Piggy and the  charming curmudgeons, Statler and Waldorf in addition to numerous mascots for sports teams. As a child of the 1980s, I spent more than a few hours of my childhood watching Sesame Street, The Muppet Show, and the animated spinoff, Muppet Babies, all of which include the work of Erickson. Naturally, you can understand my delight when The Strong became home to a collection of materials generously donated by Erickson herself. Her donation includes archival papers, drawings, prototypes, and a variety of toys from a broad range of collaborative projects including Sesame Street, Muppet Babies, and even plush figures from Maurice Sendak's timeless tale, Where the Wild Things Are. Not only do I admire Erickson's work, I am fascinated to see how characters are brought to life and grow over time, becoming not only familiar and recognizable, but also iconic and trusted, more like good friends. Looking through the materials, it is easy to see why Erickson is so successful.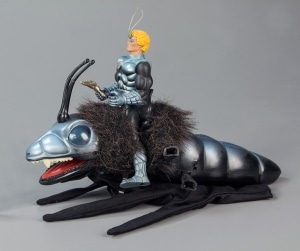 Erickson's donation is an offshoot of The Women in Toys collection at The Strong, a project that launched in 2016, and has continued with momentum as the museum strives to document, preserve, and make accessible the many ground-breaking contributions women inventors, designers, manufacturers, marketers, and newsmakers have made to the toy industry. The Strong is honored to hold archival collections, prototypes, and related materials from long-time innovators such as Carol Spencer of Mattel, and creative thinkers like Claire Marschak, Maureen Trotto, and others whose imaginations know no bounds. I look forward to learning more about the careers and impact of these artists and designers, and am confident Youppi won't be the only familiar face I'll see along the way. I may even encounter a bobble head or two.
As we packed up and headed to the car the next morning, I opened the door to find—what else—the new Youppi bobble head in the front passenger seat, safely buckled in and ready for the trek home. While this orange character may hold a figurative "front seat" in my heart he doesn't get the same physical privilege for long car rides on winding mountain roads. He was carefully—but promptly—relocated to another part of the vehicle.
To Bonnie Erickson and all those who dare to imagine, to create, and to bring characters to life so they may be part of our lives, wherever the road may lead … thank you.