We have all heard the saying that a dog is man's (and woman's too) best friend. We love dogs so much that they even have their own special day—National Puppy Day! Canine companionship has been around for eons and extends from pets to working dogs. Whether they are snuggle buddies, sled pullers, or law enforcement assistants, dogs play a significant role in our society and in our hearts. So it should be no surprise that their popularity also carries over into children's literature and playthings.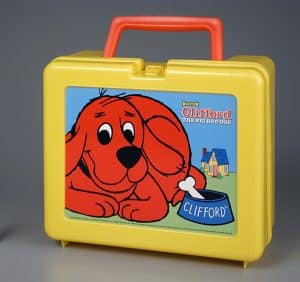 Everywhere you look, stories and movies show a main character with a dog companion. Mickey Mouse has Pluto, Charlie Brown has Snoopy, and Shaggy has Scooby Doo. One of the most famous fictional dog characters is Clifford. First published in 1963, Clifford the Big Red Dog is a book series that chronicles a larger-than-life canine on his adventures with his owners and dog friends. Though Clifford started out as a small puppy, the love of his owner Emily made him grow to monumental size. He is a sweet and gentle creature that sometimes gets into trouble, usually by pure accident due to his size. The books series was so popular that it was adapted into a PBS show in the early 2000s and remains a favorite among children today.
Growing up, my family always had at least two dogs, sometimes five! The most prominent dog from my childhood was Trusty, an overweight golden retriever named after the loyal dog in Lady and the Tramp. He was patient with children, wouldn't leave your side on adventures to the park, and would steal your ice cream cone if you looked away for a split second. His place in my life is what sparked my love for animals. This passion also infiltrated my toy collection. I remember sleeping beside several Pound Puppies—the loveable plush toy dogs you "adopted" from the pound with packaging that even included an adoption certificate. However, my absolute favorite toy was Puppy Surprise. This plush mother dog featured a pouch in her belly that held puppies. The surprise for kids was how many puppies you would get in your box. Although the play value may have been short-lived, the sense of anticipation to discover the size of the litter made it all worthwhile.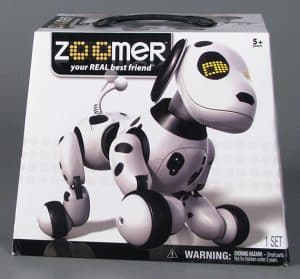 Although cuddly products similar to Puppy Surprise remain popular today, they now compete with more advanced toys like Zoomer the robot dog. He isn't soft and furry, but he is one step closer to having the real thing. Introduced by Spin Master, Zoomer can bark, play, and learn new tricks like sit, lie down, and roll over. This toy could be the perfect compromise for the child begging for that puppy he or she has always wanted and the parent who's not ready to say yes to an actual biological pet.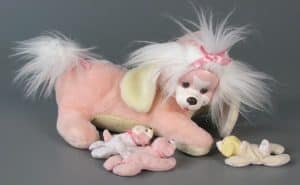 So let's raise a paw in salute to all dogs—the kibble-eating kind and the toy versions that require fewer walks. Dogs love to play with us and we love to play with them, both real and pretend. Happy National Puppy Day one and all!