Pinball Playfields has a machine for everyone, and there's always fun to be had. Part I highlighted a number of older machines, classics in their own rite. Part II contains a series of more modern machines, many of them from the exhibit's generous sponsor, the Stern Pinball Company.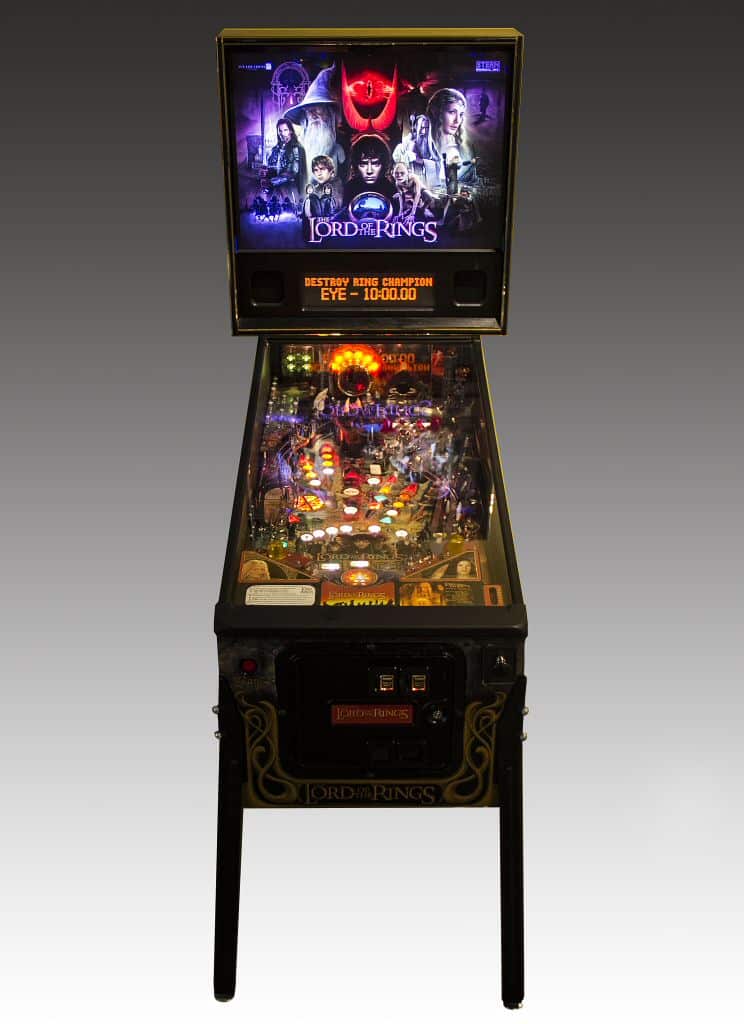 The Lord of the Rings
One Ring to rule them all, one Ring to find them, one Ring to bring them all, and in the darkness, bind them. The epic fantasy of J.R.R. Tolkien's The Lord of the Rings book series enters the pinball realm with Stern's expertly crafted machine, designed by critically acclaimed pinball designer, George Gomez. This machine features iconic imagery from the Peter Jackson films, from the fiery horror of the Balrog, to the majesty of Isengard, to the intimidation of Barad-dûr. Activate modes that recreate iconic scenes from the movies, from Gandalf's battle with the Balrog, to the Battle of Helm's Deep, to the destruction of the One Ring. Fight off Wargs and Ringwraiths as you journey through Middle-Earth and build up a score to rival the majesty of Minas Tirith. Don't forget to take a look at the machine's prototype, generously donated to the museum by George Gomez himself, and get some insight into how a pinball machine is made. One may not simply walk into Mordor, but one can simply walk up to this machine and relive the most epic and iconic fantasy series ever made.
Super Mario Bros.
Let's-a-go! One wouldn't expect Nintendo to produce a pinball machine, but with the help of Gottlieb & Co., anything is possible. Super Mario Bros. Pinball is a small, speedy machine whose original release coincided with that of Super Mario World on the Super Nintendo. While the pinball machine wasn't as successful as the game, it still has a certain charm to it. Its compact size also makes it a very fast game, adding another level of challenge to it. Shoot the ball into pipes, travel to different lands, and rack up points with the most iconic video game character of all time.
Hercules
You haven't seen pinball until you've seen giant pinball. Atari's biggest machine yet, Hercules puts a mythological twist on pinball, using a ball the size of a grapefruit to hit giant sized switches. Don't be intimidated, it's like any other pinball machine, just absolutely massive. Fire the ball towards the Hydra and bounce the massive ball off everything you can to get a Herculean score that Zeus himself would envy.
Star Trek
Join the crew of the USS Enterprise and venture unto the Final Frontier with this machine based on J.J. Abrams' 2009 adaptation of Star Trek and its 2013 follow up, Star Trek: Into Darkness developed by Stern Pinball. Activate warp speed and score massive points, strike the USS Vengeance for multiball, and recreate iconic moments from the movies while racking up a score that could land you honors in Starfleet.
Metallica
Heavy metal never played so well. One of many in Stern's line of rock-n-roll machines, Metallica will blow you away with some of their most iconic music put into a creatively designed machine. Rock out to hits like "Fade to Black," "Master of Puppets," "Battery," and "Enter Sandman" as callouts from the band's musicians inform you of your progress. Electrify the competition and engage multiball to rack up points faster than you can say "Nothing Else Matters" and ride the lightning to the top of the high score board.
Iron Maiden: Legacy of the Beast
Are you scared of the dark? You will be. Another of Stern's venerable rock-n-roll machines, Iron Maiden: Legacy of the Beast brings more heavy metal to your ears and heart-pounding action to your reflexes. Listen to some of the band's greatest hits like such as "Fear of the Dark," "Hallowed Be Thy Name," "Run to the Hills," and "Number of the Beast." Shoot the pyramid to lock the ball in Pharaoh's Tomb and fire up a multiball that Eddie herself would find impressive.
KISS
You want the best? You've got it. Stern's heavy metal machines continue with one of music's most beloved rock bands, Kiss. Featuring the voice talents of Gene Simmons and Ace Frehley, jam to some of Kiss's iconic hits, such as "Detroit Rock City," "Love It Loud," and "Rock-n-Roll All Night." Shoot the ball towards Ace to engage Love Gun multiball and light up the board like a rock concert. Shoot three into Gene's mouth and start up Demon multiball to become the ultimate rock-n-roller.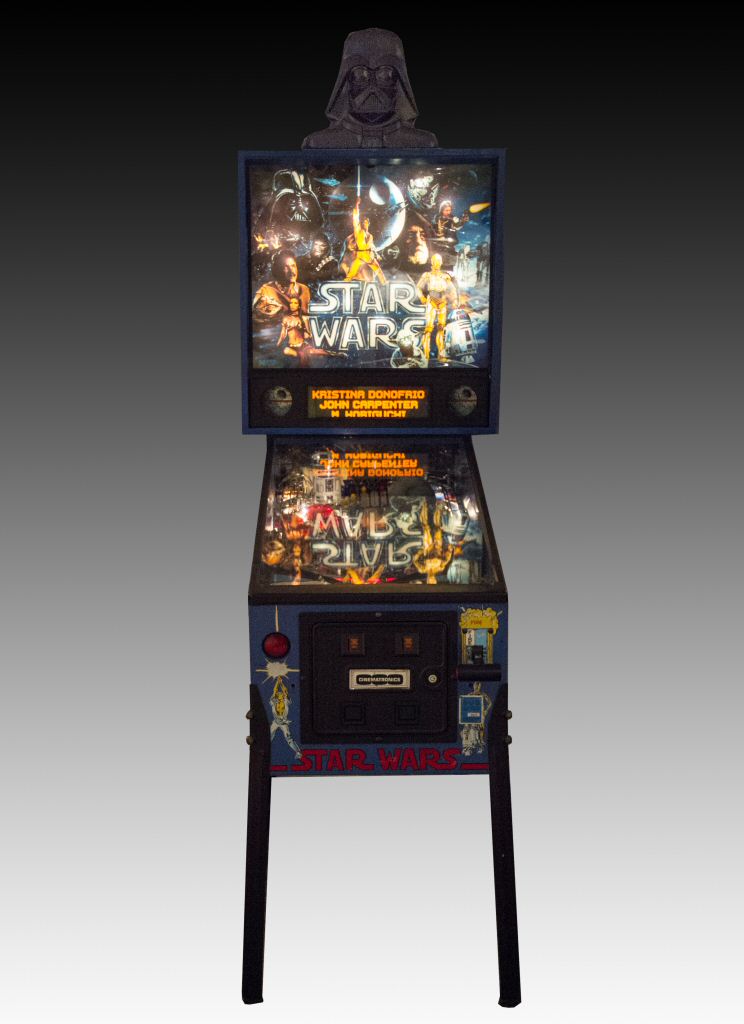 Star Wars
A long time ago, in a galaxy far, far away… The greatest science fiction franchise arrives in the form of a pinball machine from Stern, and this one is Limited Edition. Star Wars takes pinball into hyperspace with this elegant machine. Pick from a list of characters to activate different modes, including Luke Skywalker, Princess Leia, R2-D2, and Han Solo. Light up different planets like Tatooine, the Death Star, Hoth, and Endor as you relive iconic moments from the original trilogy. Collect TIE Fighters and destroy them to activate TIE Fighter multiball and score more points than you'd get by completing the Kessel Run in under 12 parsecs. Rescue Princess Leia from the Death Star, Navigate through Hoth's Asteroid Field, and face off against Darth Vader with HD video that progresses as you play. Keep the game going as long as you can, and the Force will be with you.
Stranger Things
Hawkins, Indiana, is about to get a little bit stranger. Stern's take on the Netflix original series slips out of the Upside Down to bring eerie fun to the world of pinball. Strike the Demogorgon and to earn big points, light Telekinesis Lock to engage multiball, and venture into the Upside Down as you bounce around this beautifully crafted machine. Can you solve the mystery of the Upside Down? Step up to Stranger Things and find out.
Deadpool
The Merc with a Mouth brings a new level of snark to pinball as Stern's marvelous Deadpool machine slices and dices its way onto the scene. Partake in epic battles alongside the X-Men and fight against villains, both obscure and iconic, as you light up the playfield with everything from swords to guns to chimichangas. Shoot the ball to a bobblehead of Lil Deadpool for a quick multiball and get some fast points. Light up the lanes near the flippers and hit the BOOM! button for an explosive score.
Ghostbusters
Are you troubled by strange noises in the night? Do you experience feelings of dread in your basement or attic? Have you or your family seen a spook, specter, or ghost? Stern brings yet another machine to the table, this one with a ghostly twist. Based on the 1984 comedy classic, Ghostbusters is a ghoulish good time for any who play it. Wonderful scenes from the movie are recreated in this machine, among them being the Spooked Librarian, Don't Cross the Streams, and the Spook Central finale. Lock three balls in the containment unit, start up multiball, and bust more ghosts than you could imagine. Who ya gonna call?
Hot Wheels
You can never be too fast, especially in cars like these. American Pinball Inc.'s Hot Wheels machine pulls out all the stops to make you feel like a high-speed motorist as you speed through ramps and loops. Lock the ball to build a ramp, battle strange creatures from snakes to dinosaurs, and redline the engine for a super high scoring multiball. High octane fun awaits, so put the pedal to the metal to come out on top.
Hot Shots Basketball
While not technically a pinball machine, this Williams Electronics game is worthy of inclusion. Hot Shots Basketball has a simple premise: shoot some hoops. Hit the button hard to throw the ball toward the hoop, but don't be fooled: the hoop moves forward and backward, throwing an additional challenge. Catapult the ball into the hoop as much as you can, and you might just get a high score.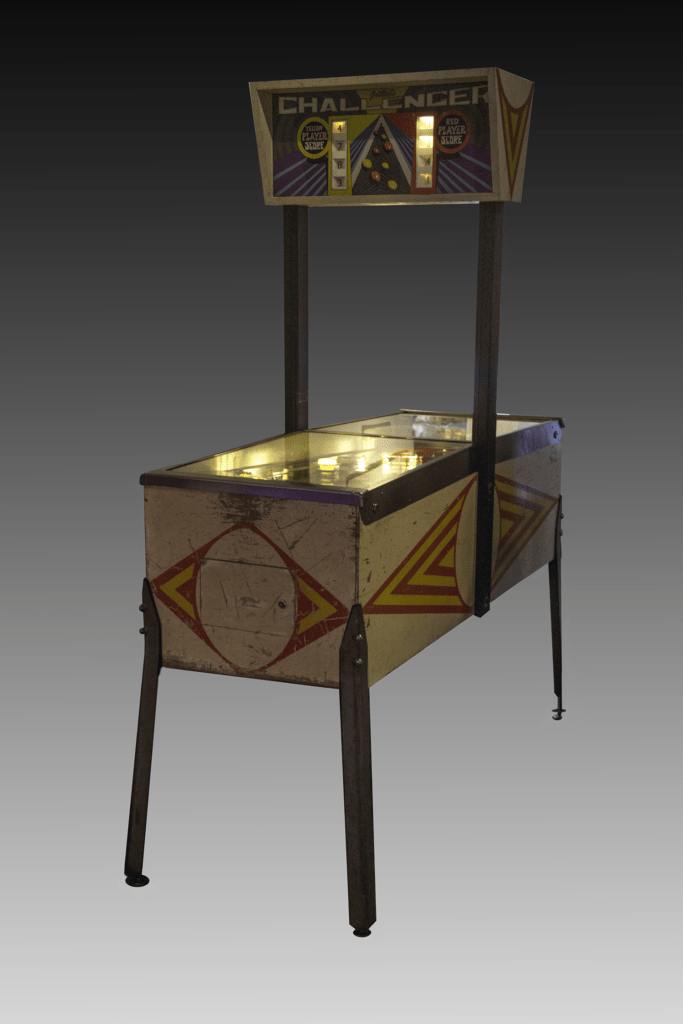 Challenger
A rarity even among older machines, Gottlieb & Co.'s multiplayer Challenger machine brings a new twist to pinball: one-on-one. While most machines have a multiplayer function where players go one at a time, Challenger is a head-to-head game where both players compete at the same time as the game is played. The playfield leans toward one player, allowing them to score points. If the ball falls between the lower flippers or into the outlane, the playfield shifts in the other direction, allowing the other player to score. The player with the highest score wins and receives bragging rights.
This is just a fraction of the many machines within The Strong museum and there will certainly be many more. The Strong often receives donations from Stern, meaning that the collection will continue to grow and become more and more diverse. So whether you're looking for a blast from the past or a modern classic, Pinball Playfields likely has something for you.