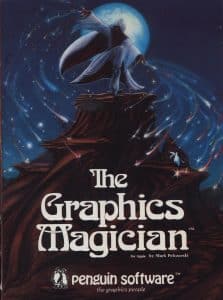 Penguin Software founder and lead developer Mark Pelczarski has donated the Penguin Software Collection, 1970-2013 to ICHEG. In addition to more than three dozen copies of games and graphics software released by Penguin, the collection includes source code, background notes and other material related to the development of games, company correspondence, and Pelczarski's publications on computer graphics. Collectively these materials document Penguin Software's development of key software tools that made it possible for programmers to create cutting-edge graphics on computers in the early 1980s. Back in the late 1970s and early 1980s,
few programmers had the ability to make a computer depict high-resolution (hi-res) graphics. Penguin Software products helped many programmers create hi-res graphics. Pelczarski's first product, Magic Paintbrush (1979), became popular for its ability to make the programming of graphics easier, and his Complete Graphics System (1981) offered even more tools for generating the visual elements of programs. The following year, Penguin Software released Graphics Magician (1982), which quickly became the company's best-selling software.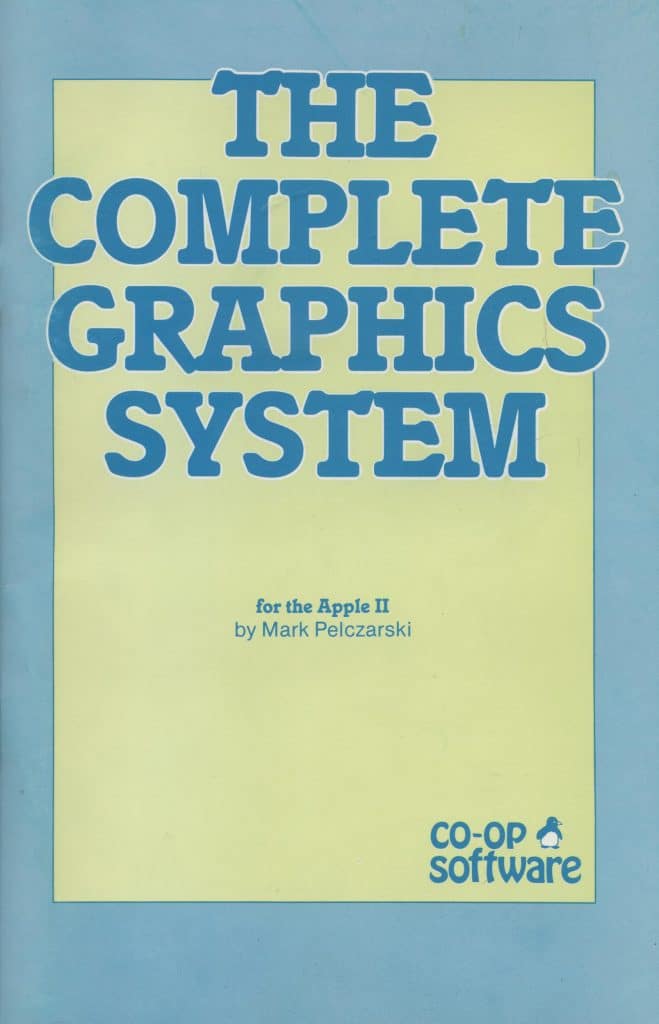 As the manual for Complete Graphics System stated, this program offered users "almost every feature possible to aid in creation of multi-color graphic and text displays with your computer." Over time, Pelczarski continued to add new features to the company's software tools in collaboration with David Lubar and Chris Jochumson. For example, later versions of Complete Graphics System allowed users to "magnify any portion of the screen two to eight times to alter individual points easily. Change all the colors automatically. Do full screen picture flips or make mirror images." Perhaps most importantly the pictures took up relatively little computer memory through a "picture packing" technique that compressed their storage by 50 percent. In short, the programs provided a "drawing and design package for the non-programmer."
Penguin Software's programs proved popular not only because they provided powerful tools but because they allowed programmers to use these resources to create commercial software without paying licensing fees. The company did require programmers to acknowledge use of Penguin Software products, which in turn sold more copies of the programs.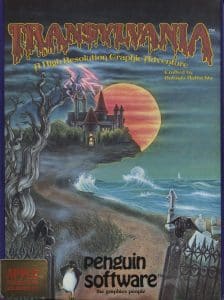 Soon Penguin Software, which branded itself as "the graphics people," began selling games as well as tools. The company's first game was Transylvania, programmed by 19-year-old Antonio Antiochia who wrote it first as a text-adventure before Pelczarski convinced him to turn it into a graphical game (and gave Antonio Penguin Software's graphics tools to make it). Pelczarski also led Penguin's efforts to build Comprehend, a programming tool that allowed the company's programmers to create games more easily and effectively while ensuring they had a consistent style. More games followed, including The Spy's Adventures, a series of pioneering educational games that taught geography by sending players on missions around the world.
By 1986, the increasingly competitive computer software industry made it hard for a small company to survive and Pelczarski sold the company, which by this time had changed its name to Polarware. To understand the impact Penguin Software and Pelczarki had on the industry, it is crucial to remember that the history of video games is often as much about the tools used to make the games as it is about the games themselves, tools like those made by Penguin Software. The Penguin Software Collection not only preserves the history of Mark Pelczarski and Penguin Software's important contributions to the history of game development,  but it also complements other holdings at The Strong such as the Brøderbund Collection, the Ken and Roberta Williams Collection, and the SSI Collection. Researchers seeking to understand the early, seminal days of game development for personal computers have a rich trove of documents to explore thanks to collections like these.
By Jon-Paul Dyson, Director, International Center for the History of Electronic Games and Vice President for Exhibits