As an "everything" intern at The Strong, I had the privilege of working with different teams within the museum on multiple projects that relate to my education as a history major. Through my work with the Brian Sutton-Smith Library and Archives of Play, I became acquainted with the story of the woman behind the museum by examining photographs, diary entries, newspaper articles, and correspondences from different points in her life. Highlights of Margaret Woodbury Strong's remarkable story can be found online through New York Heritage.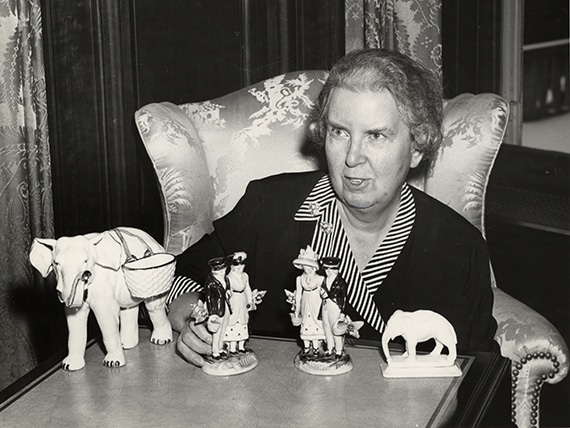 Margaret's collecting habits formed at a very young age. As a child who traveled the world with her parents, John and Alice Woodbury, Margaret often came into contact with foreign cultures and people. Traveling around the world provided an education far beyond any classroom, and Margaret's parents encouraged her to bring an empty bag on every trip so she could fill it with small items that caught her interest at every place they visited.
Margaret's travels out of the country grew less frequent by the time she reached young adulthood. Without the constant traveling, she no longer felt the pressing urge to continue collecting at the rate she did in her youth. Instead, Margaret focused much of her adult years on her marriage to Homer Strong; on her daughter, Barbara, who often traveled the globe with her parents in the same way Margaret had as a child; and on golf, gardening, and archery.
The most serious phase in Margaret's collecting did not start until after the deaths of her daughter and husband. Collecting trinkets, art, furniture, and dolls brought Margaret joy and comfort, and sharing her collections with friends and those who visited her home gave her a sense of purpose. Between 1960 and 1969 Margaret's collection of dolls—inspired by her love of Mabel, her favorite plaything and companion—expanded from 600 to 27,000. Aside from dolls, Margaret collected figurines, animals, dollhouses, and anything else that piqued her interest. In fact, Margaret was famous for roaming auctions, seeing an interesting object, and starting an entirely new collection based on that one item.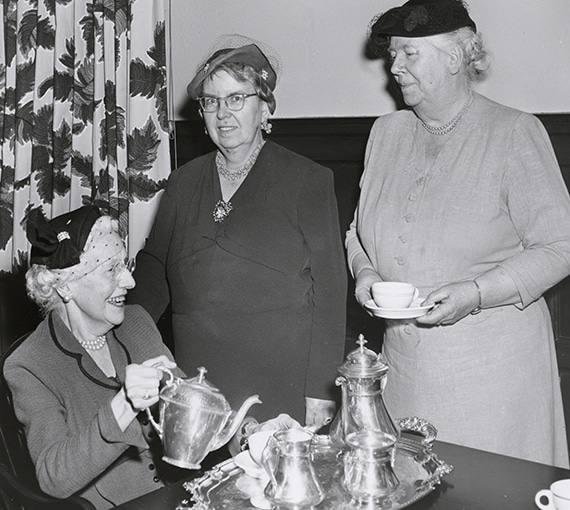 Although she dedicated a large portion of her life to collecting, in later years philanthropy and giving back to her community also held great significance for Margaret. During her lifetime, she made donations to Rochester, New York, institutions such as The University of Rochester School of Medicine, Allendale School, and the now closed Genesee Hospital. Margaret also donated to the Webber Hospital in Biddeford, Maine, and Westbrook Junior College in Portland, Maine, near her second home. In 1939, St. Paul's Episcopal Church in Rochester invited Margaret to a tea that commemorated the opening of the church's Fellowship Room, which Margaret helped redecorate. Later, St. Ann's Episcopal Church in Kennebunkport, Maine, posthumously recognized Margaret for her legacy gift to the church, which allowed them to buy land to construct an outdoor chapel.
Margaret's greatest legacy gift was her decision to set aside most of her assets for the creation of a museum. Prior to her death in 1969, Margaret had begun inviting people to tour the numerous collections at her home. Seeing the joy and wonder visitors had upon viewing her collections, Margaret worked with lawyers and realtors to create what she called a "Museum of Fascination" or a "Fascinations Museum." Margaret hoped that future generations would be able to find joy in what had fascinated her during her life.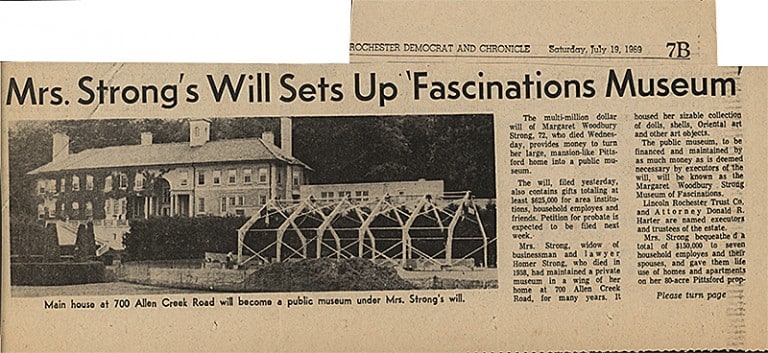 The Margaret Woodbury Strong Museum opened in 1982, 13 years after Margaret's death. During the following decades, the museum grew dramatically, expanding its collections, facilities, and resources. Now known simply as The Strong, it encompasses 285,000 square feet and serves global audiences at the museum, online, and through the work of its International Center for the History of Electronic Games, the National Toy Hall of Fame, the World Video Game Hall of Fame, the Brian Sutton-Smith Library and Archives of Play, the Woodbury School, and the American Journal of Play. The Strong museum serves as an enduring testimonial to the interests, accomplishments, and generosity of an impressive woman—Margaret Woodbury Strong.