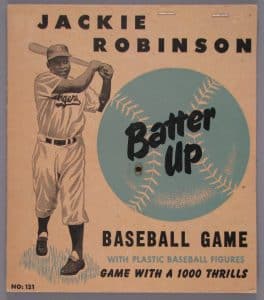 Before the 1950s, American toy manufacturers avoided favorable illustrations of people of color on toys and their packaging. But the middle of the 20th century saw the beginnings of positive examples—toys that purposefully utilized constructive African American likenesses. And some of the earliest appearances of this long-overdue imagery bore the portrait and endorsement of Major League Baseball's first African American player, Jackie Robinson.
Jackie Robinson broke baseball's color barrier when he joined the Major League Brooklyn Dodgers in 1947. Dodgers owner and president Branch Rickey orchestrated the hiring both as a money-making proposition and as a form of racial integration. Although many people responded with anger and hatred to this development, the African American community took immediate notice. Named Rookie of the Year in 1947 by The Sporting News and the National League's Most Valuable Player in 1949, Robinson drew praise for his style as well as his statistics. Adult baseball fans found inspiration in his skill and in his sportsmanlike behavior. Children of all colors tried to steal bases "just like Jackie does." Baseball made Robinson a hero—the first black sportsman to achieve this level of adoration and fame.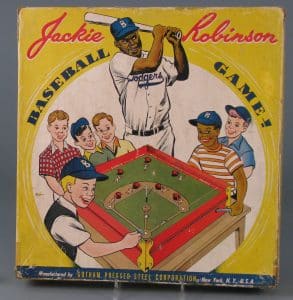 Because of his popularity, toymakers undoubtedly approached Robinson to endorse their products, just as they'd approached other ball players since Babe Ruth. The toy industry understood his appeal across generations and cultures, and some toy producers wanted to break barriers themselves. Gotham Pressed Steel Corporation made a metal baseball simulation board game in about 1950 that Jackie Robinson endorsed. The box cover is remarkable for its inclusion of an African American boy playing the game with other boys while Robinson watches. Did Jackie himself request this cover design? We don't know, but the illustration is the first of its kind.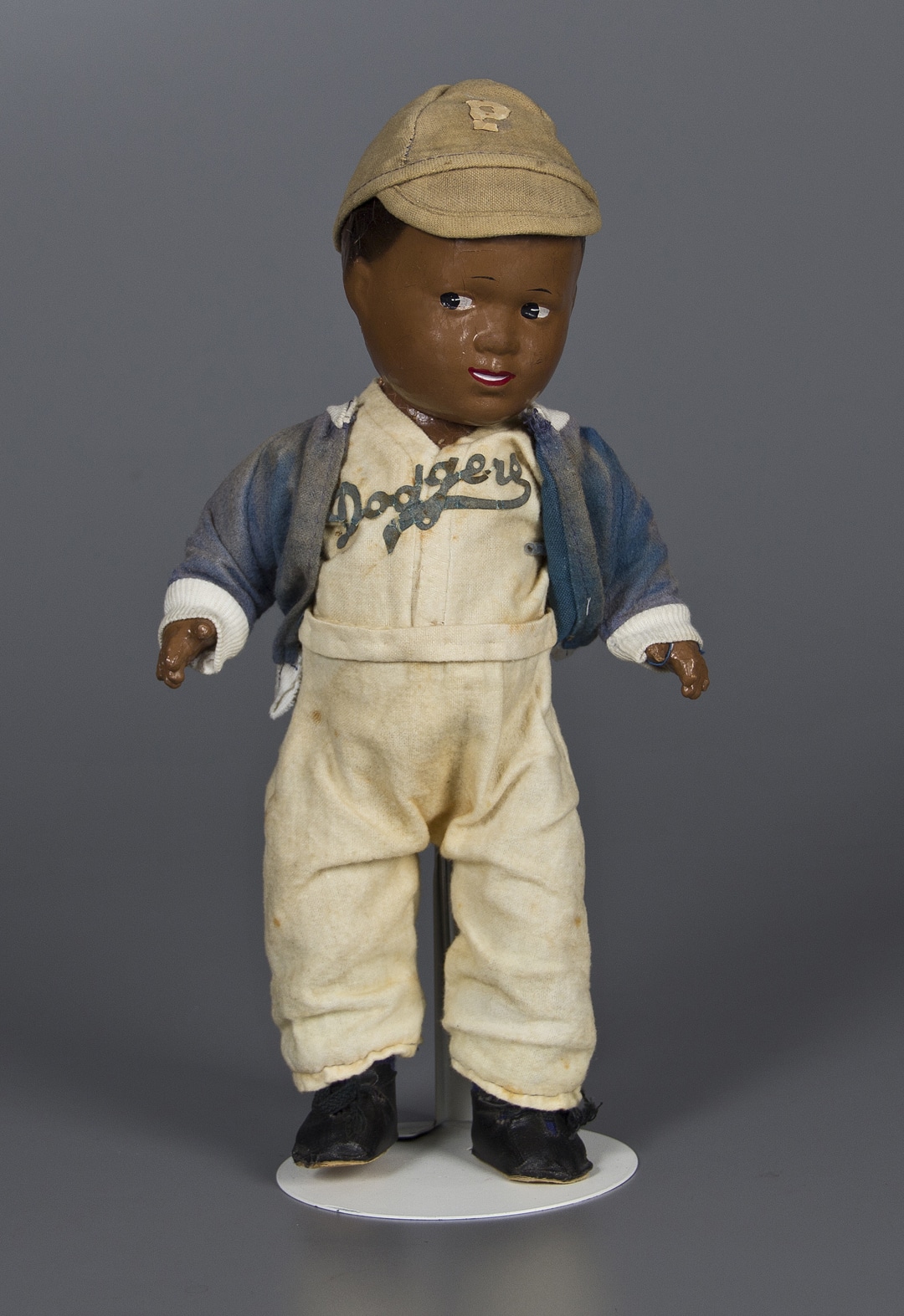 Today, toys and games often emphasize and embrace the multi-cultural character of American society. Jackie Robinson not only broke baseball's color barrier, he helped break the toy barrier, as well. We should be grateful, once again, for good old number 42.