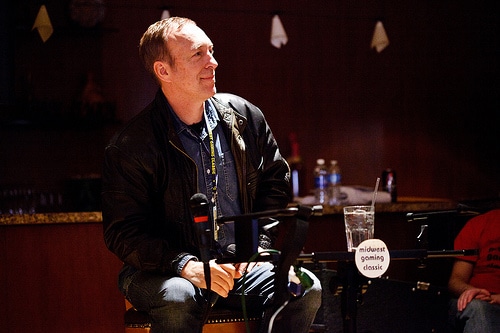 Recently I had the pleasure of attending the 17th Annual D.I.C.E Awards at the Hard Rock Hotel and Casino in Las Vegas. Each year, the Academy of Interactive Arts & Sciences celebrates the best interactive games and with its Pioneer Award honors a person whose "career-spanning work has helped shape and define the interactive entertainment industry." This year the Academy added Eugene Jarvis to a distinguished list of previous honorees, including game designers such as David Crane (Pitfall!), Ed Logg (Asteroids and Gauntlet), Bill Budge (Raster Blaster and Pinball Construction Set ), and Dave Lebling and Marc Blank (Zork series).  From blinking and bleeping pinball machines to challenging video games, Jarvis helped create some of the most memorable and innovative coin-operated games of the last three decades.  
During the late 1970s, Jarvis cut his teeth creating software to run pinball machines in Atari's newly formed pinball division. He helped produce The Atarians (1976), Time 2000 (1977), Airborne Avenger (1977), Space Riders (1978), and Superman (1979)—all games known for their massive, wide-body cabinets; George Opperman's beautiful artwork; and Jarvis's flashing lights and dazzling sound effects. Convinced that Atari's pinball machines would never rival Chicago pinball giants such as Williams and Bally, Jarvis left Atari shortly before the company shut down its pinball division in 1979. A few months later, former Atari pinball designer Steve Ritchie invited him to come to Chicago to create games for Williams. 
Inspired by Ritchie and programmer Randy Pfeifer's work on Flash (1979), Jarvis developed the software and sound for Ritchie's state-of-the-art pinball machine, Firepower (1980), which sold more than 17,000 units. Firepower's explosive, science fiction-inspired sound package provided the foundation of Williams's video game and pinball sound throughout the 1980s. Jarvis also helped create some of the most popular pinball machines of that era, including Space Shuttle (1984), High Speed (1986), and F-14 Tomcat (1987).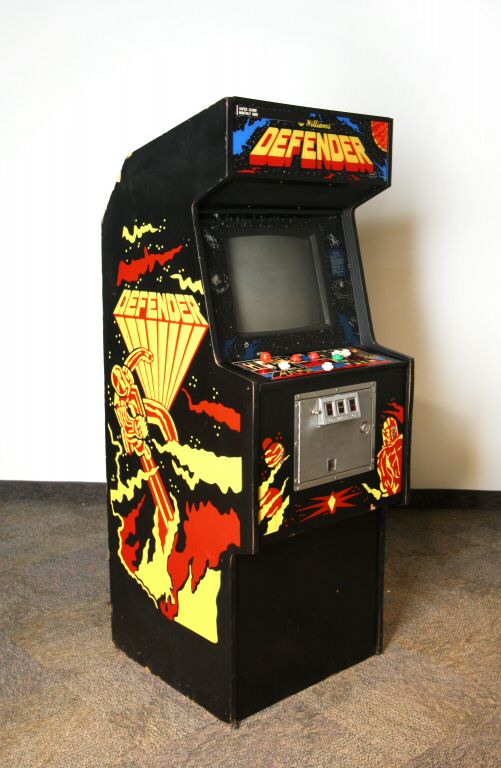 Jarvis also challenged a generation of arcade goers with ever more sophisticated and difficult video games. In February 1980, with video game profits climbing and the pinball market shrinking, Williams executives asked Jarvis if he would create an original video game. He answered with Defender (1980), a game with sound and video effects—including digitized explosions and a mini-map at the top of the screen—unlike any other arcade video game at the time. The side-scrolling space shooter required players to rescue humanoid astronauts in one of the most difficult video games ever produced. Defender, as Mark Turmell, a former colleague of Jarvis's, told the crowd at the D.I.C.E. Awards, "separated the men from the boys." In other words, the game separated the first generation of hardcore gamers from casual players and proved that players were ready and willing to drop their quarters—more than $1.5 billion worth—into a complex and insanely difficult game.
Jarvis followed Defender with other challenging arcade classics such as the dual joystick shooter Robotron: 2084 (1982), the satirical shoot 'em up Smash TV (1990), and the exhilarating Cruis'n driving series (1994-1999). Today, Jarvis is President of Raw Thrills, where he still makes unique coin-operated games such as the War on Terror-themed first-person shooter Target: Terror (2004) and the new superhero vehicular combat game Batman (2013).
ICHEG congratulates Jarvis on his Pioneer Award and we will honor him with a game of Robotron: 2084 in The Stong's eGameRevolution exhibit.
What's your favorite Eugene Jarvis game?