Being a fan of a professional sports team can be a lot of work. Sure, you can casually flip through the television channels on a Sunday afternoon and watch a few minutes of football, or you can accept some free tickets to a baseball game just to appreciate the sunshine and some stadium hot dogs, but folks who call themselves "die-hard fans" really take their enjoyment of sports to a different level.
As a lifelong Pittsburgher now living in Rochester, NY, I watched from afar as my beloved Pittsburgh Penguins transformed from a floundering ice hockey team in December to the triumphant winners of the Stanley Cup on June 12. The regular season of the National Hockey League (NHL) runs from October through April, with each team playing 82 games. The playoffs typically extend the NHL season for another two months—the Penguins ended up playing 106 games in the 2015–2016 season. The team's 106 games included jubilant wins; disappointing losses; devastating injuries; a new coach; some player trades; games where the final score more closely resembled that of a football matchup; games where it appeared the Penguins would "never score another goal ever again" (hyperbole courtesy of my long-suffering dad); and a few tales of redemption along the way. In the end, the Penguins won 16 playoff games, defeating four of the best teams in the NHL, and they won the right to bring the Stanley Cup home to Pittsburgh.
So now what? The professional sport that has consumed so much of my time and energy is on hiatus for several months. Luckily, fans like me won't have to go cold turkey—there are plenty of hockey-related games to enjoy.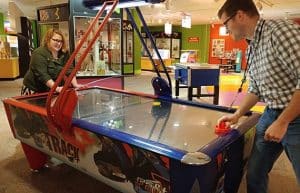 Air hockey, played on a low-friction table, is a fast-moving game, where two players each use a hand-held mallet to propel a thin plastic air hockey puck across the playing surface. This is not a quiet, passive game; the distinctive plink-plink sound of the puck striking against the metal rails of an air hockey table is frequently interrupted by the loud CLUNK of the mallet blocking an opponent's shot (or the groans of a player who gave up a goal). Players adjust strategy based on the speed of the puck and the skillfulness of their opponent. Air hockey doesn't normally have a time limit, but the game ends once a certain score is reached.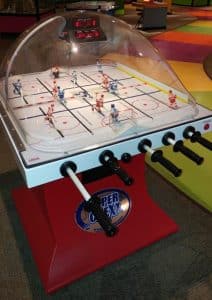 If you have foosball skills, put them to good use at a match of bubble hockey. A clear dome (or bubble) covers the playing surface, where skaters are attached to rods controlled by the players. By pushing or pulling the rods, as well as rotating them to spin the skaters, players attempt to pass and shoot the puck past the other team's goalie.
Bubble hockey, like foosball, can be played with two or four players in total. (There are also at-home variations reminiscent of bubble hockey, including the tabletop game NHL National League Electric Hockey.) Both air hockey and bubble hockey are on display—and playable—in the Game Time! exhibit here at The Strong museum.
And of course, there are a multitude of hockey video games widely available. From the basic animation of Blades of Steel (1988) to the hyper-realistic NHL 16 (2015), gamers have been able to quench their thirst for off-season hockey for nearly three decades. Superstar players of the 1990s even headlined their own video games, such as Mario Lemieux Hockey (1991) or Wayne Gretzky's 3D Hockey (1996). Perhaps the most beloved simulation hockey video game is EA Sports' NHL '94 (1993), which was the first 16-bit game to feature player names and the rosters of every NHL team. The Internet is brimming with nostalgic articles about this game's innovations and effect on the sports video game market. In fact, it proved so popular that EA Sports added a special "NHL '94" mode to NHL 14 (2013) in honor of the game's 20th anniversary.
So, it's time for die-hard fans to relax a little, enjoy some summer sports, and give their favorite jerseys a rest (and maybe shave their playoff beards). In fact, while fans wait patiently for the next season, they can introduce the sport to the more casual viewers among them. Whether you've gotten yourself a Gordie Howe hat trick or you think icing is just something on a cupcake, hockey-related games offer fun for everyone.