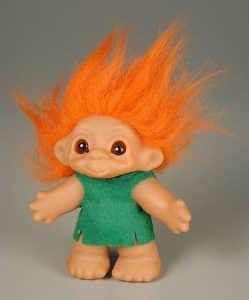 I first encountered troll dolls in the mid-1970s. My younger sister had one that she loved greatly and played with all the time. In fact, she played with her troll doll (named "Sloppy Joe Head") so much that eventually all of his hair fell out and his felt clothes were torn to shreds. When we moved to a larger house in 1976, somehow Sloppy Joe Head was lost forever. Forty years later, my sister still mourns his loss. But when and where did these troll dolls originate?
In Norse mythology and Scandinavian folklore, trolls were considered abhorrent creatures that lived under bridges or deep in forests and mountains.  Legends characterized trolls as mean, unhelpful, even dangerous beasts that humans should avoid. However, over time, the negative depictions have been replaced by more pleasant portrayals of trolls as smaller, friendlier, and cuter creatures who can possibly provide good luck. The troll dolls most of us are familiar with today fall into the latter depiction, and much of that change in image can be attributed to one man, Thomas Dam.
Thomas Dam (pronounced Dom) was an impoverished baker and snow-shoveler from Gjøl, Denmark, whose hobby was carving wooden figurines by the fire in the evenings. According to Tim Walsh's 2005 book, Timeless Toys: Classic Toys and the Playmakers Who Created Them, Dam's wife convinced him to travel to nearby Alborg to try selling his carved creations for a profit. Dam's sales trips proved to be a huge success, and soon he amassed a group of loyal customers who commissioned him for other projects, including larger-than-life sculptures made from clay and flexible rubber.
In 1956, a Swedish department store hired Dam to create a two-story Santa figure for a Christmas display. The large Santa sculpture proved too big to fit in the store's display window, so Dam created smaller figures from mattress springs and sculpted rubber to showcase instead. Dam's idea worked all too well. Not only did the window draw customers into the store to shop, but what they really wanted to buy were the characters on display in the window! He started taking orders for them and thus began his venture into the world of troll doll manufacturing.
According to Walsh, the first troll dolls were made by hand, using springs for the bodies. However, metal was expensive, so by 1957 Dam started making the bodies from pliable rubber stuffed with wood shavings. He enlisted the help of his family and set up shop in a shed on his property. Since the dolls were all hand-made, their supply could not keep up with the demand. In 1959, Dam built a small factory in Gjøl and founded his company, Dam Things Establishment. Dam soon switched the doll body material to vinyl from rubber and automated the manufacturing process. The pot-bellied, wild-haired troll dolls could now be mass produced.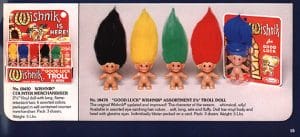 Dam's trolls, known in the early 1960s as "good luck trolls," became hugely popular and eventually spread internationally, spurring construction of factories in Florida and New Zealand. Sales of troll dolls peaked between 1964 and 1967. In 1965 the company confronted copyright infringement issues because Dam Things hadn't properly obtained international copyright. That placed troll dolls in the "public domain" and various manufacturers took advantage of this legal loophole to create knockoff troll products. As a result, the non-licensed troll dolls and troll merchandise (clothing, bedding, and housewares) flooded the market and interest in the ubiquitous troll dolls declined significantly.
A nostalgic troll doll resurgence emerged in the late 1980s and early 1990s, with a new generation of children developing affection for these small potbellied figures with neon hair. Dam company dolls (called "Norfin Trolls") only accounted for a small portion of trolls sold during this time and other toy companies, such as Russ, Applause and Ace Novelty manufactured trolls as well. Ace Novelty, in particular, sold a very popular version known as "Treasure Trolls" that had sparkly Wishstone (plastic gemstone) belly buttons and were marketed as being lucky. Once again, troll dolls oversaturated the market and sales plummeted quickly.
Thomas Dam died in 1989, but in 2003 his family finally received full U.S. Copyright protection for its troll dolls. A decade later, DreamWorks Animation SKG purchased Dam Things Establishment and acquired exclusive rights to the iconic dolls. In November 2016, DreamWorks released the movie Trolls, an animated musical comedy that grossed nearly $142 million in its first month in theaters. Could yet another troll doll resurgence take place?
The Strong has approximately 30 troll dolls and related paraphernalia in the museum's collection including original Dam troll dolls, key chains, yo-yos, and video games. In addition, the Brian Sutton-Smith Library and Archives of Play's extensive collection holds more than 30 different trade catalogs from various manufacturers that feature troll dolls and related products.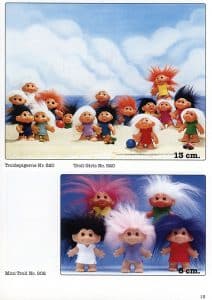 Although troll dolls may be small, they have made quite a name for themselves in the toy industry and the world of play. Interest in trolls may wax and wane, but I have a feeling that they will be one of those toys that will endure for a long, long time. Perhaps I should find a new troll doll to give to my sister to replace the one she lost in 1976—she could name him "Sloppy Joe Head 2.0" and he would be relevant once again.