By Adam Nedeff, Researcher for the National Archives of Game Show History
The Strong launched the National Archives of Game Show History in 2021 to collect, preserve, and help tell the story of this playful television genre. To stay up to date with the Archives and happenings in the world of game shows, check out a new, recurring feature in the museum's e-newsletter and accompanying blog posts:
When Michael Strahan walks onto the stage of The $100,000 Pyramid on April 23, 2022, to begin taping the new season on ABC, he'll be kickstarting a milestone year for the classic franchise: the start of its 50th anniversary season on television.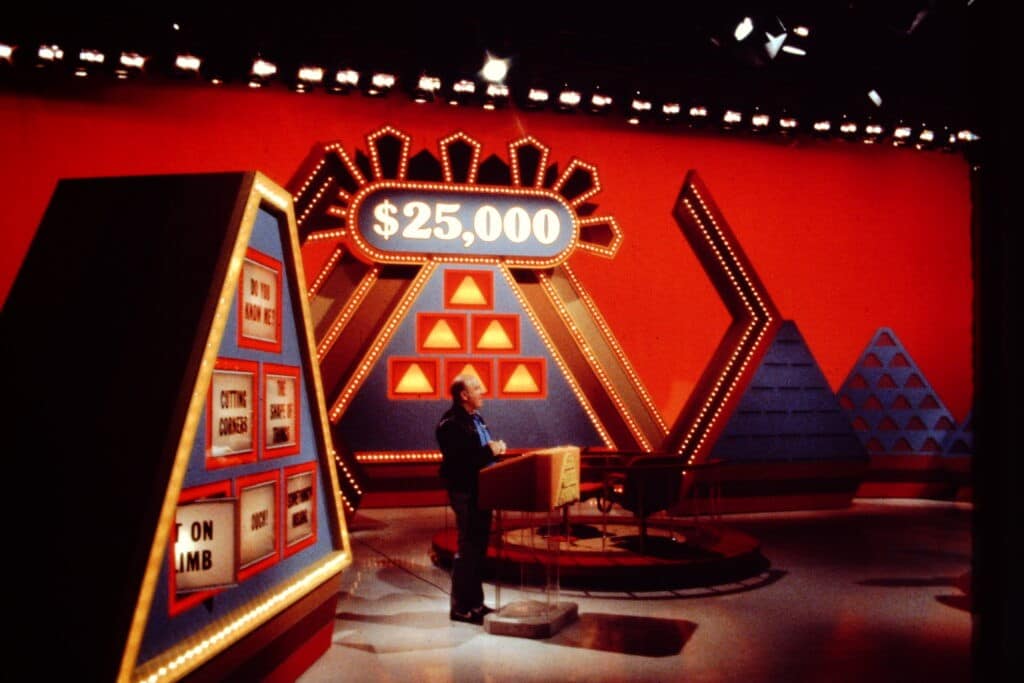 The game was created by Bob Stewart, a producer for Mark Goodson-Bill Todman Productions who departed from the company because his bosses refused to consider an idea he pitched to them for a new game show—the idea went on to become The $10,000 Pyramid. It became Stewart's most successful series as an independent producer.
The $10,000 Pyramid premiered on CBS on March 26, 1973. (Adjusted for inflation, that grand prize today would be about $63,000.) Over the years, the grand prize has bounced around from $10,000 to $25,000 to $20,000 to $50,000 to $25,000 again and then up to $100,000. The host's podium has been occupied by, among others, Bill Cullen, Donny Osmond, and most notably, the one and only Dick Clark, who ended the Friday broadcasts of Pyramid by reminding us "I'll see you tomorrow at the Bandstand."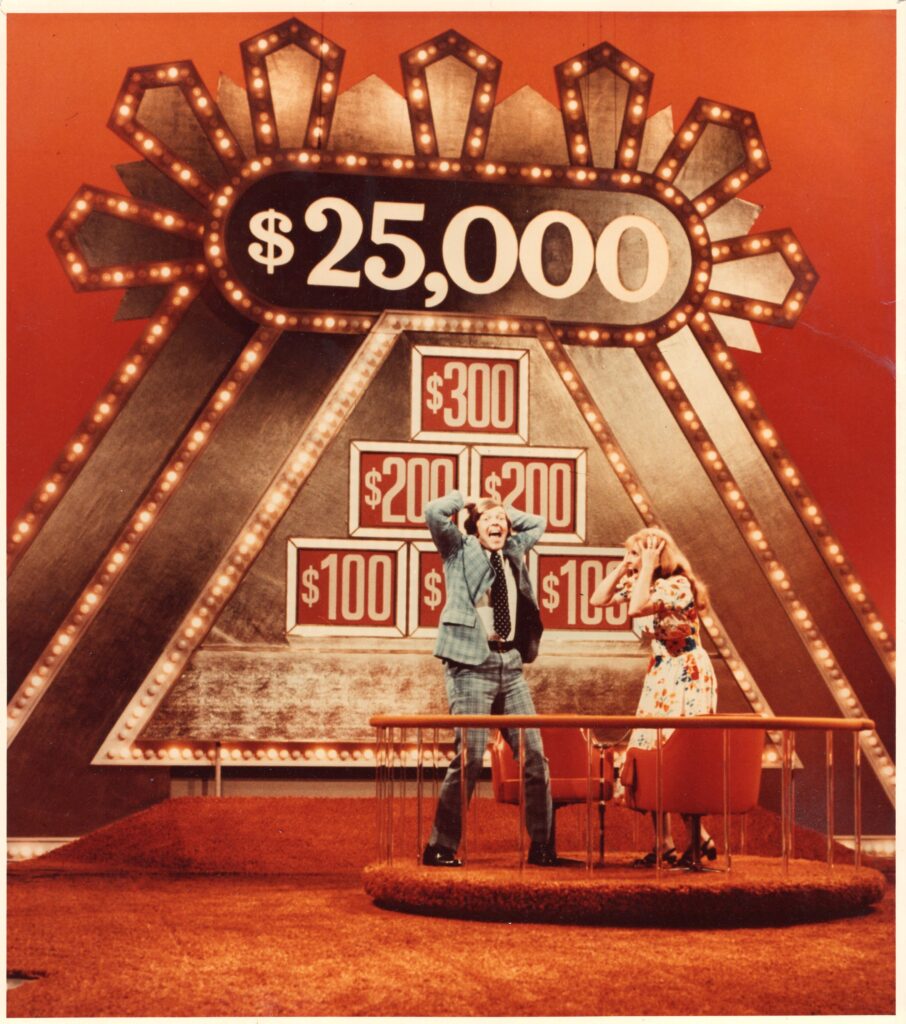 The game, in all its incarnations, pits two celebrity/contestant teams against each other. Together, they have to communicate answers in subjects like "Things in your wallet" or "Words you see in a job posting." The winners go to the Winners' Circle, one of the most famous bonus rounds in TV history, in which the concept was reversed. A player was shown a subject and had to list items that fit that subject to prompt their partner to guess it. They had 60 seconds, but in a phenomenal 1978 showing, Billy Crystal and his partner did it in only 26 seconds—a record that still stands.
The National Archives of Game Show History was fortunate to speak with long-time Pyramid director Mike Gargiulo shortly before his passing in 2021, and that interview will be available for viewing in the near future.
DO YOU REMEMBER THESE OTHER WORD COMMUNICATION GAMES?
BLANKETY BLANKS (ABC, 1975) – Host Bill Cullen used an electronic eye to scan computer cards to determine the money that teams would win by solving puns.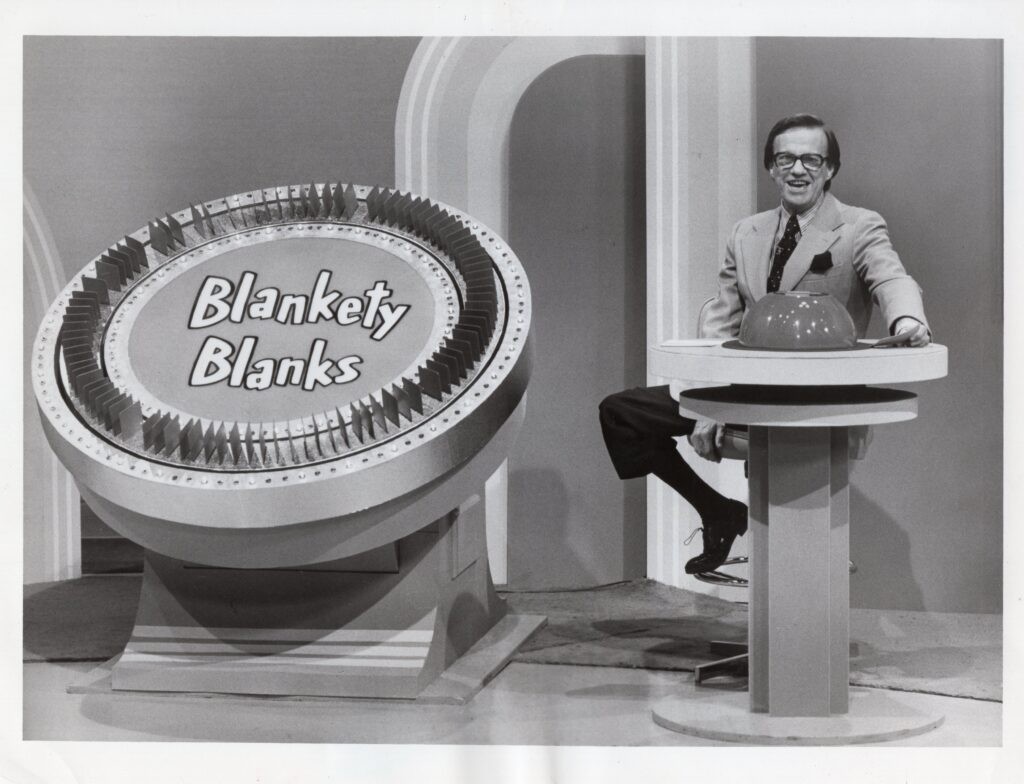 SHOOT FOR THE STARS (NBC, 1977) – Contestants and their celebrity partners saw a phrase like "Smooch and Cosmetics" and used synonyms to figure out the more common saying ("Kiss and Make Up")
GO (NBC, 1983-84) – Five-member teams competed against each other. Four members of the team would alternate saying one word at a time to construct questions, and the fifth member had to guess the answer.
…AND ALL OF THEM WERE CREATED BY BOB STEWART, TOO!'