As Director of Libraries at The Strong, I acquire scholarly books on the study of play for the Brian Sutton-Smith Library & Archives of Play. Although tracking down weighty academic tomes is quite fulfilling, I would be dishonest if I said that selecting children's books for the Grada Hopeman Gelser Library didn't liven up my job. The books available for check out in each museum exhibit are selected to complement and enhance the theme and subject matter—from Where the Sidewalk Ends in Reading Adventureland to Pete's a Pizza in Wegmans Super Kids Market. The Strong's newest exhibit, Play Pals, traces the evolution of dolls, action figures, toy soldiers, and plush animals through three centuries of American history. As I reviewed and purchased books for the collection, I was reminded of the rich tradition of dolls and toys in children's literature.
The Four Dolls
The Adventures of Pinocchio by Carlo Collodi (1883) reads more like Candide with marionettes and talking animals than the Disney version most of us remember. Pinocchio is much less endearing, landing Geppetto in prison, squashing the talking cricket, and biting off the paw of a cat. But everything ends just as well, with Pinocchio earning "real boy" status by taking to heart the lessons learned during his wild adventures.
Cartoonist Johnny Gruelle wrote and illustrated his Raggedy Ann Stories (1918) for "the millions of children and grown-ups who have loved a Rag Doll." Those millions fell in love with both the stories and the doll. Raggedy Ann and her brother, Raggedy Andy, were inducted into The Strong's National Toy Hall of Fame in 2002 and 2007, respectively. The Strong is also home to the Gruelle Family Papers, 1888–2008, and a collection of more than 1,400 Raggedy Ann and Andy items, including furniture, clothing, games, records, and holiday decorations.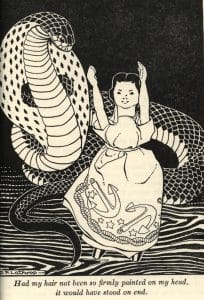 Awarded the Newbery Medal for most distinguished contribution to American literature for children in 1930, Hitty: Her First Hundred Years by Rachel Field (1929) is the autobiography of a doll carved out of a magical piece of white ash. Hitty, the Odysseus of dolls, details her adventures on a whaling ship, in India, and stranded on a South Seas island. She even gets to meet Charles Dickens. The doll that inspired Rachel Field to write Hitty lives at the Stockbridge Library, Museum, and Archives in Stockbridge, MA.
Another classic work of doll literature, Miss Hickory by Carolyn Sherwin Bailey (1946), was also awarded the Newbery Medal in 1947. Miss Hickory, "whose body was an apple-wood twig and whose head was a hickory nut," needs to fend for herself when Great-granny Brown leaves her country home for the winter. Stubborn and saucy, she soon learns to rely on the help of her woodland friends and to offer help when needed.
The Three Bears
A. A. Milne's son, Christopher Robin, inspired him to write Winnie-the-Pooh (1926). Most of Milne's characters were based on his sons' actual stuffed toys—Pooh, Piglet, Eeyore, Kanga, Roo, and Tigger—and they all can be seen on display at the New York Public Library's Stephen A. Schwarzman Building. Artist E. H. Shepard based his iconic illustrations on his own son's teddy bear, Growler.
A Bear Called Paddington by Michael Bond (1958), a classic British novel about a stuffed bear discovered by a family in Paddington Station, was inspired by a teddy bear that Bond bought for his wife for Christmas. Paddington's floppy hat, duffel coat, Wellington boots, and jar of marmalade are immediately recognizable and the series has sold over 35 million copies worldwide.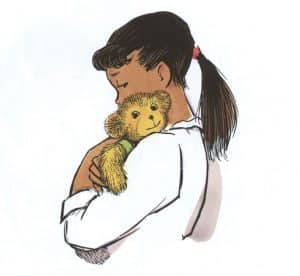 The bear in Corduroy by Don Freeman (1968) lives on a shelf in a department store and dreams of being bought by a little girl or boy. His prospects are dim due to a missing button on his overalls, so Corduroy goes in search of the button after the store closes. In 2007, the National Education Association named Corduroy one of the Teacher's Top 100 Books for Children.
The Two Bunnies
The Velveteen Rabbit, or, How Toys Become Real by Margery Williams (1922) is also on the NEA's Top 100 list. One of the most well-known tales of toys becoming real through a child's love, it was the first children's novel by author Margery Williams. In 1925 she published two other children's novels about toys: Poor Cecco: The Wonderful Story of a Wonderful Wooden Dog Who Was the Jolliest Toy in the House Until He Went Out to Explore the World and The Little Wooden Doll.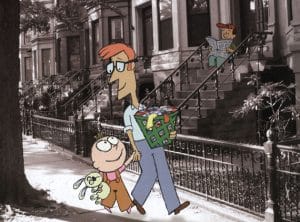 Knuffle Bunny: A Cautionary Tale by Mo Willems (2004) was named a Caldecott Honor book in 2005. This "cautionary tale" follows Trixie (named after Willems' own daughter) and her father on an errand to the Laundromat where a certain bunny becomes lost in the shuffle. Willems' follow-up, Knuffle Bunny Too, was named a Caldecott Honor book in 2008. Knuffle Bunny Free was published in 2010, rounding out the trilogy.
The Plastic Guy
The Indian in the Cupboard by Lynne Reid Banks (1980) combines fantasy, mystery, and adventure into the tale of a magic cupboard that brings plastic action figures to life. Omri and his friend Patrick bring Little Bear, a Native American warrior, and Boone, a cowboy, to life and must work to make these natural enemies friends. The sequel, The Return of the Indian, was named a New York Times Notable Book in 1985.
As you visit Play Pals, "check out" these classics and other books that will make your time at The Strong more playful—even after you leave the museum. After all, books make great play pals, too.