The holiday season is once again upon us. With seasonal songs filling the airwaves and retailers decorated with all that sparkles, I am amazed at how the holidays have managed to find their way back again so soon—this time more expensive than ever.
For more than 125 years, advertising has played a key role in the holiday season and in building consumer demand. As far back as the 1920s and 1930s, toy companies recognized the importance of marketing the "must-have" toy of the year and began doing so as early as June or July, due in part to mail order catalogs. Even now, despite ever-changing technology, at least one hot item seems to dominate every Christmas or Hanukkah shopping season (Remember the Tickle Me Elmo frenzy of the late 90s? Or Zhu Zhu Pets from a couple years ago?) After all, the excitement of finally getting that one special item, whatever it may be, remains an unparalleled feeling, a sensation that makes you feel like a kid again no matter how old you are.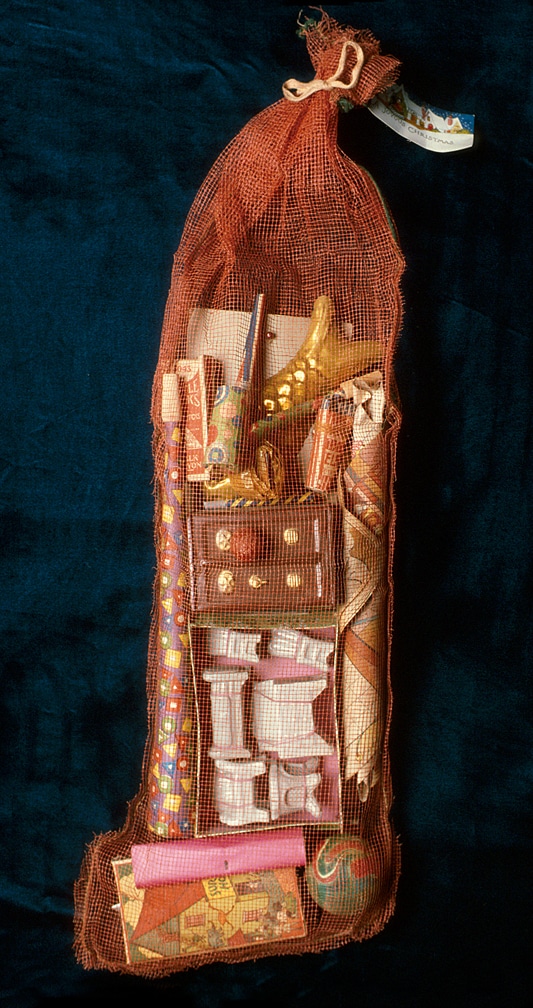 With so much emphasis on elaborate gifts and the perfect stocking stuffers, it's hard to believe that, not long ago, people received fruit in their stockings. That holiday tradition still holds true in some families. Eventually, when small, inexpensive gifts did make their way into Christmas stockings, they tended toward popular dime store items such as plastic whistles, bouncy balls, or playing cards. As this artifact from the museum's collection shows, you could even buy a Christmas stocking already filled with trinkets and toys as late as the 1960s. Although stocking stuffers have remained physically small over the years, their price tags have grown considerably. Recent advertisements pushing jewelry, iPods, and cell phones as suitable for stockings make me wonder when such pricey gifts became the norm. In one elaborate holiday commercial, a man surprises his wife with a Lexus SUV hidden behind a giant, garage-sized stocking. If an expensive new SUV is the stocking stuffer, what does this man purchase as an actual gift—a fully-staffed yacht, perhaps?
While receiving an elaborate gift is, no doubt, wonderfully exciting, many people still value the simple things about the season most. For one friend, it's the Clementine orange she finds in the toe of her stocking every year, for another it's holiday music, and for my mom it's her grandmother's bread pudding recipe. Even children can find joy in the simple pleasures of the season. After all, empty boxes make the perfect raw materials for constructing a holiday fort after the gifts have all been opened.
Extravagant or simple, I hope your holiday season is filled with the things you value most and surprises that make you feel like a kid all over again.