Nobody puts Bubbie in a corner. (Oy.)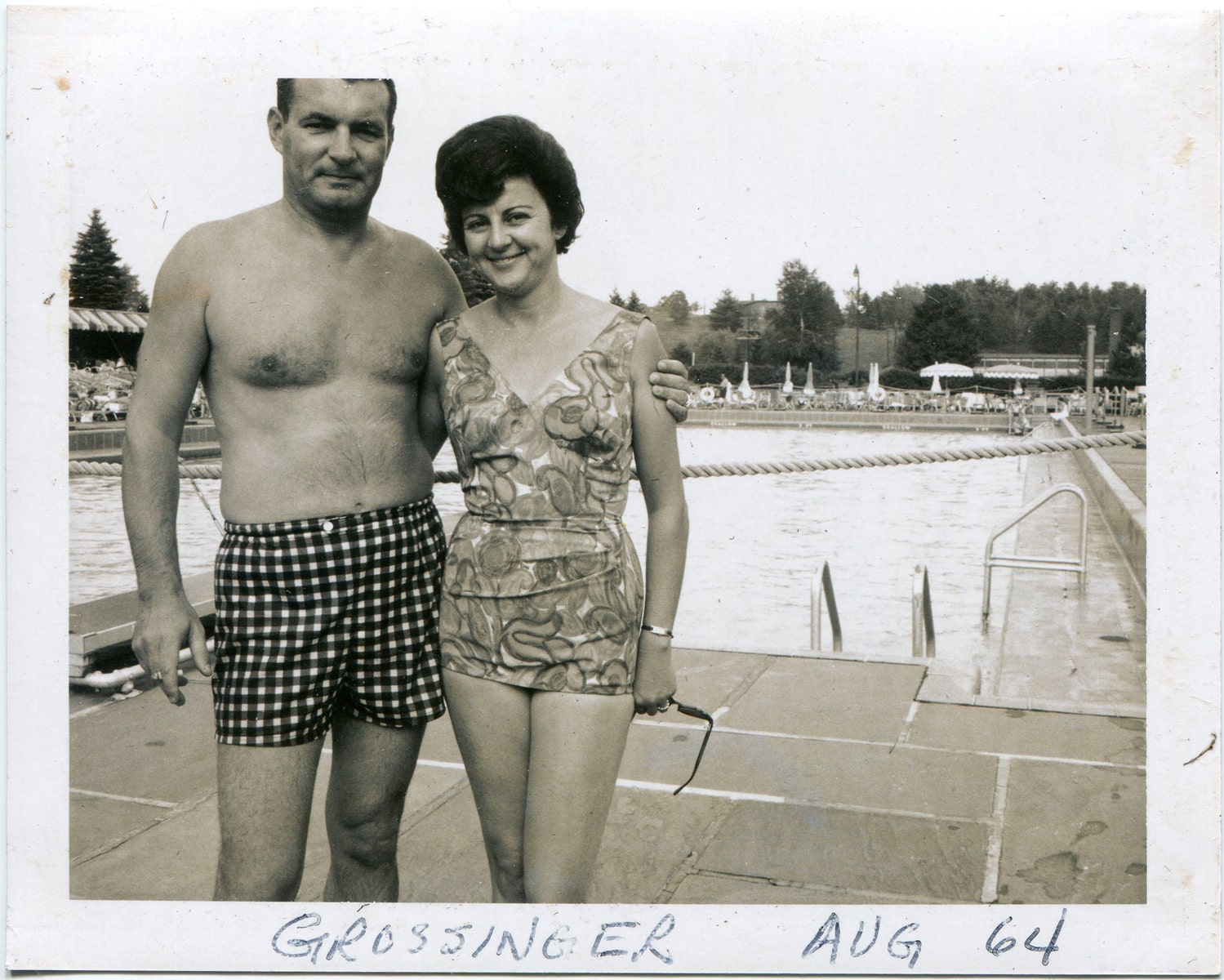 I think of the movie Dirty Dancing (1987) whenever I see this poolside photo of my grandparents at Grossinger's resort in the Catskill Mountains in 1964. They look sophisticated, fun loving, and reminiscent of Baby's parents, Dr. and Mrs. Houseman, New Yorkers who visited the fictional Kellerman's Mountain House with their daughters to relax and socialize in the summer of 1963. For their own vacation, my grandparents left their young girls (my mother and aunt) back home in Philadelphia, far from the temptation of dance lessons.
Grossinger's dynamic dance instructors likely inspired Dirty Dancing's characters Johnny Castle and Penny Johnson. The filmmakers modeled Kellerman's after Upstate New York's renowned resorts, though they filmed at locations in Virginia and North Carolina. Sadly, Dirty Dancing couldn't have been shot at Grossinger's because the property had closed in 1986, and many neighboring hotels had burned down. But in their heyday, they were spectacular.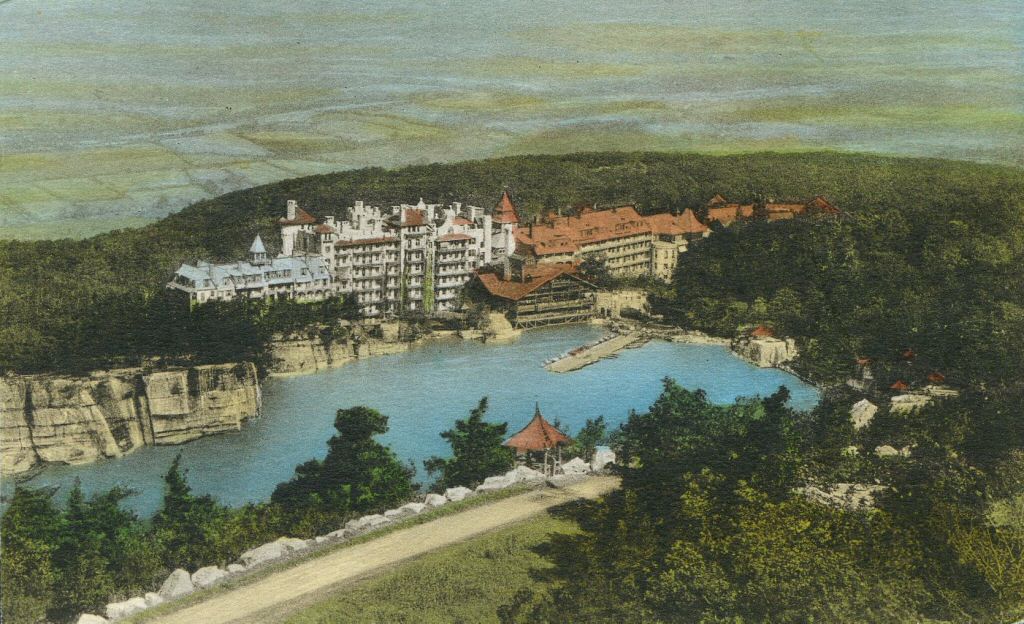 The Catskills saw the rise of the hospitality industry in the 19th century. Catskill Mountain House, which opened in 1824, rested so close to the edge of a cliff that not only would it have offered its guests astonishing natural views, but the hotel would have served as its own billboard for travelers on the Hudson River and residents in the valley. Lake Mohonk Mountain House, built in 1879 in a similarly idyllic setting, is pictured in this postcard from The Strong's collections. The hotel still operates and appears regularly in television and film.
Selig and Malke Grossinger's inn, which opened in 1914, first generated brisk business in the years between the world wars. Jewish immigrants escaping the heat and congestion of New York City found comfort and recreation at hotels catering to them in the Catskills. The sense of community was so strong in the 1920s that the area became known as the Borscht Belt, after the beet soup commonly found in Jewish cuisine. With daughter Jennie greeting guests personally by name, Grossinger's became a top destination with legendary hospitality. When the family chose to install a golf course rather than invest in the stock market, the property weathered the Wall Street Crash of 1929. Grossinger's endured the Great Depression in relative financial security, thanks in part to some creative decisions to entice guests beyond the summer season, such as expanding winter programming and inviting high-profile athletes to train at Grossinger's top-notch gym in the off-season.
Grossinger's grew so large it received its own postal code. Its 600 guest rooms, indoor and outdoor pools, tennis courts, and airstrip sat on 800 acres. Its dining room, with seating for 1,700, urged guests to go back for seconds on its kosher meals. Politicians courted the Jewish vote at Grossinger's, and celebrities went there to unwind. Entertainers from Milton Berle to Mel Brooks cracked up audiences in its theater. In 1952, Grossinger's became the first in the world to make artificial snow for its ski valley. The resort published a newsletter, The Tattler, which chronicled its patrons' social activities and reported on eligible bachelors. Eddie Fisher married Debbie Reynolds and Elizabeth Taylor at the complex (though not at the same time).
But as celebrity marriages come and go, so too did the Borscht Belt. Grossinger's loyal clientele was aging, and with more abundant opportunities for Jewish singles to meet each other in New York City, it proved increasingly difficult to attract younger guests to matchmaking opportunities in the mountains. Furthermore, affordable airfares allowed vacationers to journey to more distant and exotic locales. Grossinger's remained in the family until 1985. The buyer planned to reinvigorate the business but ultimately abandoned the property, which has fallen into disrepair. Although lodging options still abound in the Catskills, many modern New Yorkers (fictional and otherwise) opt for the Hamptons. My grandparents traded the Grossinger's experience for downtime in Florida. And I grew up without the corrupting influence of the mambo—except from Johnny Castle, of course.