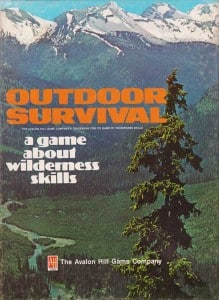 Imagine you're lost in a wilderness. You must ford rivers, traverse swamps, scale mountains, and acquire enough water and food to survive and eventually reach your destination. Every day there's a chance you will encounter a wild beast of some kind. Avalon Hill's 1972 strategy game Outdoor Survival simulates the act of surviving the wilderness. The game had a crucial, though underappreciated, impact on the way we play video games today. Outdoor Survival also demonstrates how the genealogy of games lends to our understanding of the basic structure of video games.
Avalon Hill made its reputation in the 1970s as a publisher of complicated war games, but the company's range of board games also simulated topics such as finance and sports. It was a creative time in board game design, when designers believed almost any subject could be turned into a game. Outdoor Survival featured a map of a wilderness setting and challenged players with a variety of scenarios that required them to navigate the landscape and survive the rigors of the wilds. As they traveled, players rolled dice and consulted a "random encounters" table to determine what animals or other hazards they might meet along the way.
Few people play the game today, so why is it worth knowing about? Not long ago, I gave a tour of the museum to Jon Peterson, author of Playing at the World: a History of Simulating Wars, Peoples, and Fantastic Adventures from Chess to Role Playing Games. We stopped in front of a large group of Avalon Hill games and Peterson pointed out Outdoor Survival and noted that the wandering monster system in Dungeons & Dragons could be traced to this game.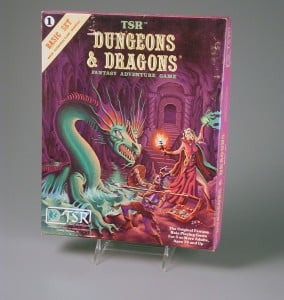 Later, when I had a moment, I opened one of The Strong's copies of the original, 1974 white-box version of Dungeons & Dragons. There, sure enough, in the game's Underworld and Wilderness Adventures booklet, the authors Gary Gygax and Dave Arneson cite Outdoor Survival. They even suggested players use a copy of the game's board for the wilderness portion of a Dungeons & Dragons game. And more importantly, Gygax and Arneson adopted Outdoor Survival's random encounters system to help generate monsters for unplanned trips into the natural settings between dungeons and towns.
Anyone who has played Dungeons & Dragons is familiar with this random encounter system. For example, Appendix C of the Dungeon Master's Guide for Advanced Dungeons & Dragons (1979) provided charts of random monster encounters of all kinds and offered statistics for calculating the chance of meeting a monster and determining the type of creature. For instance, a party wandering in a forested area of a temperate region had a 1 in a 100 chance of meeting a wild boar, a 1 in 20 chance of meeting an ogre, and a 1 in 10 chance of meeting a wolf. Exact statistical tables gave the dungeon master the flexibility to create interesting scenarios when players headed off to areas in the game he or she had not preplanned.
As it turned out, such a system for randomly generating monsters in wilderness areas also proved perfectly suited for computers. Programmers creating fantasy role playing games such as the 1981 title Ultima wrote code that used an adapted version of wandering monster tables to randomly generate encounters for players. This system still lives on in many computer RPGs. One of my children's favorite free-to-play fantasy MMORPG (Massively-Multiplayer Online Role Playing Game) games, RuneScape, sends players on quests. Players meet non-player characters (NPCs), find treasure, fight monsters, and tackle a wide variety of tasks like chopping wood, farming, and mining. Most adventures begin in the city of Lumbridge. When adventurers set out to seek treasure in dungeons, they must cross wilderness areas where they encounter a series of wandering monsters randomly generated from statistical formulas not unlike those first developed in Dungeons & Dragons or Outdoor Survival.
When I wandered The Strong's extensive collections documenting the deep history of play, I also experienced random, but enlightening, encounters.  
By Jon-Paul Dyson, Director, International Center for the History of Electronic Games and Vice President for Exhibits