As a child who preferred playing outside with sticks and leaves, only a handful of dolls ever really captured my attention. In fact, I only recall true fondness for four dolls: Baby Tenderlove, Raggedy Ann, Darci cover girl, and my Cabbage Patch Kid—Kendall Walter Winner.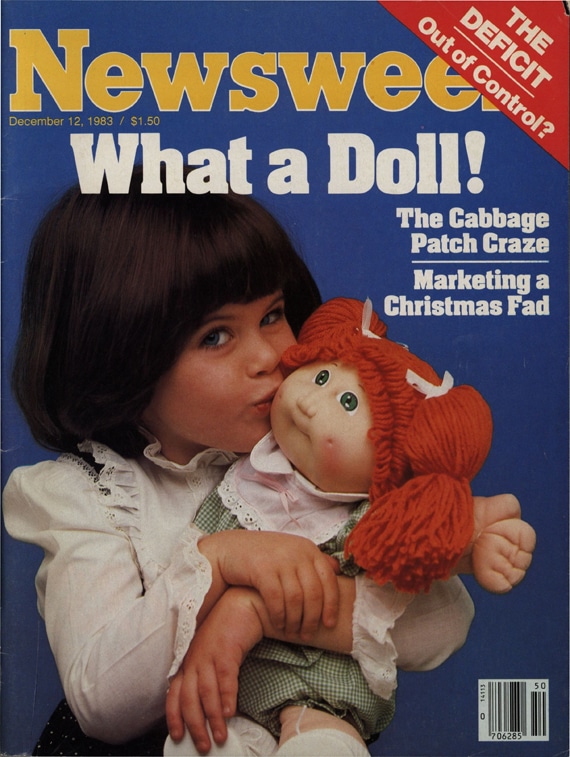 In 1983, at the age of 13, I wasn't interested in Kendall as "just a doll," I was more fascinated by the fact that he was "one-of-a-kind." At the time I didn't understand the mathematical algorithms and computational complexities Coleco Industries, Inc. used to generate these playthings, but I did recognize that they were in extremely high demand and relatively low supply. By the Christmas 1983 shopping season, Cabbage Patch Kids were the "must have" toy of the year, and shoppers would line up for hours just to purchase one. Mobs and brawls were reported throughout the United States as the dolls' scarcity magnified. Ultimately, this commercial phenomenon resulted from the amalgamation of three major factors: a brand new toy concept, a manufacturer's (Coleco Industries Inc.) underestimation of raw materials needed, and a saturated marketing campaign.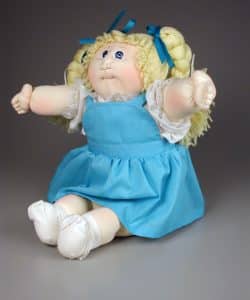 Although Coleco officially debuted Cabbage Patch Kids in 1983, the dolls actually originated in 1976 in Cleveland, Georgia, from the work of 21-year-old folk artist, Xavier Roberts. Originally designed as handmade soft sculpture dolls with carefully painted eyes and hand-stitched mouths, these creations contained no plastic parts. Once Roberts recognized the marketing potential of his individual creations, he named them "The Little People" (not to be confused with the Fisher-Price figures). Roberts let interested buyers know that these dolls were not for "sale" but instead were up for "adoption," providing birth certificates and adoption papers for the new adoptive "parent" to sign. During production, each doll received a unique name, taken from the 1938 Georgia birth records, so that no two dolls had the same name or look.
By 1978 Roberts couldn't keep up with the demand for his dolls, so he enlisted the help of some friends and together they formed Original Appalachian Artwork, Inc. They purchased a deserted medical clinic in Cleveland, Georgia, and renamed it "Babyland General Hospital" from which the dolls were now "born" and "adopted." Employees wore doctors' and nurses' uniforms, and the dolls were kept in bassinets. By 1979 Roberts had more than 50 employees, and the dolls were valued at $100 each. In 1982 with the help of licensing agent Roger Schlaifer, Roberts signed a deal with Coleco, which began the mass production of the dolls and revised the line's name to Cabbage Patch Kids. The concept would remain the same, with each doll receiving a name, birth certificate, and adoption papers. The heads of the dolls, however, were changed to vinyl, and their "birth" names were now computer generated.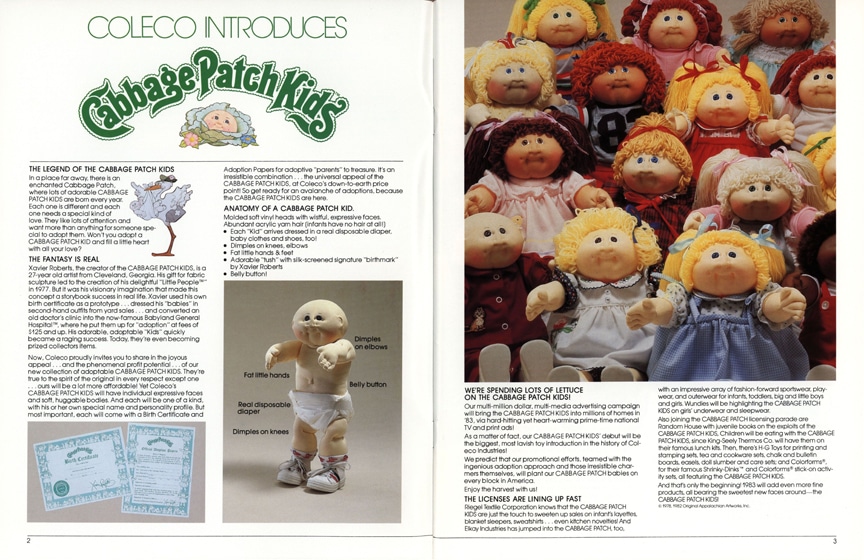 Coleco manufactured the Cabbage Patch Kids until 1989. They have since been produced by Hasbro, Mattel, Toys "R" Us, Play Along Kids, and Jakks Pacific. Numerous toy accessories and other licensed products (clothing, dinnerware, etc.) helped to keep consumers interested in the Cabbage Patch Kids.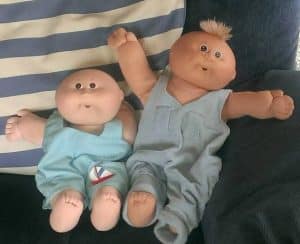 My sister and I were lucky—in 1983 my father happened to be at the "right place at the right time" when he purchased our Cabbage Patch Kid for $50 ($120 in 2014 dollars) at a now-defunct catalog store, Best Products, in Wilmington, Delaware. He was limited to purchasing just one, so my 12-year-old sister and I shared Kendall, a requirement which we were more than happy to oblige. His light-colored curly yarn hair, blue corduroy pantsuit, and perpetual dimpled cheeks made us happy because as adoptive parents we were now responsible for his care. I always smile when I think back to that experience from more than 30 years ago; our Cabbage Patch Kid was a special plaything that will forever be etched in my memory.