January brought the start of a new year and also the start of a new project. I began to inventory and process the Mayfair Games archival materials that were donated to The Strong museum in 2017. In an effort to learn more about the company, I started reading about the board games, card games, and role-playing games it produced. I quickly learned that Settlers of Catan, one of Mayfair Games' most recognizable titles, not only ranks as an awesome game, but also has a history that changed the gaming industry.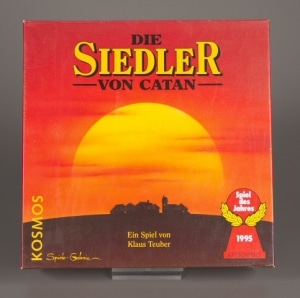 I'll confess, I had never played Settlers of Catan before starting this project. I didn't know what the game was about or how to play, so I watched some videos on gameplay and ordered Catan: Family Edition to try at home. I had no idea how much fun this game was! Suddenly, my family and I had multiple nights where we weren't sitting down to watch television—we were at the kitchen table trading resources to build settlements and cities. My six-year-old, who won the first couple of games, enjoys that we have to work together to trade; I love strategizing the best locations for building; and my husband likes that no player gets eliminated prior to the game ending (unlike Monopoly, which he won't play without a great amount of bribery involved). These game design elements of Catan embody what is known as "German-style games" or "Euro-games."
Germany has long been known for games, with toy production that can be traced back to the late 14th century. After World War II, a renewed emphasis on gaming as a social activity meant that German games valued every player (no one got eliminated), favored strategy over luck, streamlined rules, and encouraged players to work together (avoiding war games and conflict). The Spiel des Jahres (Game of the Year) award began in 1978 with the goal of highlighting such innovative and enjoyable games and became a catalyst for creating inventive games with mass appeal. Die Siedler von Catan, created by Klaus Teuber, won the Spiel des Jahres in 1995 and started a revolution.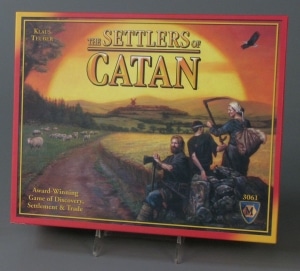 Even with such exceptional output, until the 1990s very few German games had made it to North America. But in 1995 Mayfair Games began buying rights to German games, the result of company founder Darwin Bromley's passion and encouragement from Jay Tummelson (who later started Rio Grande Games and continued to publish Euro-games). One of the first German-style games published in North America was Settlers of Catan (the Anglicized version of Die Siedler von Catan), which gained widespread popularity, generated four expansions, and went on to sell more than 22 million copies worldwide. Catan opened the door for other German-style games in North America and influenced a generation of game designers to adopt similar design elements.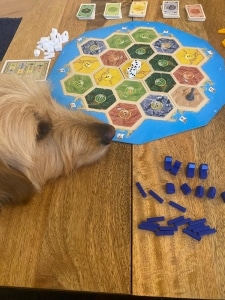 Catan has my family building settlements, sharing resources and, ultimately, my daughter winds up in a fit of giggles. Because of its German-style attributes, this game brings us together for all the reasons we love to play it. Not only has Mayfair Games brought Settlers of Catan to American tables, the company also produced its own games including the crayon rails games (a series of railroad games with train tracks drawn by crayons), Sim City: The Card Game, and a plethora of role-playing games in the Advanced Dungeons & Dragons, Chill, Underground, and DC Heroes lines. Development documents for these games are included in the Mayfair Games archive collection I'm processing, which also features art department files, graphic design papers, and marketing records. I hope this blog whets your appetite to learn more about Mayfair Games through this collection, part of the Brian Sutton Smith Library and Archives of Play's holding. Just be patient as we do the necessary work of organizing and describing to make these materials ready for researchers to use in 2021.