The Strong has acquired a collection of more than 2,000 drawings, photographs, mock-ups, proofs, and other materials related to the design and production of Atari home and handheld game packaging and user manuals from 1976–1984. The Cort and Barbara Allen Atari Packaging Design Collection, 1976–1984, documents how the company's artists, designers, and writers developed and created the distinctive packages and manuals for some of the earliest and most popular home video game titles of the  later 20th century.
How companies package their products says a lot about how we purchase, interact with, and ascribe meaning to the objects we buy. For example, in The Power of Glamour: Longing and the Art of Visual Persuasion, Virginia Postrel notes the story of novelist Yiyun Li. According to Li—who grew up in China during the 1970s but moved to the United States to attend graduate school in 1996—a "Western candy wrapper" represented the glamour of American life. As she explained, "It was made of cellophane with transparent gold and silver stripes, and if you looked through it you would see a gilded world, much fancier than our everyday, dull life." Li's story highlights the potential power of product packaging and the imaginative ways in which consumers interact with it.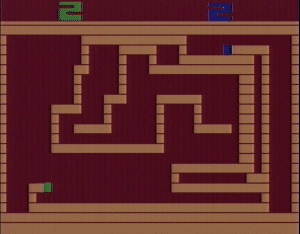 Candy wrappers and video game boxes are expressive. During the 70s and 80s, the animated visuals and dazzling designs of Atari's home video game packages ignited the imagination of millions of players using video game joysticks for the first time. The inspiring imagery helped players envision fantastic worlds out of the abstract, blocky, pixilated graphics they actually saw on their television screens.  For example, this collection includes artist Cliff Spohn's original cover artwork for the 1977 Atari Video Computer System launch title Surround. The artwork for Surround and other launch titles not only helped define the company's packaging aesthetic, but like popular music albums and book covers, it also enticed potential buyers with visual settings that were epic in scope. Surround constituted a simple chase and blocking game where two players maneuvered around different colored squares until one player crashed into one of the trails left by the moving squares. The light cycle scene in the 1982 video game-themed film Tron made this style of game a riveting and dramatic pursuit. However, five years earlier Surround lacked such cinematic views even though the game pitted two players against each other in a high stakes battle with each trying to force the other to crash. To represent that type of dramatic action in his cover artwork, Spohn put players in a surreal setting. He showed them sitting in front of hi-tech computer terminals with trails of floating blocks literally surrounding them as they break through the two-dimensional world of the package.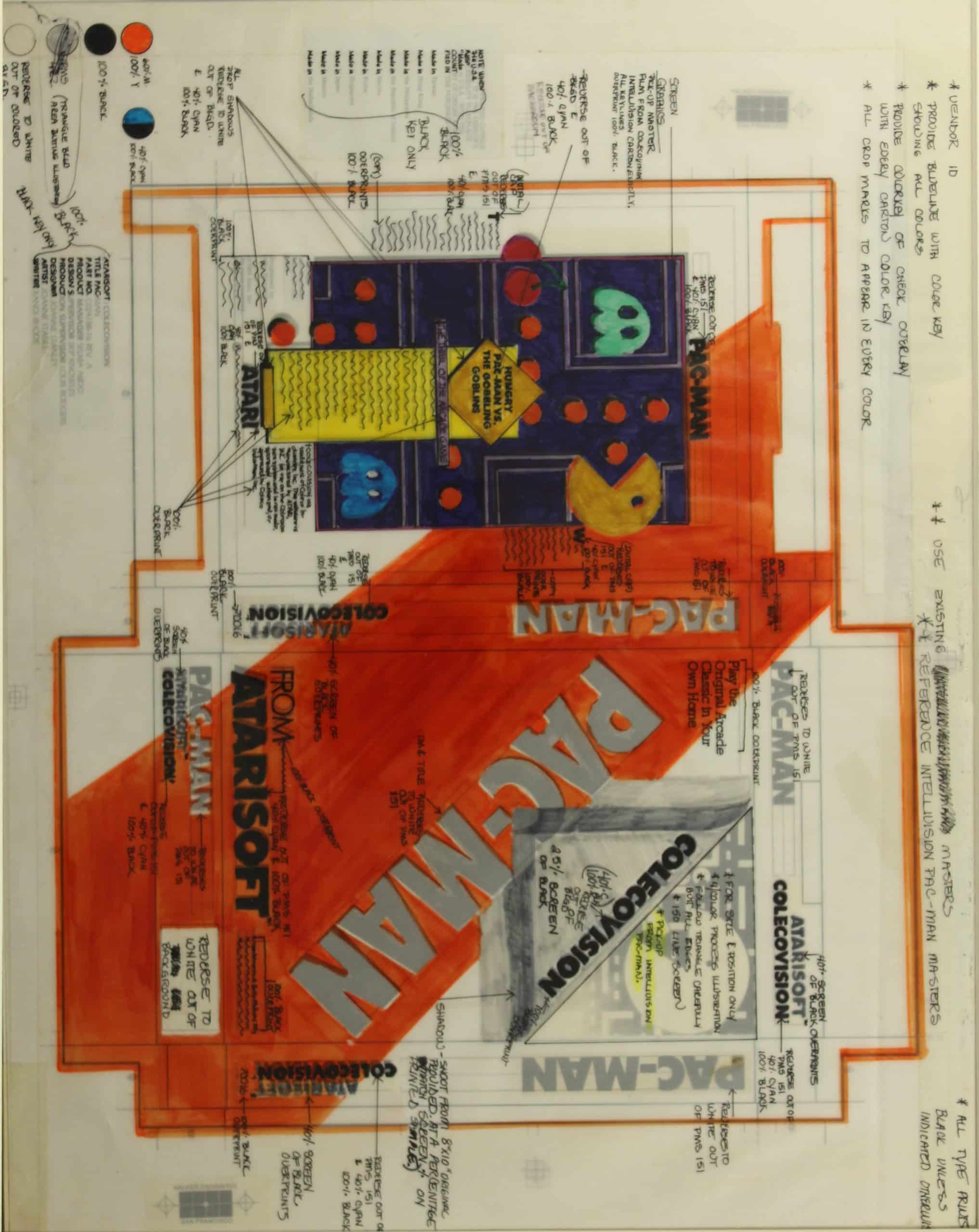 Another example of how video game package artwork like Spohn's played a vital role in translating Atari's graphics into fantastic scenarios is a package mock-up for an unreleased Atarisoft Pac-Man game for the Colecovision home console. The mock-up reveals virtually every detail of how graphic designers chose colors, text, font, and visuals when they composed a package.  Other materials in the collection document Phase Alternating Current (PAL) region and French language packaging, concept box artwork for a Kee Games (an Atari-owned company created to act as a faux competitor) version of the Atari 2600, and how Atari worked with Nintendo to refine the packaging and manuals for the Atari 2600 and 5200 versions of Mario Bros.
This collection—which also includes packaging, manual documentation, and artwork for popular Atari home video games such as Donkey Kong, Dig Dug, Jungle Hunt, Pole Position, Real Sports Football, Robotron 2084, and Berzerk—complements ICHEG's unparalleled collections of Atari home video games and other archival materials related to the game industry pioneer and provides critical additional resources for exploring the role of packaging in video game history and understanding the work involved in developing video games from concepts to final products.