"You are a daring deep-sea diver holed up on Hardscrabble Island, a dying little seaport all but forgotten…." And so begins Infocom's 1984 text-based adventure, Cutthroats, about a search for sunken treasure. Gamer Tim Nichols included a copy of Cutthroats in a large lot of computer games he recently donated to NCHEG, and the game exemplifies different types of materials that are extremely useful in our efforts to preserve the history of electronic games.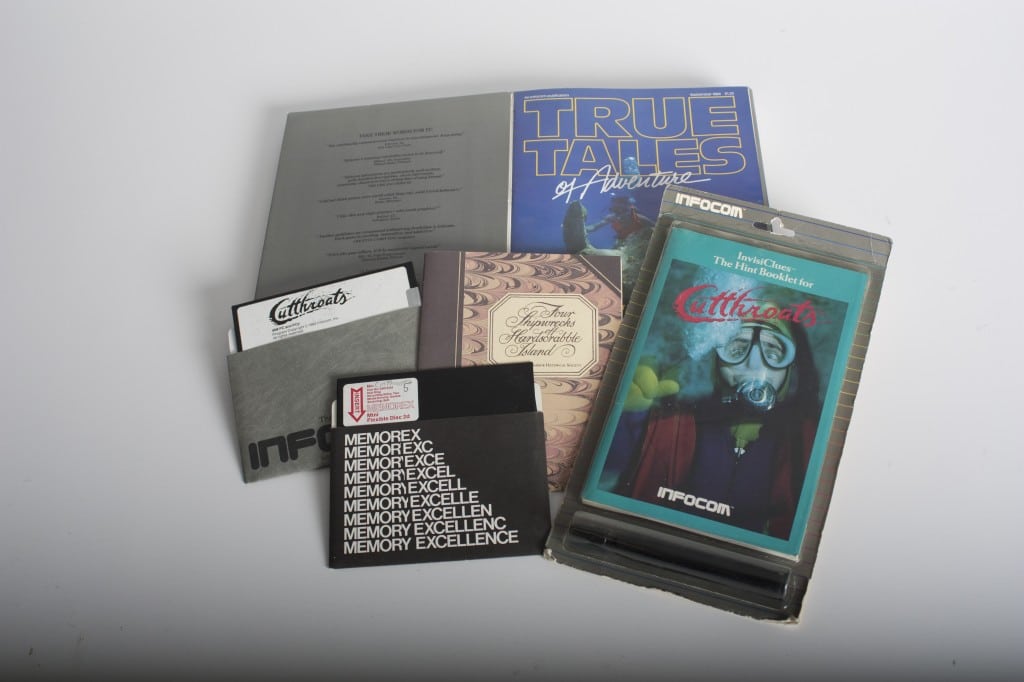 Cutthroats, like so many Infocom products, features not only a disk and instructions, but also ancillary materials that players often need to solve the game. These materials include:
Four Shipwrecks off Hardscrabble Island, a book, supposedly published by the Hardscrabble Harbor Historical Society, that gives a history of the game's ships and shows a diving map of the wrecks' locations;
a price list and tide table from the game's marine supply store; and  
a magazine, True Tales of Adventure, featuring funny, mock diving stories and game instructions.
What's especially ideal about Tim's Cutthroat donation is that he also gave us many other materials that show how he actually played. These include the backup and save disks he created in accordance with instructions in the game manual; a hand-drawn map he sketched to help him navigate the island; and a copy of the InvisiClues Hint Booklet, which Infocom sold separately to help players who were stuck. Players stumped in mid-adventure could simply take out the marker and reveal a hint printed in invisible ink!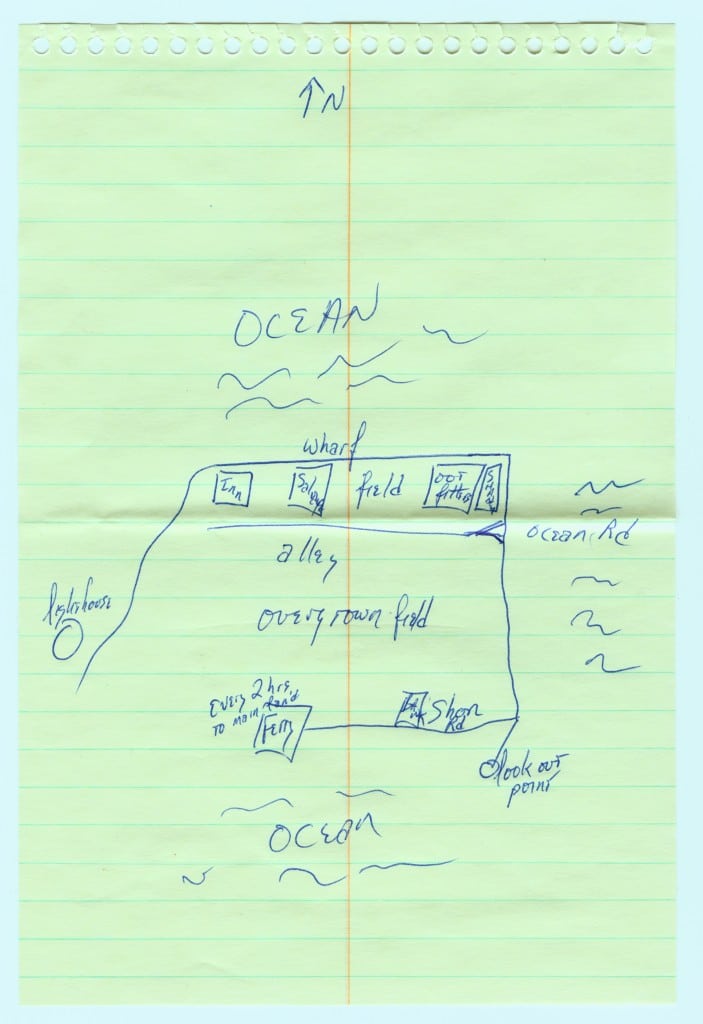 Tim never opened the InvisiClues book, and I was curious as to whether he left it unopened because he never needed it to help him navigate, or perhaps because he didn't make it far enough into the game to bother using it. In a follow-up email, Tim wrote:  
"I recall spending a few evenings with Cutthroats, but I never really got hooked on the game.  On the other hand, I wasted countless hours playing another Infocom title, The Hitchhiker's Guide to the Galaxy.   My colleagues at the time were playing as well, and we'd gather in the morning over coffee to try and figure out who had figured out what.  It took several of us over a week to collectively figure out the damned 'Babel Fish Dispenser.'  And the 'Don't Panic' buttons that came with the game were popular to have on the wall of your cubicle.  I still occasionally refer to beer as 'muscle relaxant.' And I have often referred to the need to 'don my Peril Sensitive Sunglasses,' although not too many get the references anymore.  However, I am proud to say that both my teen sons know how to defend themselves from a ravenous 'Bugblatter Beast of Traal,' and my youngest is intent upon someday perfecting the 'Infinite Improbability Drive.'  That may not make me father-of-the-year, but it makes me smile."
Thanks, Tim! It's a great gift.
By Jon-Paul Dyson, Director, International Center for the History of Electronic Games and Vice President for Exhibits