Toys reflect the times in which they are made, and it follows, that as time passes, these toys fade away and are often replaced by newer toys. A few toys—like many in the National Toy Hall of Fame—though, remain popular for decades. Some even endure for several generations—like Tinkertoys.
The Tinkertoy chronicle began more than 100 years ago. Stone mason Charles Pajeau of Evanston, Illinois, the story goes, hated his day job. In the early 1900s, he ran his father's monuments business and was quite vocal about his work. "Monuments," he said, "stink!" Pajeau found purpose, though, in working on inventions in his spare time. But his idea for a bicycle never really got rolling, and sales of his Yankee Doodle Sulky—guaranteed to remain stable when parents rolled their little cherubs to the park in it—collapsed when his supplier went out of business.
Pajeau, however, had another idea. From watching children play with pencils and empty spools, he devised a construction set of similar wooden pieces. He improved the toy by boring holes on the outer edge of the "spool" as well as in its center. These pieces accommodated the building of large, three-dimensional structures of infinite possibilities. Pajeau based his design on the Pythagorean theory, making the size of his wooden sticks the correct length to form the 90-degree triangles that strengthened the towers, windmills, and houses kids built. The toy designer once noted that imitators did not appreciate the geometric principles behind Tinkertoys and their rip-offs inevitably failed.
Even though Pajeau's toy design was solid, his business plan was not so orthodox. He partnered with Robert Petit, a stockbroker he met on the commuter train—who also disliked his job. The two formed The Toy Tinkers of Evanston and began producing wooden construction sets in 1914. At first, sales were very slow, but when in 1915 Pajeau took his creation to New York's big toy show and displayed the variety of structures that his "Wonder Toy" could make, sales took off. The company sold nearly a million sets in its first year of national distribution.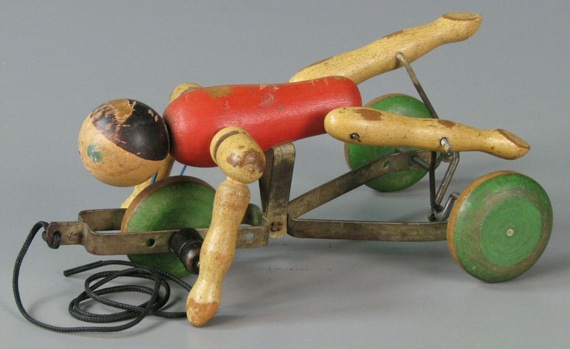 Pajeau designed other toys for his company, and all his designs reflected his own ideas about the importance of play and of the educational value of toys. In the promotional material Pajeau wrote, he promised that the Tinkertoy set "holds attention indefinitely; never becomes tiresome; develops originality and application, and is much appreciated by parents on this account." Another advertising ditty stressed the open-ended play his creation encouraged: "I build a thousand wondrous things that teach both girl and boy; I bring content and happiness; My name is Tinkertoy."
No wonder Pajeau's construction sets have endured for 100 years. The principles that inspired his design are just as valid these days as they were a century ago—which helps explain how millions of sets of Tinkertoys have been sold each year and continue to sell in significant volume to this day.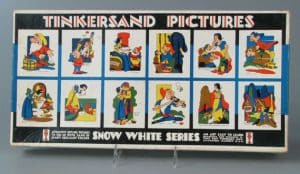 Just in time to make note of the centennial of the creation of Tinkertoys, The Strong received a very generous donation of Anne Heuer Lewis's collection of Tinkertoy sets and other toys made by Pajeau and his company. The gift includes more than 130 examples of Tinkertoy construction sets dating from the early 1920s to the present. The donation also includes many of the action toys, bead toys, art sets, and games The Toy Tinkers offered from 1916 to 1938, as well as advertisements, catalogues, brochures, original instruction sheets, and several articles. It is a comprehensive collection of Pajeau's influence on the toy business and of the company's successes following his retirement in 1952.
Keep an eye on the museum's online collections as we add items from the Lewis gift, and let us hear about your memories of Tinkertoys.