For more information contact: Shane Rhinewald, The Strong, srhinewald@museumofplay.org;
ROCHESTER, NY— Hello, neighbor! Jump into the imaginative world of Daniel Tiger's Neighborhood, the award-winning PBS KIDS television series, when Daniel Tiger's Neighborhood: A Grr-ific Exhibit visits The Strong National Museum of Play beginning January 29. The new exhibit brings to life the themes presented in the beloved series created by Fred Rogers Productions that follows the adventures of 4-year-old Daniel Tiger and his friends.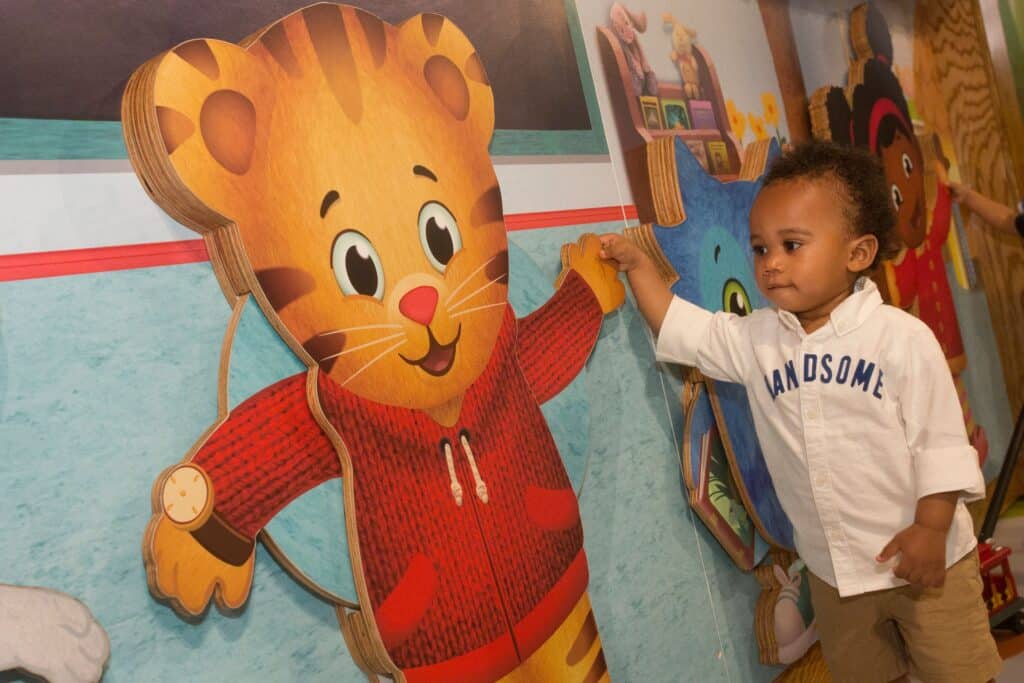 In "Daniel Tiger's Neighborhood: A Grr-ific Exhibit" children enter the world of Daniel Tiger and friends to explore the Neighborhood. Through immersive experiences, guests collaborate to solve problems, use their imaginations to transform their surroundings and play along with Daniel's singable strategies as they learn life's little lessons.
The exhibit, created by Children's Museum of Pittsburgh in partnership with Fred Rogers Productions, brings to life the themes presented in the series such as community, communication and emotions, which enables young children to understand their feelings and those of their neighbors. Guests can walk the paths and hear Daniel's world as they encounter the meaning of empathy, gratitude, sharing and diversity in an environment of creative and interactive play. Through music, kids can also sing along with Daniel, work together to solve problems and even experience the contagious nature of kindness.
Along with the emotional lessons taken from the Neighborhood, guests can:
● Transform into to a favorite character with masks and costumes
Compose a song or play along with one-of-a-kind instruments
Visit the Post Office and sort, deliver and receive packages and letters
Create stories through the Movable Character Mural
● Step inside the Clock Factory to play with a variety of clocks
● Identify spots in one's own neighborhood on the interactive world map
● Write or draw thank-you notes and put them on the Thank You Tree.
● Cozy up with a good book in O the Owl's Reading Nest and
● Stroll with a Trolley along the path, and ring the bell upon arrival!
Daniel Tiger's Neighborhood: A Grr-ific Exhibit is included with general museum admission and remains on view through April 24.
Presented in the Fidelis Care Gallery.
About Children's Museum Pittsburgh
Children's Museum of Pittsburgh is a place that delights and inspires children, where they can take off on fantastic flights of imagination daily, and return to earth to splash in a river, hammer a nail and ink a silkscreen. With 80,000 square feet of space, the Museum welcomes more than 307, 000 visitors annually and provides tons of fun and loads of "real stuff" experiences for play and learning. The Museum was voted one of the nation's Ten Best Museums for Families in USA Today's Reader's Choice Contest in 2017, and named one of the nation's fifteen top children's museums by Parents Magazine in 2015. In April 2019, Children's Museum of Pittsburgh Museum opened MuseumLab™, a new museum for older kids, in the former Carnegie Free Library of Allegheny next door. This project transformed a historic landmark on Pittsburgh's North Side and completed what is now the nation's the largest cultural campus for children.
About Fred Rogers Productions
Fred Rogers Productions was founded by Fred Rogers in 1971 as the non-profit producer of Mister Rogers' Neighborhood for PBS. In the years that followed, it created hundreds of episodes of this much-loved program and extended Fred's values and approach to other efforts in promoting children's social, emotional, and behavioral health while supporting parents, caregivers, teachers, and other professionals in their work with children. Fred Rogers Productions continues to build on Fred's legacy in innovative ways through a wide variety of media and engages new generations of children and families with his timeless wisdom. The company's highly-rated children's series, including Daniel Tiger's Neighborhood, Peg + Cat, Odd Squad, and Through the Woods, have earned 30 Emmy® Awards among other important honors. Newly launched in 2021 on PBS KIDS is Donkey Hodie, the innovative puppet series inspired by characters from Mister Rogers' Neighborhood; and most recently Alma's Way, an animated series created by Sonia Manzano, known to generations of children and adults as "Maria" on Sesame Street. For more information, visit www.fredrogers.org
Museum Hours: The museum is open from 10 a.m. to 5 p.m. every day except Fridays, when it is open until 8 p.m.
General Admission Fees: Age 2 and older $19, under age 2 free, members free. Fees subject to change.
Admission to Dancing Wings Butterfly Garden: General Admission fee plus $4 for members, $5 for non-members, under age 2 free. Fees subject to change.
Parking: Parking is available on a first-come, first-served basis in the museum's parking garage for free now through the end of July. Parking is $5 for non-members. Members can use one of their six annual parking validations during their visit. Once all validations are used, members may park in the garage for $5. More details at museumofplay.org/visit/directions-and-parking.