Inducted: 2023
There was no video game industry in 1970. The games that we'd now call video games were still mostly locked away on computers in university and research labs, inaccessible to the public. Engineering student Nolan Bushnell played the most popular of these games, Spacewar! (1962), in a computer lab in the 1960s. The game's spaceships—dueling in cosmic combat while orbiting a star—captivated the young Bushnell. Having worked summers at a Utah amusement park managing coin-operated pinball and arcade games, he was sure many people would pay to play this game and he began brainstorming a way to turn Spacewar! into a commercial product. Unfortunately for him, the only computers capable of running the game at the time cost more than $100,000—far too expensive (especially then) to purchase and house in an arcade cabinet generating income from quarters.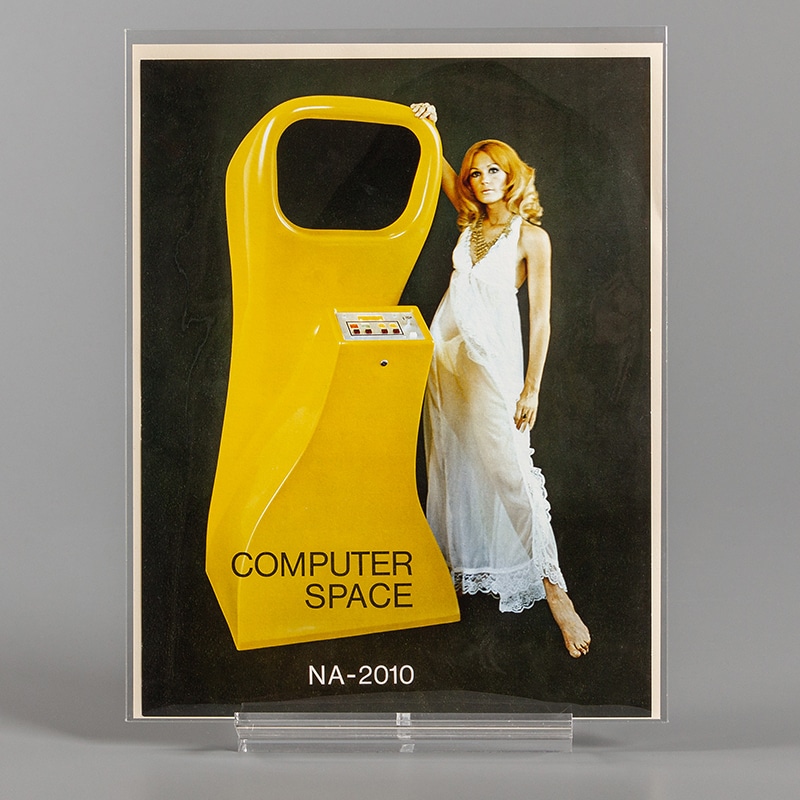 The introduction of the $4,000 Data General Nova minicomputer in 1970 reignited Bushell's interest. Now working at the electronics firm Ampex, Bushnell introduced his colleague Ted Dabney to Spacewar! and convinced him to help create a commercial version of the game. For months, Bushnell, Dabney, and another partner (who later left) struggled to make their "Cosmic Combat" game work smoothly on a Nova computer. The frustrated Bushnell soon realized they didn't need a computer. They could create more affordable custom hardware that ran a simpler, single player version of the game.
In early 1971, Bushnell and Dabney brought the idea to Nutting Associates, a local arcade game manufacturer known for producing the bestselling 1967 coin-operated trivia game Computer Quiz. Nutting jumped at the chance. They debuted what they were now calling Computer Space at the October Music Operators Association show to a mixture of excitement, skepticism, and bewilderment. The curvy, glittering, fiberglass cabinet looked like it belonged on the set of a science fiction movie rather than next to the standard heavy, boxy electromechanical game cabinets found in most arcades. The gameplay, viewed on a 15-inch black and white television monitor, resembled Spacewar!, but rather than a rocket dueling with a spaceship around a sun, the single-player game pitted a spaceship against two enemy saucers. Using a series of buttons, players maneuvered their vehicle around a starry screen while fighting two enemy saucers, scoring a point for each enemy hit. If, after 99-seconds, players had a higher score than the enemy saucers, they earned a free game.
Early game tests at the Dutch Goose Bar near the Stanford University campus were favorable, but initial excitement leveled off as tests in other locations showed that the game's complex controls and physics frustrated many players. While some coin-op distributors and game operators liked the game, many more wondered if this new video game was just a fad. Nutting eventually sold 1,500 units—not a commercial failure but not as successful as Computer Quiz.
Computer Space may not have met Nutting's expectations, but it influenced the course of video game history. It established the blueprint for nearly all coin-operated arcade video games that followed it: a cabinet, marquee, control panel, television monitor, audio speaker, circuit boards, power supply, and coin acceptor. It also inspired some of the first professional game developers. Jerry Lawson, the engineer who led the creation of the first cartridge-based video game console in 1976, created his first coin-operated video game "Demolition Derby" after playing Computer Space. Atari game designer Ed Logg based his bestselling 1979 space shooter Asteroids on elements borrowed from Computer Space and Space Invaders (1978).
Even Bushnell's and Dabney's experience developing and selling Computer Space proved vital. They left Nutting and cofounded Atari, the company that ignited the video game revolution with Pong (1972), Home Pong (1975), and the Atari 2600 console (1977). Bushnell, in particular, turned Computer Space's and Pong's lessons into a game design philosophy (later known as "Bushnell's Law"): make games that were easy to learn, but difficult to master.
Ultimately, Computer Space didn't bring video games to the masses, but by showing that video games could reach paying audiences outside of computer labs it laid the foundations for the game industry.
Did You Know?
A white Computer Space cabinet appeared in the 1973 dystopian film Soylent Green, marking the first use of a video game as a movie prop.
Related Content