Though Bond girls and seductive villainesses have been the most memorable women of the spy genre since Dr. No premiered to American audiences in 1963, not all ladies have found themselves relegated to supporting roles. Surely female characters engaged in espionage have James Bond to thank for sparking the 1960s spy trend and the fantastic toys it generated. But women's greater contribution to the field is too sensational to keep undercover.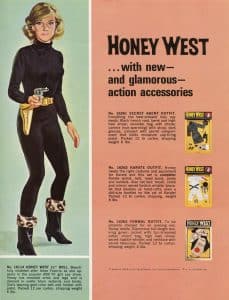 Smartly dressed, sharp-witted, and armed with clever gadgets hidden in her accessories, Honey West (Anne Francis) headlined a television series of the same name (ABC, 1965–1966) after her character appeared in an episode of "Burke's Law" (ABC, 1963–1966). A. C. Gilbert offered a Honey West doll wearing a slim, black outfit and animal-print-trimmed boots. Accessories sold separately included a handbag with an attached telephone, a cosmetic compact concealing a pistol, and Honey's pet ocelot, Bruce.
Susie, the Sophisticated Secret Agent, appeared in a Smethport magnetic toy around the same time Honey West snuck onto toy-store shelves. Secret Sue (no relation) was also on the scene, both as a Uneeda doll and a Whitman paper doll set. (Aside from the overcoat and sunglasses, not much in Secret Sue's wardrobe screamed "dangerous"—more like "darling"—so I'll assume sundresses and rompers were the stealthiest disguises a girl her age could muster.) Secret Sue's contemporary, 11-year-old Harriet M. Welsch of Louise Fitzhugh's 1964 novel, Harriet the Spy, also donned an unassuming costume: black-rimmed lensless eyeglasses, blue jeans, and a hooded sweatshirt, plus a utility belt to hold her notebook and pens. Harriet made her observations in plain sight or hidden behind doors; she didn't need to disguise herself to spy on her schoolmates and neighbors.
The Louis Marx April Dancer doll came with dozens of weapons and disguises, including wigs in a variety of colors and styles. Agent Dancer (Stefanie Powers) infiltrated criminal operations worldwide in the series "The Girl from U.N.C.L.E." (NBC, 1966–1967), a spin-off of the popular program "The Man from U.N.C.L.E." (NBC, 1964–1968). In one episode, April escaped a familiar spy-story motif, the tank full of piranhas, which the film Austin Powers: International Man of Mystery (1997) parodied (albeit with mutated, ill-tempered sea bass).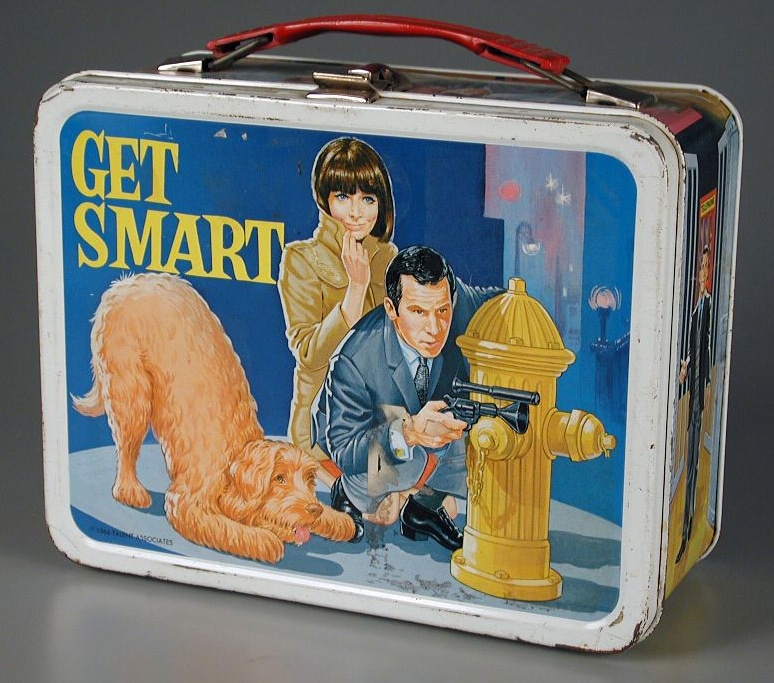 The spy genre was ripe for satire even in its heyday. "Get Smart" (NBC and CBS, 1965–1970) featured the inept secret agent Maxwell Smart (Don Adams) and his capable partner, #99 (Barbara Feldon). Agent 99 was calm under pressure and knew how to use her spy gadgets without causing them to malfunction, even when Maxwell unwittingly got in her way. In the picture on the "Get Smart" lunch box, let's assume Maxwell's weapon would have missed the target for any number of reasons and that 99 would have initiated Plan B.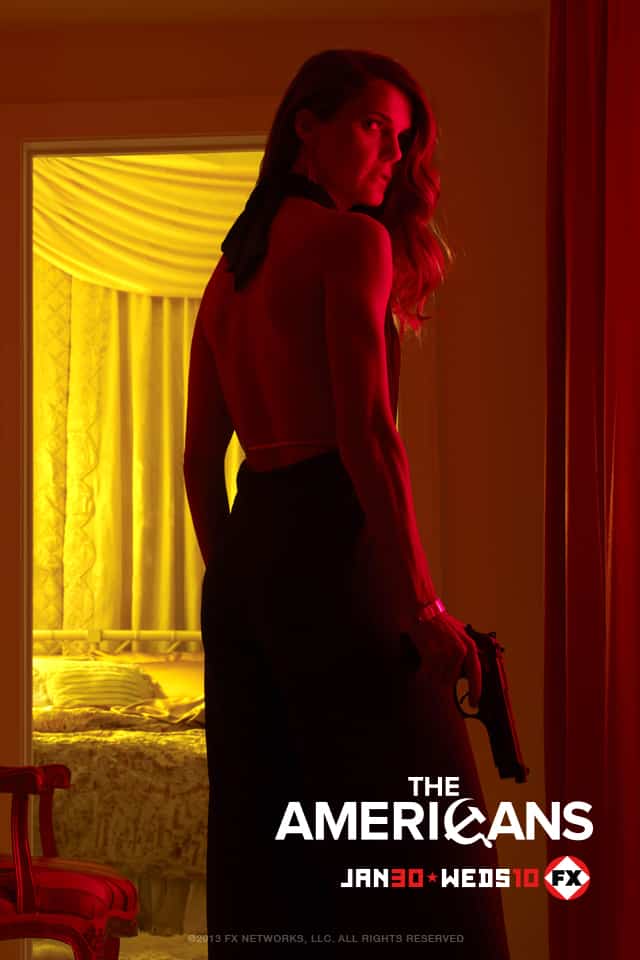 Today's spy shows spotlight strong, resourceful female characters. In "The Americans" (FX, 2013–present), Soviet KGB officer Elizabeth Jennings (Keri Russell) works undercover as an American citizen in 1980s-era Washington, DC. Confident and bold, Elizabeth dedicates herself to collecting intelligence by any means necessary, including deception, violence, and sexuality. Carrie Mathison (Claire Danes), a Central Intelligence Agency officer in "Homeland" (Showtime, 2011–present), displays single-minded determination and bravery in her efforts to thwart terrorist attacks against the United States. Kalinda Sharma (Archie Panjabi), the sleek, mysterious investigator on "The Good Wife" (CBS, 2009–present), is quick on her feet and holds her own in a fight. (What I wouldn't give for action figures of these ladies.)
Unlike today's examples of successful spy shows with female leads, the early series spun off from male-dominated programs were short lived. Either the shows were too provocative for their time or their production values were just plain poor. (Anne Francis earned a Golden Globe for "Honey West," but "U.N.C.L.E." wasn't winning any awards.) Subsequently, many of the licensed character toys are difficult to find. Or are they hiding in plain sight? The Strong appeals to readers to provide any information resulting in their capture.