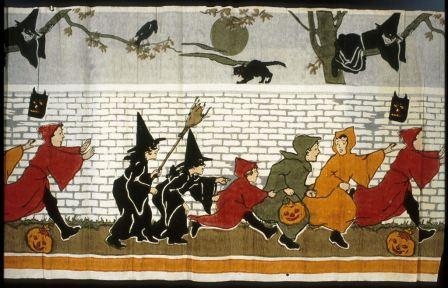 The number one question around my school as Halloween approached was always, "What are you going to be this year?" Your Halloween costume–and your one-night-only alternate identity–was something to be weighed carefully and debated seriously with your friends. But, for Halloween night itself, an equally important question to ponder was, "How are you going to collect your candy and haul it safely home?"
Through the years, trick-or-treaters have used various sorts of bags and buckets to gather their goodies door-to-door. The fabric bags from the 1950s seem suitably durable, but look on the small side to me. For my own trick-or-treating in the 1960s, I favored printed paper Halloween bags with loop handles–like a department store shopping bag and almost as spacious. However, if you let the bottom of your bag drag along the dew-covered grass or snag on a shrub, you could wind up with a tragic fallout problem as the bottom of the bag gave way.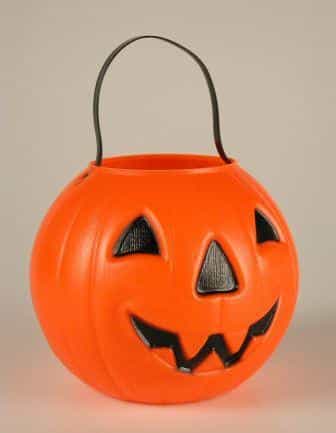 Now, as I answer the door on Halloween, the youngest kids typically carry the smallest containers–pumpkin-shaped plastic buckets that have awkwardly tiny openings for big adult hands dispensing candy. At the other extreme are the sheepish-looking high school kids with supermarket shopping bags or pillowcases–big enough for the most ambitious route through the neighborhood. Whatever your choice of receptacle, here's wishing you a Happy Halloween. And, if you're going through the closet or the basement for Halloween gear and you run into an old UNICEF collection box, I'd love to add it to the museum's collection–my own version of a Halloween treat.
For the history of trick-or-treating for UNICEF: https://www.unicef.ca/portal/SmartDefault.aspx?at=2048 Trick-or-treat for UNICEF in 2008: https://fieldnotes.unicefusa.org/2008/10/make_halloween_count_1.html