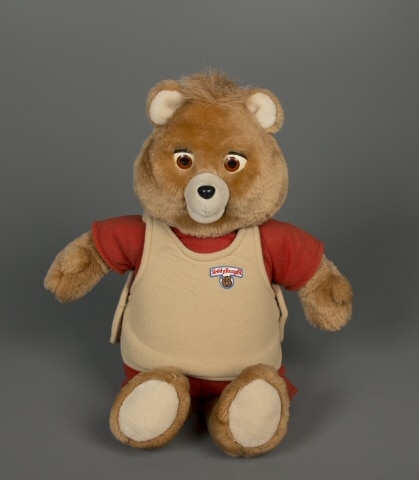 I've reached the age where pangs of nostalgia hit me when anyone mentions pop culture references from the 1980s. (DuckTales. Rainbow Brite. Trips to the mall with a pit stop at Orange Julius.) I'm not alone in this; compilation stories reminiscing about my generation's "good old days" proliferate on the internet.
I recently conducted an informal poll with some of my friends, and one childhood toy we all remembered fondly was Teddy Ruxpin. This talking bear first appeared in 1985 and remains available today. Friends regaled me with their tales of rabidly tearing the wrapping paper off a Teddy Ruxpin box on Christmas morning, thrilled to unpack the animatronic bear and his accompanying audio cassette and storybook. Once you inserted the special cassette into the bear, Teddy would "read" the story, all the while blinking his eyes and moving his mouth in time with the audio. Although this felt like magic to a kindergartener, I later found out how it really worked. A special cassette that used two tracks (one contained audio and the other controlled the bear's movements using electronic pulses) brought Teddy to life. Teddy could also play regular audio cassettes, giving you the option of listening to your mother's Phil Collins tape resonating from the plush bear's belly. Teddy Ruxpin spawned an animated television show, dozens of stories, and countless accessories. (Not bad for a character whose original name was Simian Greep.)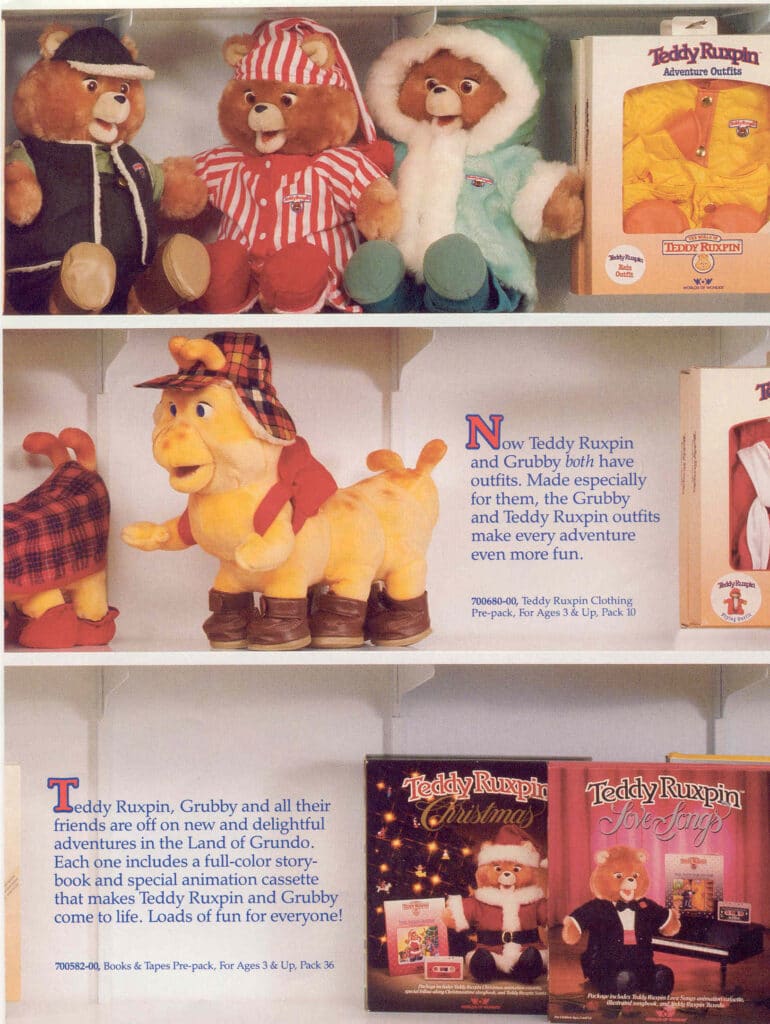 If a book-reading bear could sell by the thousands, how about a bear that interacted through videos? Enter Ralph H. Baer, inventor extraordinaire. Baer, the "godfather of video games" and creator of popular electronic toys such as Simon and Maniac, developed an interest in improving the technology used in talking toys. The collection of Baer's papers in the Brian Sutton-Smith Library and Archives of Play at The Strong includes a series of documents that recount the development process of his Smarty Bear, licensed by Lewis Galoob Toys in 1986. Smarty Bear differentiated itself from other talking toys on the market by interacting directly with children and answering their questions. Smarty Bear also laughed when tickled, protested when turned upside-down, and fell asleep when ignored. Baer's materials on the creation of Smarty Bear include schematics, notes, photographs, correspondence, patents, and scripts for the phrases the toy exclaimed.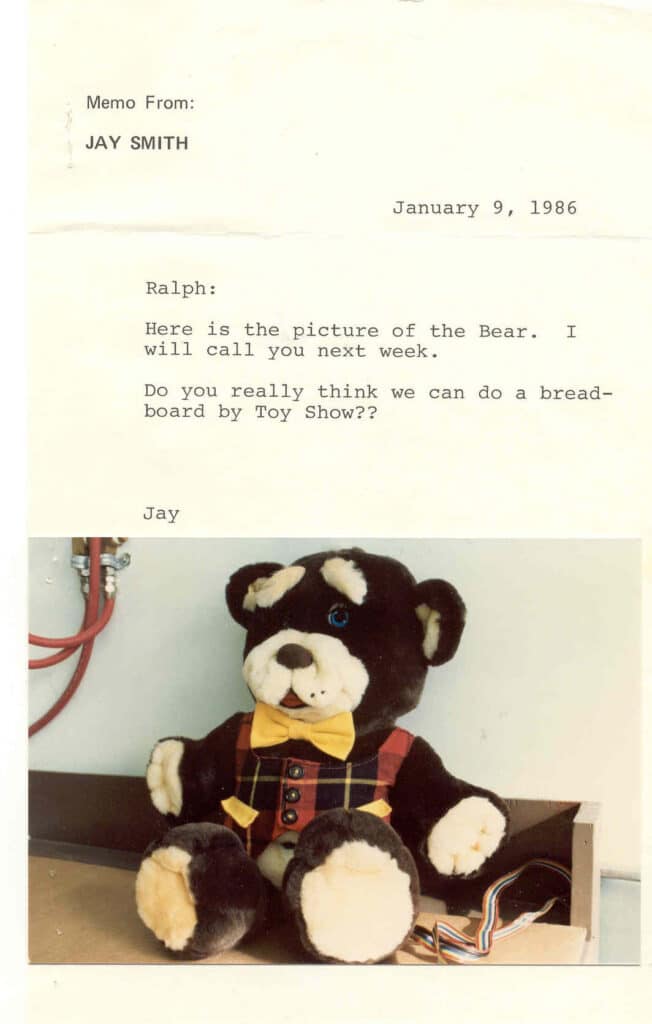 Not to be outdone by other talking bears, Smarty Bear featured available add-ons. The Smarty Box, an interactive video system, played VHS cassettes starring Smarty's nephew Argyle. One of the first toys to incorporate specially encoded video cassettes, Smarty Bear would interact with the cartoons, helping to solve dilemmas while taking the viewer on educational adventures. The Ralph H. Baer papers also contain digital movie files, such as this 2006 clip in which Baer demonstrated Smarty Bear's interactive video system.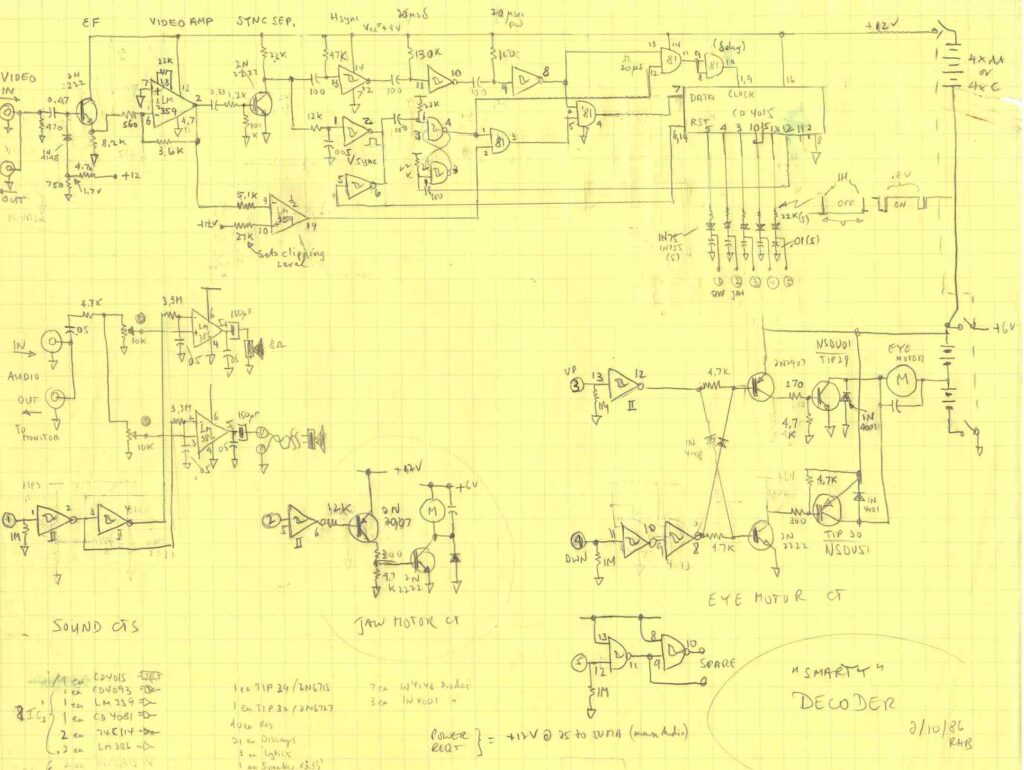 Although Smarty Bear didn't achieve the mainstream success of Teddy Ruxpin, I have yet to meet anyone who suffered nightmares as a result of the grandfatherly Smarty Bear. By contrast, one frequent complaint about Teddy Ruxpin was that as his batteries drained, a warped, lethargic voice would emerge from the bear, terrifying impressionable young children. That glitch aside, both bears ranked in their era as technological marvels and breakthrough toys that integrated electronic elements into traditional playthings. Whether you had your own talking Teddy Ruxpin or Smarty Bear, or just played with one at a friend's house, these quintessential talking toys will always have a special place in the hearts of kids from the 1980s.
By Julia Novakovic, Archivist