Some 135 years ago, four squirrels romping merrily through the woods met an unfortunate end. But, fortunately for us, those squirrels found a place in a playful diorama in the museum's collections. Situated in a well-decorated parlor, the four squirrels are now posed in an eternal game of cards. That made them a perfect illustration for the induction of playing cards into the National Toy Hall of Fame a month ago. But before the diorama could go out on exhibit, it required conservation treatment—cleaning and stabilization of the scene prior to photography and display.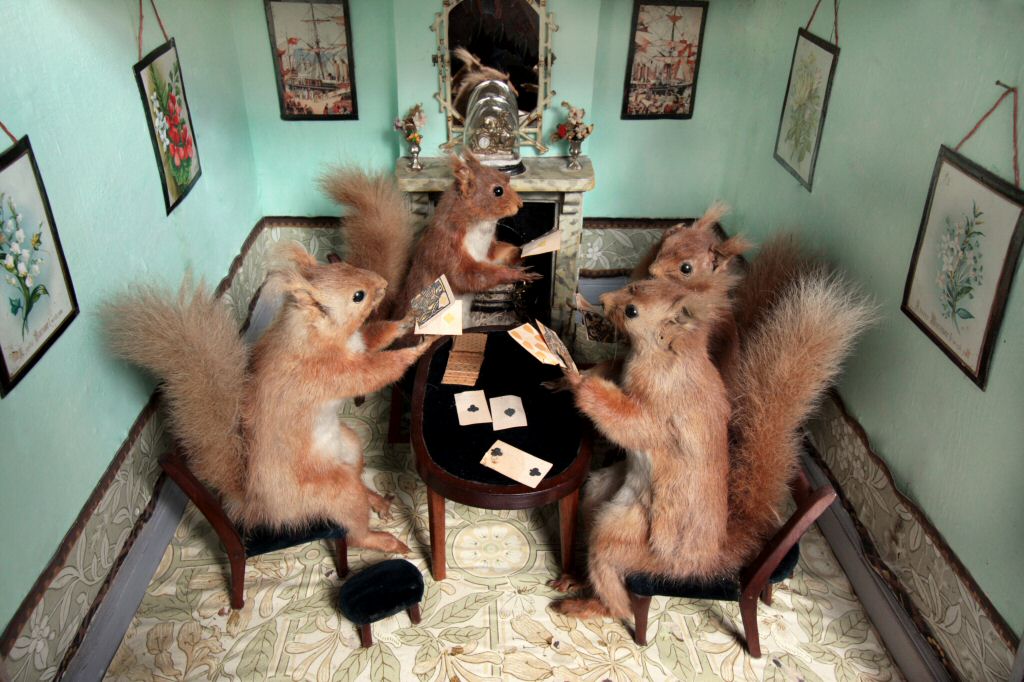 Working on the squirrels in their diorama inspired me to think about some of the ways taxidermy has been used over the years. Anthropomorphic taxidermy, the practice of presenting preserved animals with human characteristics, had its beginnings in 1850 with the work of Hermann Ploucquet, taxidermist for the Royal Museum in Stuttgart, Germany. Ploucquet's tableaux were an instant hit and received wide attention. Queen Victoria saw them in the Great Exhibition of 1851, a showcase of British industrial, technical, economic, and military prowess, held at the Crystal Palace in Hyde Park, London. Even with all the other dazzling displays at the exhibition, Victoria is said to have proclaimed them "really marvelous."
At first, you might think that our whimsey was the product of a rather unusual trend that quickly ran its course way back then. But you would be wrong; the earlier creations only inspired many later practitioners of the craft. A few creations are as old as Ploucquet's, but a great many others are contemporary. Our example by an unknown craftsman clearly shows the extent to which some went to create these dioramas, and offers a glimpse of their creative sense of humor. Margaret Woodbury Strong collected the squirrel diorama herself, and it no doubt delighted the museum's founder as much as it does us.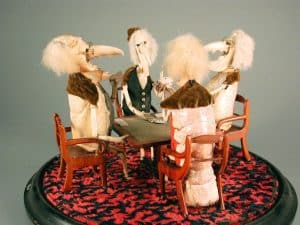 And, lest you think it's only squirrels that enjoy a game of hearts or pinochle, I'll close with another example from the museum's collection of animals—this time lobsters—playing cards.