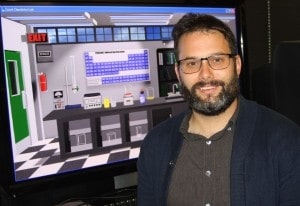 Three times a year The Strong accepts research fellowship applications from academic scholars, independent researchers, and students at the Masters or PhD level interested in conducting research at The Strong. This includes access to ICHEG materials, which comprise more than 50,000 electronic games and other related materials, as well as archival documents, design papers, advertisements, and other game-related paraphernalia. The Strong's fellows experience a one-of-a-kind research opportunity with access to the largest public video game collection in the world, but research needn't be solely confined to electronic games nor to historians. As a group of recent researchers demonstrates, Strong fellowships are helping to move play scholarship forward in a variety of fields.
For example, research fellow Robert Guyker, a graduate student at the Mythological Studies Program at Pacifica Graduate Institute, spent two weeks here studying the ways in which traditional myths appear in electronic games such as Ultima, Wizardry, and Dragon Warrior. His study seeks to bring together the study of myth with scholarship in game studies and on the philosophy of play. Research fellow Drew Chappell, a scholar in the Department of Theatre and Dance at California State University, Fullerton, came to explore concepts of competition and victory in gaming, with a particular focus on games such as Risk, The Game of Life, and Dungeons & Dragons.
Two research fellows have looked at games through the lens of gamers themselves. Brian Beaton, Assistant Professor in the School of Information Sciences at the University of Pittsburgh, researched science-themed gaming and the dissemination of information through technology. And independent scholar, Kristina Textor, explored how toys and games teach and shape traditional gender roles.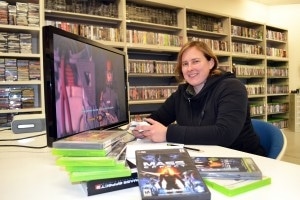 Other fellows have examined the evolution and significance of specific types of gaming. Jason Begy, a PhD student in Communication Studies at Concordia University, came to The Strong to study train-themed games, both electronic and traditional. He hopes to shed light on not only how and why train games have changed over time, but also how games exist within the context of contemporary cultural and economic realities. Rebecca Hernandez-Gerber, a video-game preservation student at New York University, analyzed iconic game series such as The Legend of Zelda and Pokémon in order to determine how preservation strategies might take into account all the different versions of a single game.
Fellowships at The Strong continue to provide researchers with a unique, valuable, and fun opportunity to contribute to an active and multi-disciplinary community of play scholars. For more information, check out the museum's official Research Fellowships page.