By Adam Nedeff, researcher for the National Archives of Game Show History
For the month of February, the National Archives of Game Show History commemorates Presidents' Day with a look back at one of the most extraordinary segments on an American game show.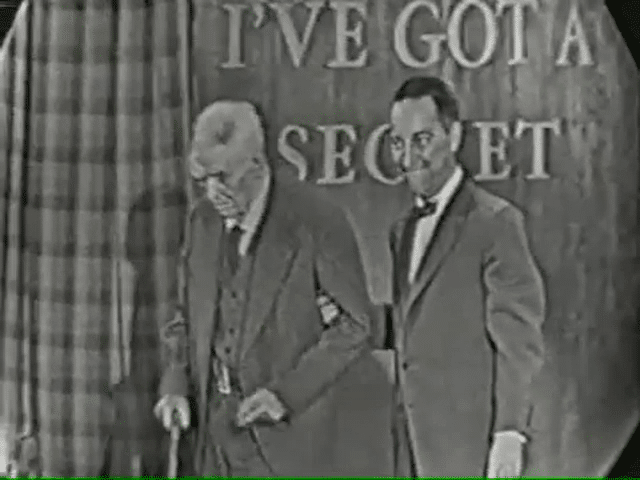 On February 9, 1956, Garry Moore dashed into the wings of the I've Got a Secret stage and walked out with frail, bandaged, cane-toting, 96-year-old Samuel Seymour. Seymour got three rounds of applause before the game even started. One for walking onstage, one for announcing that he was 96 years old, and one when Moore revealed why Seymour was wearing a bandage. Seymour had fallen down the steps at his hotel a few nights earlier and gave himself a serious bruise. The staff had asked Seymour not to risk any further harm, encouraging him not to appear on the show, but Seymour assured them that he wouldn't miss it for the world.
As Seymour whispered his secret into Garry Moore's ear, the home audience and the studio audience saw it on the television screen. An audible rumble and a few gasps escaped from the live audience:
"I saw John Wilkes Booth shoot Abraham Lincoln."
Seymour was born on March 28, 1860 in Maryland. His father, who oversaw a massive estate belonging to a family named Goldsboro, in Talbot County, had to go to the nation's capital in April of 1865 to investigate the legal status of the 150 freed slaves on the estate. Seymour's father and Mr. Goldsboro originally planned to go alone. Mrs. Goldsboro suggested that she and a nurse take little Samuel, or "Sammy," as he was known back then, to go sightseeing for the weekend.
The five of them made the 150-mile trip partly by steamboat and partly by stagecoach. When they arrived on that now-historic day, Seymour found himself skittish and unable to stop thinking about, of all things, guns. He noticed that men all along the streets of Washington walked with them, and the young Seymour lied about having a torn shirt as an excuse to stay in the stagecoach. His nurse pulled out a safety pin and stuck it in the back of the shirt, but when she accidentally jabbed him, Seymour remembered wailing, "I've been shot! I've been shot!"
Mrs. Goldsboro told Seymour that she had a surprise—they were going to see a play together at Ford Theater, and President Abraham Lincoln would be there. The little boy was intrigued, although a bit misinformed—he heard the term "play" and thought it meant they were going to watch a group of people play tag.
At the theater, everybody took their seats, and Seymour saw Lincoln, "a tall, stern-looking man," he remembered, though Lincoln's demeanor that night was anything but that according to others. He smiled and waved to everybody as he took his seat.
Seymour began getting the same antsy feeling he felt when he first entered the city. His premonition overwhelmed him. He remained in his seat, unable to shake his thoughts of guns. And then a shot rang out, and somebody in the audience screamed. Seymour looked over and saw Lincoln slumping forward. As everyone tended to the President, Seymour's eyes were on the man he saw tumble over the ledge of the balcony and crash on the stage. He was concerned that the man had hurt himself—and it took him a few days to grasp that the man he saw hurting himself was John Wilkes Booth.
The panel had an easy time with the secret. Garry Moore opened the game by offering the hint that the secret concerned something that Seymour witnessed. Bill Cullen did some quick math and figured out Seymour's birth year and, from that alone, nearly zeroed in on it all by himself. The buzzer cut him off quickly and the next panelist down the line, Jayne Meadows, finished the job.
In appreciation for Seymour's willingness to appear on the show, despite the injury, Moore announced that the show would pay him the full $80 grand prize. At that time, Winston Cigarettes was the principal sponsor of the show, and every contestant received a carton of cigarettes. Moore revealed that Seymour had already told him backstage that he didn't want the carton of cigarettes because he smoked a pipe. As a show of respect, Secret made a rare break away from the sponsor and instead presented him with a canister of pipe tobacco.
Only 63 days later, on April 12, 1956, Samuel James Seymour died. The video of his appearance on I've Got a Secret has surfaced over the years as a historical curiosity—that a man lived to both gaze upon Abraham Lincoln's face and appear as a contestant on a TV game show was a sobering reminder of how close we are to a past that isn't as distant as we believe.
DO YOU REMEMBER…THESE OTHER SECRETS FROM I'VE GOT A SECRET?
"I'M ABOUT TO BECOME A FATHER." (June 11, 1958)—Tony Curtis revealed to the panelists and audience that his wife, Janet Leigh, was pregnant. Five months later, they welcomed a baby girl, Jamie Lee Curtis.
"OUR SON BECAME AN ASTRONAUT TODAY." (September 17, 1962) – Stephen & Viola Armstrong appeared together just hours after nine men were selected to become the United States' first group of astronauts. At the end of the segment, Garry Moore speculated that perhaps someday, their son Neil might end up being the first man on the moon.
"I LEFT MY JOB TWO YEARS AGO." (March 30, 1964)—That's not so remarkable. People leave jobs all the time. But the contestant in question was a young drummer from Great Britain named Pete Best. The job that he left was being the fourth Beatle. Some fellow named Ringo took over for him.