Imagine that it's January 1896. To your dismay, you find yourself stuck at your aunt's house one particularly dreary winter day with absolutely nothing to do.
Your aunt's parlor is cold, with the wind whistling in through the single-pane windows and the wood fire barely taking an edge off the chill. Even worse, there's nothing to entertain you. You don't play the piano and radio, television, and the Internet don't exist—there's not even a cat to play with. Your aunt fetches you a hot cup of cocoa, and you sit on the sofa to watch the snow fall. Spring seems too far away to even think about and melancholy starts to settle over you.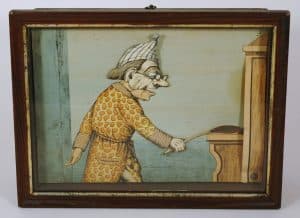 Just then, you see an interesting box on the mantel. "What is it?" you ask. "It's a Living Picture!" you're told. "Can I look closer?" "Yes, you can," comes the curt reply from the kitchen, "But don't touch it!"
You drag a chair over and climb up. What a funny image—an odd-looking, bespectacled man in his nightclothes wielding a flyswatter and trying to try to smack a mouse! Then you find the key. "Can I wind it up?" you ask. "I'll do it," your aunt shouts as she hustles into the room, wiping her hands on her apron. Carefully, using both of those hands, she lowers the picture to a table and grasps the key.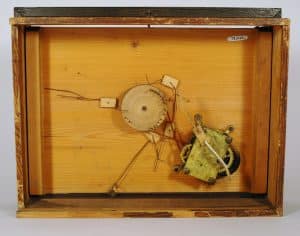 After about three turns, the action starts. It's over quickly, but you finally get to see whether or not the man ever clobbered the mouse. "Cool!" you exclaim (or whatever kids said in 1896). Delighted, your winter blahs evaporate as you ask to see it one more time. Then a third time.  And a fourth. You just can't get enough mouse-swatting. Finally, your aunt lets you wind it up once or twice more. Now the day no longer drags by and is instead miraculously filled with wonder and happiness. You have found play! Or, in this case, maybe play found you. Either way, it's wonderful.
As popular late 19th- and early 20th-century toys, living pictures once entertained children of all ages with a blend of fine art, craft, and mass-produced clockwork. This type of simple automata, like its more sophisticated cousins usually found in wealthier homes, also functioned as a parlor decoration (an adult toy, if you will permit the expression) rather than a child's plaything.  Very young children, no doubt, needed supervision around these delicate clockwork toys with their sheet glass windows.  Nevertheless, they fascinated everyone with their cleverness, humor, and connections to everyday tasks and experiences, illustrating Victorian values imaginatively in a miniaturized space.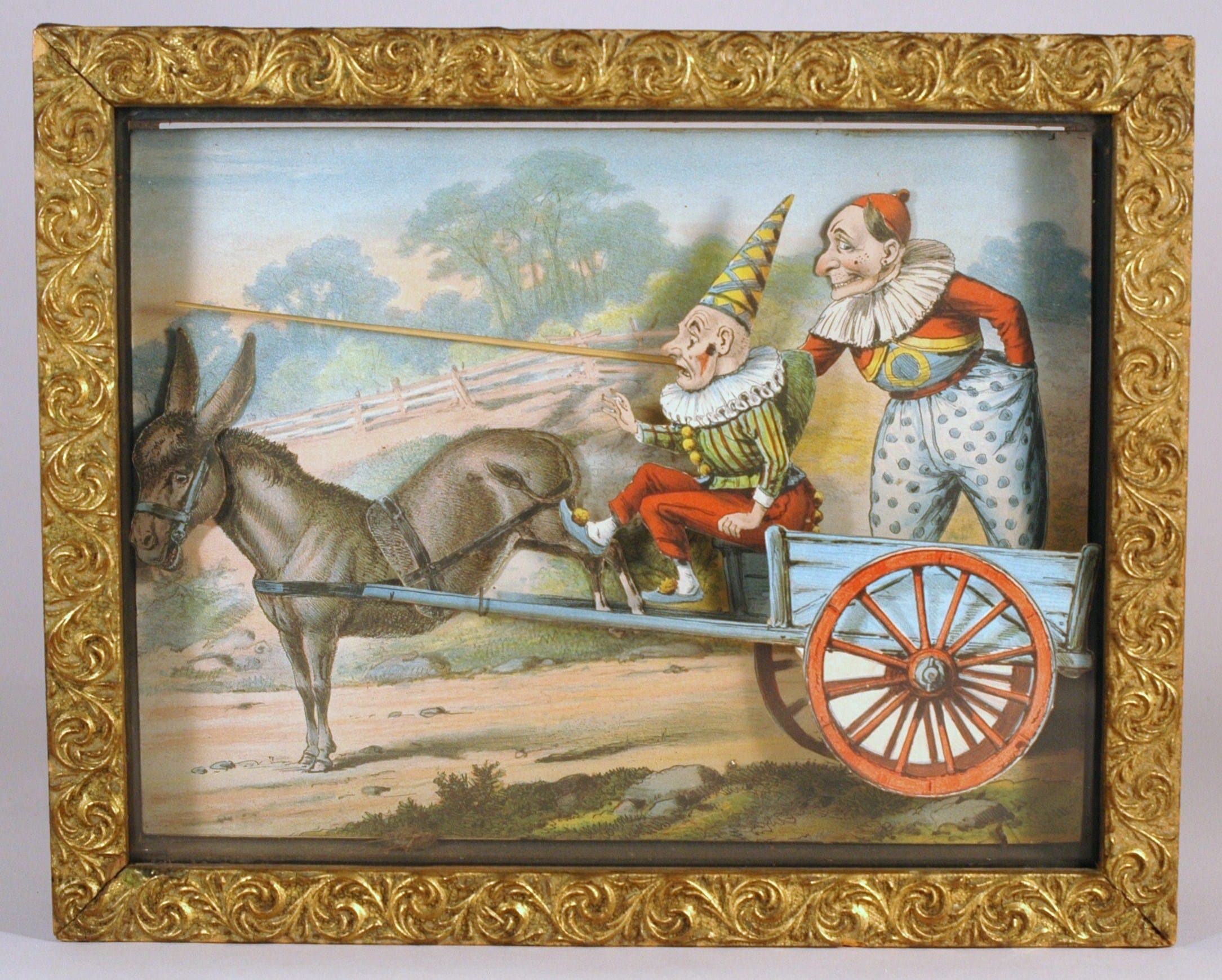 According to Christian Bailly, author of Automata: The Golden Age, 1878–1914, the essential appeal of any automaton or mechanical toy lies in its power to mystify and fascinate. How appropriate, then, that Margaret Woodbury Strong collected these living pictures for what she called her "museum of fascination." Even though you might not be a bored kid in 1896 and living pictures no longer represent the latest in home entertainment, they still remain amusing, fascinating, and integral elements of the collections of The Strong's National Museum of Play. What toys did/do you find fascinating?