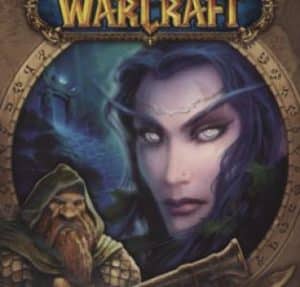 Paul Sams, former Chief Operating Officer at the American video game developer and publisher Blizzard Entertainment, has donated a collection that traces the history of the company and highlights the importance of its games. Sams worked for Blizzard from 1996 through 2015 and served as the Chief Operating Officer for eleven years. During his tenure, Sams accumulated more than 1,500 items representing the company's many successful games and franchises such as Warcraft, World of Warcraft (an inaugural inductee into the World Video Game Hall of Fame at The Strong), StarCraft, and Diablo.
The Paul Sams Collection of Blizzard Merchandise and Memorabilia ranges from copies of early games such as RPM Racing and The Lost Vikings (created by the company in the early 1990s when it operated under the title Silicon & Synapse) to hundreds of more recent items such as costumes, books, memorabilia, reproductions of game items, and tabletop games created for the legions of World of Warcraft and StarCraft fans around the world.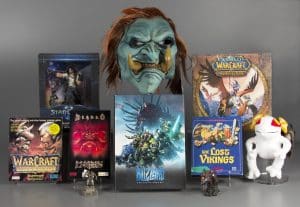 The collection highlights several key ways Blizzard's games have contributed to our common culture. First, games like World of Warcraft (the highest grossing video game of all time) accelerated the development of online communities in which people form relationships and play together. World of Warcraft forged deeply meaningful virtual communities around the world. The deep meaning these games hold in players' lives is evidenced in the many different products inspired by the games that players could buy, from costumes and replica game objects for cosplay to memorabilia from Blizzcon, an event when players gather by the thousands to meet their virtual friends in real life. Second, these materials showcase the worldwide reach of Blizzard's franchises, with copies of the games and merchandise for audiences in Asian countries, including a special edition set of Coca-Cola cans and character-themed mice for Chinese audiences. This cross-cultural representation supplements other collections assembled at The Strong through its International Center for the History of Electronic Games, including the museum's extensive assemblage of Japanese console games. Third, these artifacts highlight the ways Blizzard has nurtured key trends in the history of video games, such as the rise of eSports, as exemplified by the success of competitive games like Starcraft II in South Korea and elsewhere.
Donations like this one help advance ICHEG's mission of preserving and interpreting the history of video games and their impact on human society and culture. A selection of materials drawn from The Paul Sams Collection of Blizzard Merchandise and Memorabilia will be on display from October 1 to January 3, 2016.  
By Jon-Paul Dyson, Director, International Center for the History of Electronic Games and Vice President for Exhibits