For curators at the museum, some days feel just like Christmas.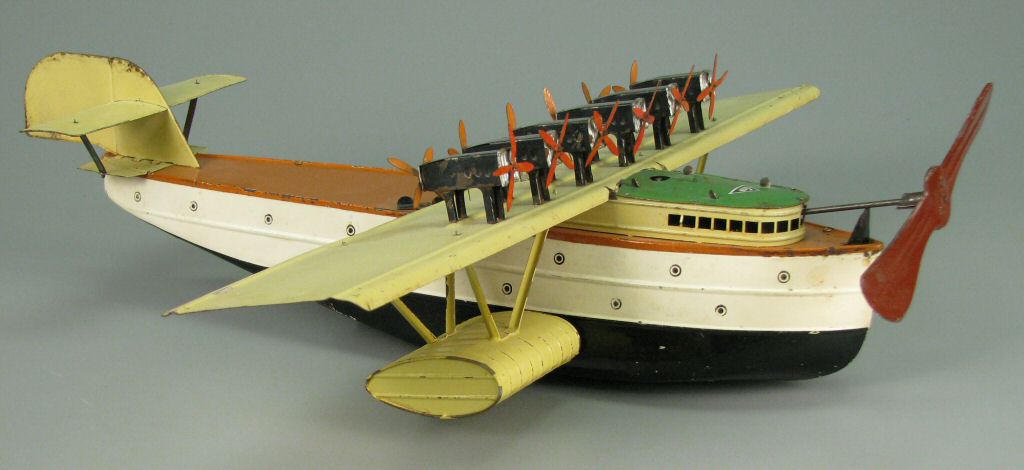 One day—out of the blue, appropriately—I received a phone call about a local collector with an extensive collection of toy airplanes and related playthings. Just the kind of thing that makes a curator's day!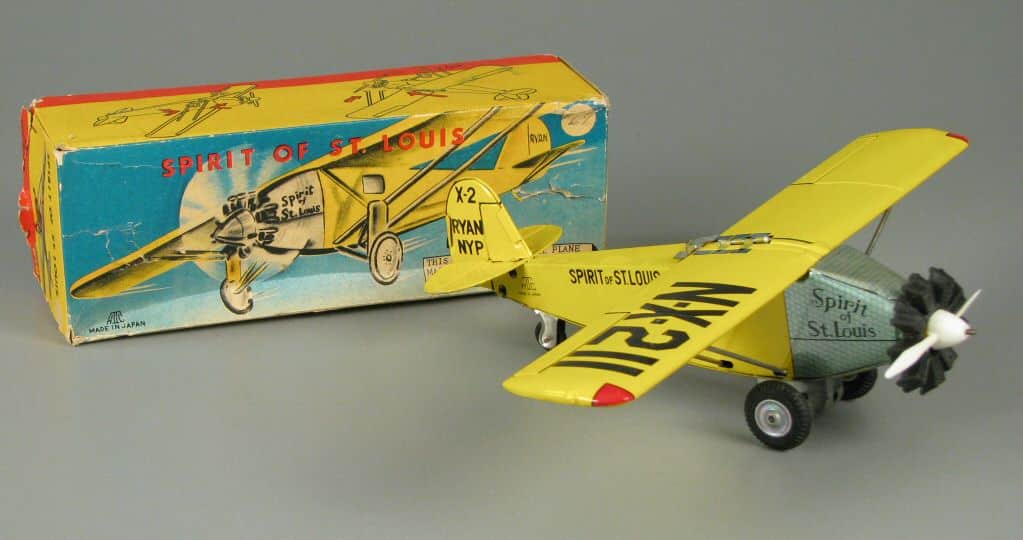 When I met Seymour Merrall, I had no doubt about his passion for toy airplanes. With a great job that took him around the world, Merrall used his travels to collect antique and contemporary toy aircraft from all the places he visited. His collection included toys from Denmark, England, France, Germany, India, Japan, Mexico, the United States, and other countries.In his quest to show the complete scope of aviation toys, Merrall collected examples from major American toy manufacturers like Ferdinand Strauss, Louis Marx & Company, Ideal, Hubley, Buddy L, Metalcraft, Wyandotte, Tootsietoy, and Renwal. European makers that he collected included Meccano Dinky, Playcraft Toys, Joutra, Cardini, Ernst Planck, GAMA, and Bandai.
In miniature form, Merrall's planes had the depth and breadth to present the whole of aviation history in the twentieth century —a big job for relatively small things. But that's what toys do. They reflect the larger world, and they introduce kids to pieces of it that they can manage and manipulate.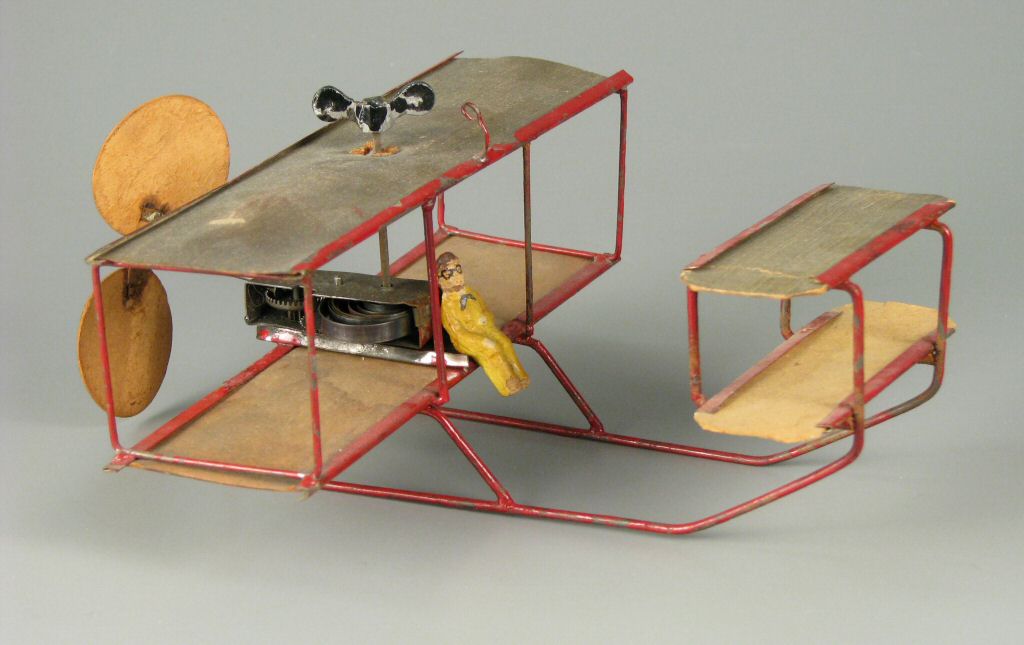 The collection included early models of the plane the Wright Brothers flew at Kitty Hawk. In one toy, the small pilot figure seated on the lower wing suggests just how gimcrack the original flying machine was and how risky even a short flight might be (the first flight covered all of 120 feet). Other toys remind us of the Curtiss JN-4, nicknamed Jenny, which barnstormers flew to entertain a public fascinated by things that fly. And, for any collection of toy aircraft to be worth a wing and a prayer, it needs some examples of Charles Lindbergh's 1927 Spirit of St. Louis, the plane he flew solo across the Atlantic Ocean. Of course, Merrall's collection had those too.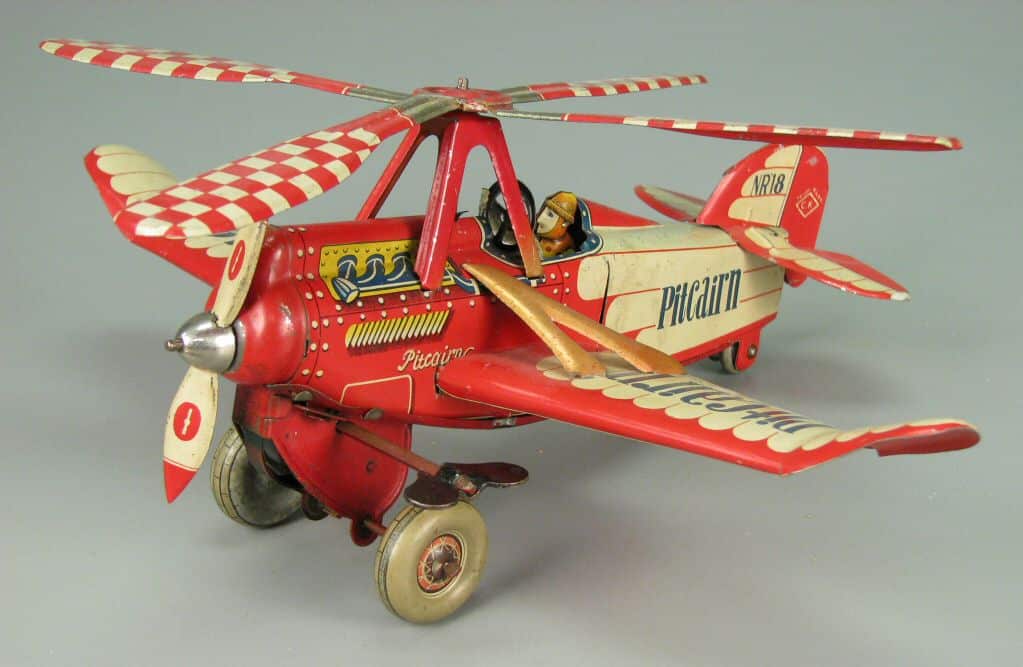 More toys recall the innovative aircraft of the heady days of early air travel. The twelve-engine Dornier Do-X, a flying luxury liner, glided on the water and flew through air. The autogiro, a plane with a big rotor mounted over the fuselage, represented an early attempt at vertical flight, a feat ultimately accomplished by the helicopter. And by the 1930s, the dirigible, a lighter than air aircraft, carried passengers across the Atlantic Ocean. Some models, like the Ford Tri-Motor, resembled the first commercial airplanes and transport and fighter planes used by the military.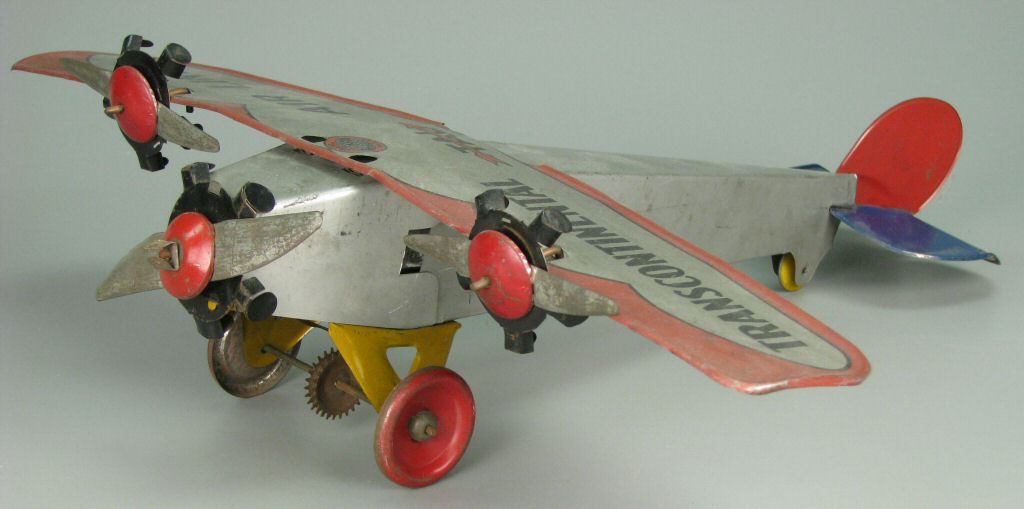 The collection also included construction sets and kits to make plane models. One seaplane came from a Meccano set, which was similar to an Erector set. Several other sets contained wooden models to assemble and paint. More pieces of the collection depicted early airports complete with control tower, hangar, fuel pumps, and planes.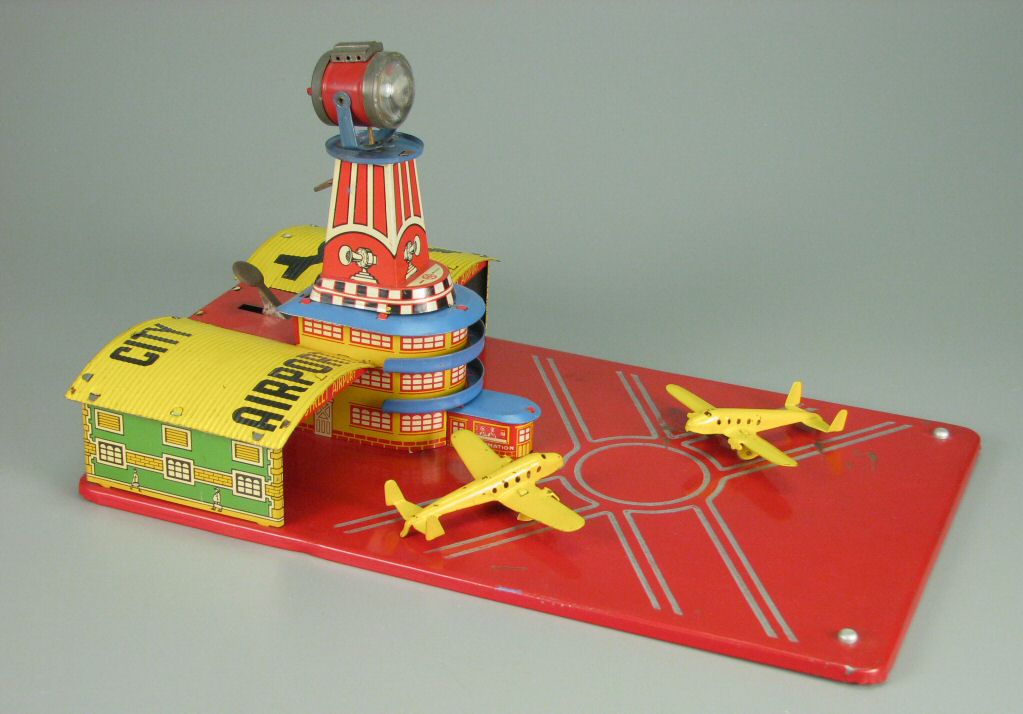 In all, the collection numbered about 420 toy planes, jets, helicopters, zeppelins, and other aircraft. We carefully packed it up, a few toys to a box, a few boxes to a car, and carefully transported it all back to the museum on what had to be the hottest day of the summer. But for a curator, it felt like Christmas—Christmas in July.
In the museum's TimeLab, you can now see a number of the toy planes from Seymour Merrall's collection that I hope will inspire your own enthusiasm for aviation history.