It's time to play the music
It's time to light the lights
It's time to meet the Muppets on the Muppet Show tonight
It's time to put on makeup
It's time to dress up right
It's time to raise the curtain on the Muppet Show tonight
Why do we always come here?
I guess we'll never know
It's like a kind of torture
To have to watch the show
And now let's get things started
Why don't you get things started?
It's time to get things started
On the most sensational, inspirational, celebrational, Muppetational
This is what we call the Muppet Show!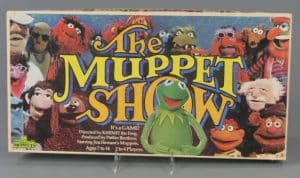 Some of the most identifiable characters in contemporary culture are The Muppets. With a nearly 60-year history in television, film, stage, and merchandising, the Muppets have achieved iconic status worldwide. The creation of these wide-eyed, large-mouthed, felt-covered puppets can be attributed to one man, Jim Henson. No wonder Henson was inducted into the Toy Industry Hall of Fame which, in 2015, joins the National Toy Hall of Fame at The Strong.
According to the biography Jim Henson by Brian Jay Jones, Henson's career in puppetry started in 1954. Although primarily interested in set design and artistry, 17-year-old Henson landed a job as a puppeteer on the Junior Morning Show at a CBS affiliate in Washington, D.C. Shortly thereafter, as a freshman in college, Henson created his first Muppets for a show titled Sam and Friends where the character we now know as Kermit the Frog originated.
In 1957, Henson developed additional Muppet characters, and the Wilkins Coffee company commissioned him to create television commercials using Muppets to promote its product. Henson wrote, produced and directed more than 180 commercials featuring the characters Wilkins and Wontkins. The success of, and profits from, these commercials enabled him to explore his creative genius and take on additional projects. By 1958, Henson and his future wife, Jane, had officially founded Muppets, Inc. (now The Jim Henson Company). That same year, he received his first Emmy award for Sam and Friends.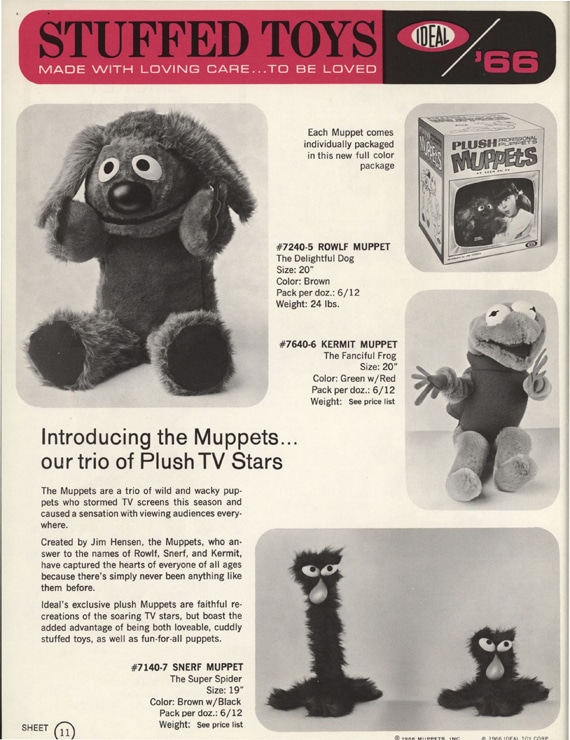 In 1963, The Jimmy Dean Show hired Henson to develop a Muppet, and the character Rowlf the Dog was born. By the end of the 1960s, the most famous Muppets were the ones found on Sesame Street. For his collaboration with Sesame Street, Henson developed Ernie, Bert, Big Bird, Cookie Monster, Oscar the Grouch, Grover, and several other now-famous characters. Not wanting to be pigeonholed as just a "children's puppeteer," Henson envisioned a whole new world of Muppets which could hold their own primetime television time slot, and thus began The Muppet Show. Produced in England from 1976 to 1981, the multi-faceted, vaudeville-esque variety show was the platform for integrating the Muppets into mainstream popular culture.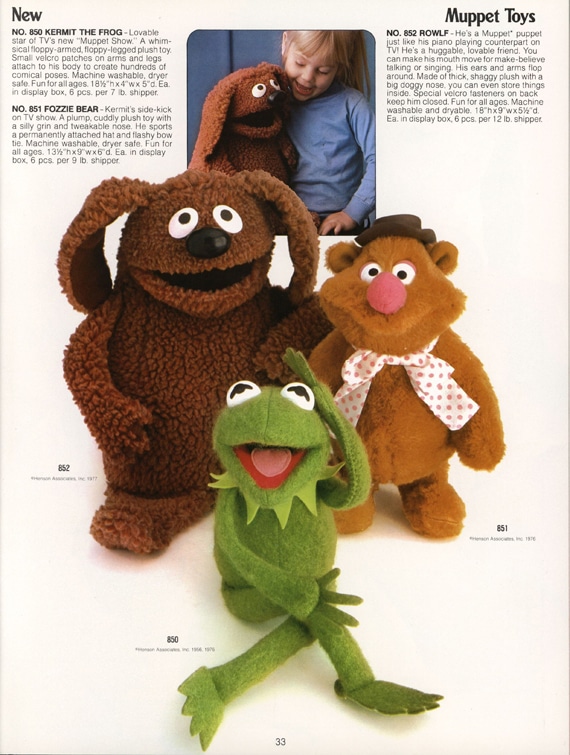 While Kermit the Frog and Rowlf the Dog found a permanent home on The Muppet Show, an additional repertoire of characters emerged, each with distinct personalities, most notably: Miss Piggy, Gonzo, Fozzie Bear, Animal, Beaker, Scooter, and Dr. Teeth. Alongside the success of the show with a global television audience, the merchandising component grew as well. Prominent toy manufacturers, such as Fisher-Price, produced Muppet character toys for play at home. In addition, licensed images of Muppet characters could be found on clothing products (I personally sported a blue satin Miss Piggy baseball jacket and my sister had a matching pink one), lunch boxes, board games, and glassware. By 1979, the Muppets solidified their presence by appearing in their first feature film, The Muppet Movie. Seven additional movies have followed, most recently 2014's Muppets Most Wanted.
Jim Henson may not have envisioned in 1954 how his artistic creations would impact the world around him or how his ability might prompt people to momentarily suspend their disbelief and react to the puppets as "real." The way he and his fellow Muppeteers injected quirky humor and mannerisms into their performances ultimately brought the felted figures to life. Henson spent a successful 35-year career with the Muppets and his creations continue to thrive.
"Life's like a movie, write your own ending. Keep believing, keep pretending. We've done just what we set out to do. Thanks to the lovers, the dreamers, and you."
Jim Henson