Recently, Minecraft fever struck my house. All four of my children now play the game and one Saturday morning my kids showed me the houses, sheep farms, mines, and other creations they built in the game using blocks they mined or harvested from stone, ore, wood, or other materials. The buildings were creative, beautiful, and strong enough to survive late night monster attacks.
While Minecraft is relatively new, what strikes me most about it is how ancient the game play is. Play theorists recognize construction play as one of the oldest and most common forms of play. Real-life sandboxes make possible infinitely open-ended sessions of construction play while offering plenty of latitude for players to pretend with the miniature worlds they create.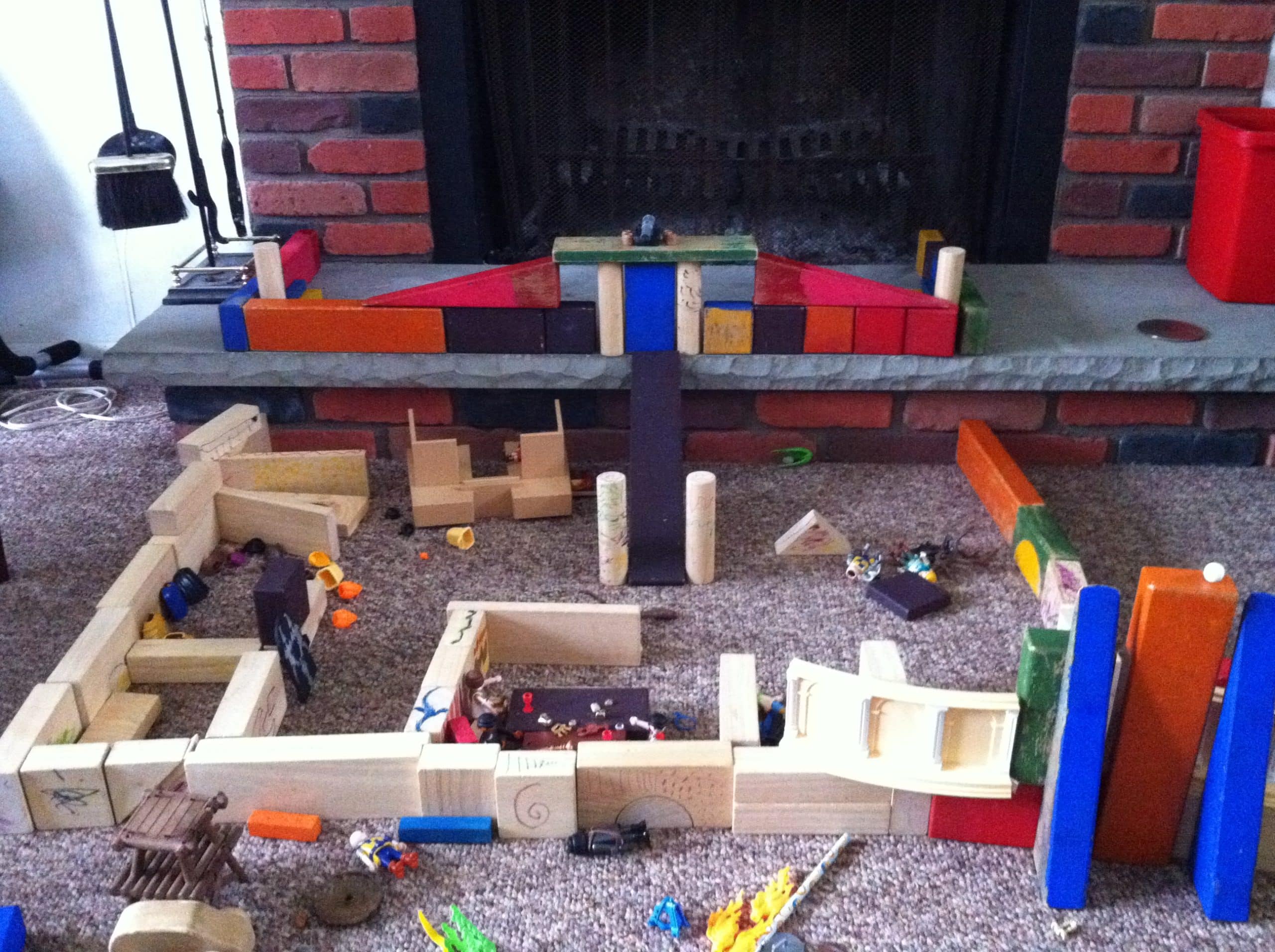 On that same Saturday morning, we also built a physical castle from building blocks (some from my father's childhood), Playmobil figures, and random stray toys. The motte-and-bailey fortress we made (shown above mid-construction) featured soldiers, stores, and plenty of enemies lurking outside the castle walls.
The building block has long been a favorite toy. In the 19th century, toy manufacturers such as F. Ad. Richter of Germany and S. L. Hill of New York City began to produce building toys in mass quantities for children. Soon vast quantities of construction materials filled children's nurseries—the physical playgrounds of middle-class and upper-class children. In the 20th century, Erector Sets, LEGO blocks, and other new forms of building toys delighted kids.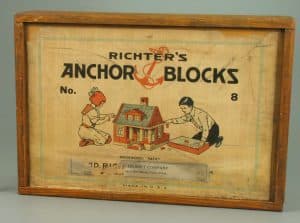 Perhaps no writer has so expertly captured the joy of building with blocks as the pioneering fantasy writer Edith Nesbit in her wonderful 1910 novel Magic City. In the story, Philip, a lonely boy staying in a strange house, uses the blocks, toys, and odds-and-ends he finds to construct vast cities. Nesbit writes:
Philip drew a deep breath of satisfaction, went straight up to the nursery, took out all the toys, and examined every single one of them. It took him all the afternoon.
The next day he looked at all the things again and longed to make something with them. He was accustomed to the joy that comes of making things….
By armfuls, two and three at a time, he carried down the boxes of bricks and the boxes of blocks, the draughts, the chessmen, and the box of dominoes.…
He cleared a big writing-table of such useless and unimportant objects as blotting-pad, silver inkstand, and red-backed books, and there was a clear space for his city.
He began to build….
He put everything you can think of into it: the dominoes, and the domino-box; bricks and books; cotton-reels that he begged from Susan, and a collar-box and some cake-tins contributed by the cook. He made steps of the dominoes and a terrace of the domino-box. He got bits of southernwood out of the garden and stuck them in cotton-reels, which made beautiful pots, and they looked like bay trees in tubs. Brass finger-bowls served for domes, and the lids of brass kettles and coffee-pots from the oak dresser in the hall made minarets of dazzling splendor. Chessmen were useful for minarets, too.
And the city grew, till it covered the table. Philip, unwearied, set about to make another city on another table….
He worked hard and he worked cleverly, and as the cities grew in beauty and interestingness he loved them more and more. He was happy now. There was no time to be unhappy in.
What a marvelous description of play! And what a marvelous explanation for why, when we build things in play—whether with blocks in a physical space or with blocks in the virtual world of Minecraft—we find such joy.
After all, when we work hard and we work cleverly and our creations grow in beauty and interest, we not only love them more and more, but we're happy, because we have not time to be unhappy in.
So Minecraft players, happy building, because when we play there's no other type.  
By Jon-Paul Dyson, Director, International Center for the History of Electronic Games and Vice President for Exhibits