Let's face it: When you're a grown-up, getting real mail can be terrible. (Look, another bill. Great, a reminder to get my teeth cleaned.) Occasionally you receive a nice letter-pressed wedding invitation or glossy gossip magazine. But when you were a kid? Getting mail was awesome. (Invitations to classmates' parties! Birthday cards with a $5 bill tucked inside!) For many children, holiday catalogs provided endless hours of entertainment. As an elementary school-aged girl in the 1990s though, nothing beat the day when the American Girl catalog showed up in my family's mailbox.
Pleasant Company, founded in 1986 by Pleasant Rowland, created a series of historical character dolls, each accompanied by six books. The original characters, Kirsten, Samantha, and Molly, each faced challenges based on the time in which she lived. Kirsten Larson's Swedish family immigrated to America in the 1850s, settling in Minnesota. Samantha Parkington lived in New York City at the turn of the 20th century. And Molly McIntire, whose father served overseas during World War II, characterized the difficulties Americans faced on the homefront during the war. Pleasant Company soon introduced other dolls to the historical line, including Felicity Merriman, a Revolutionary War-era patriot in Colonial Williamsburg, and Addy Walker, a formerly enslaved girl who escaped to Philadelphia with her mother during the Civil War.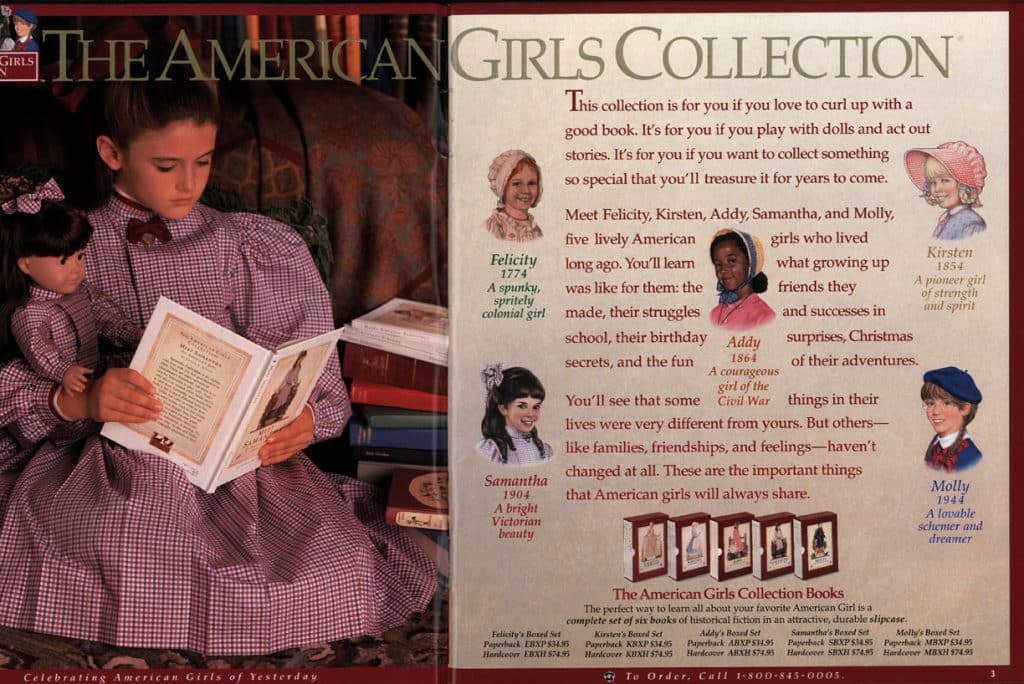 Each character's book series transported the reader to a different era in American history, conveying what it was like for a young girl to experience the events of that time. These characters were brave, caring, and resilient; their stories, somewhat sneakily, taught readers history with a personal touch. At the end of each book, a special section labeled "Looking Back" showed archival documents or photos of historical artifacts. (Some of those facts remain ingrained in my mind. From Molly's books, I learned all about "Victory gardens" and the symbolic colors of stars hung in front windows, denoting a family member serving in the war.) The Brian Sutton-Smith Library and Archives of Play holds many of the American Girl titles, as well as Pleasant Company and American Girl trade catalogs, in the library stacks.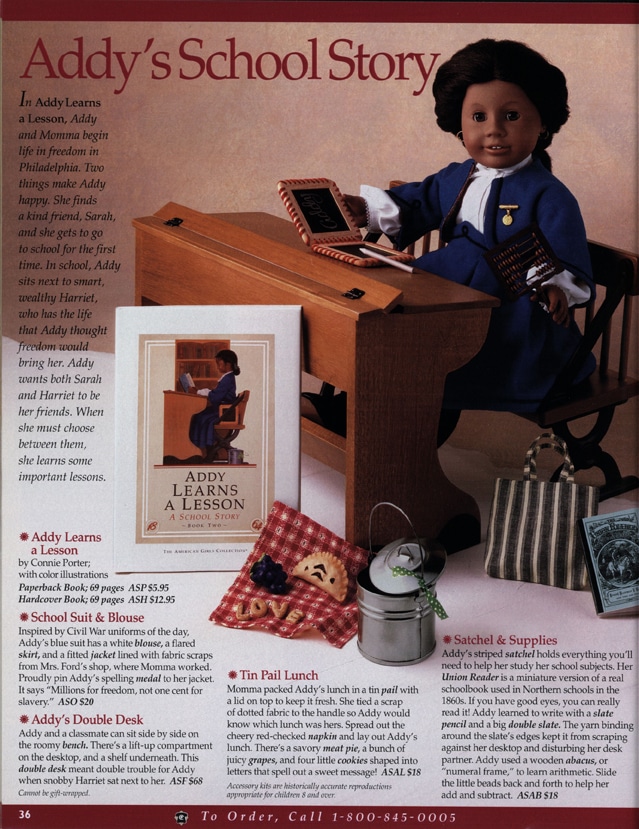 When the Pleasant Company catalog first arrived at our house and I saw the books' characters spring to life, I could hardly believe it. The catalog depicted each doll in a vignette from their books, with perfect doll-sized furniture, accessories, and key items from their stories. For example, items designed for the title Addy Learns a Lesson included Addy's school uniform, a tin pail lunch packed lovingly by her mother, a miniature replica Union Reader schoolbook, an abacus, and a double slate. These "historically accurate" reproductions were not limited to tiny accessories, but also included life-sized costumes which matched each doll. (For those of us whose piggy banks would never yield the requisite $80 for an 18" doll, there were craft kits, paper dolls, and the American Girl magazine.)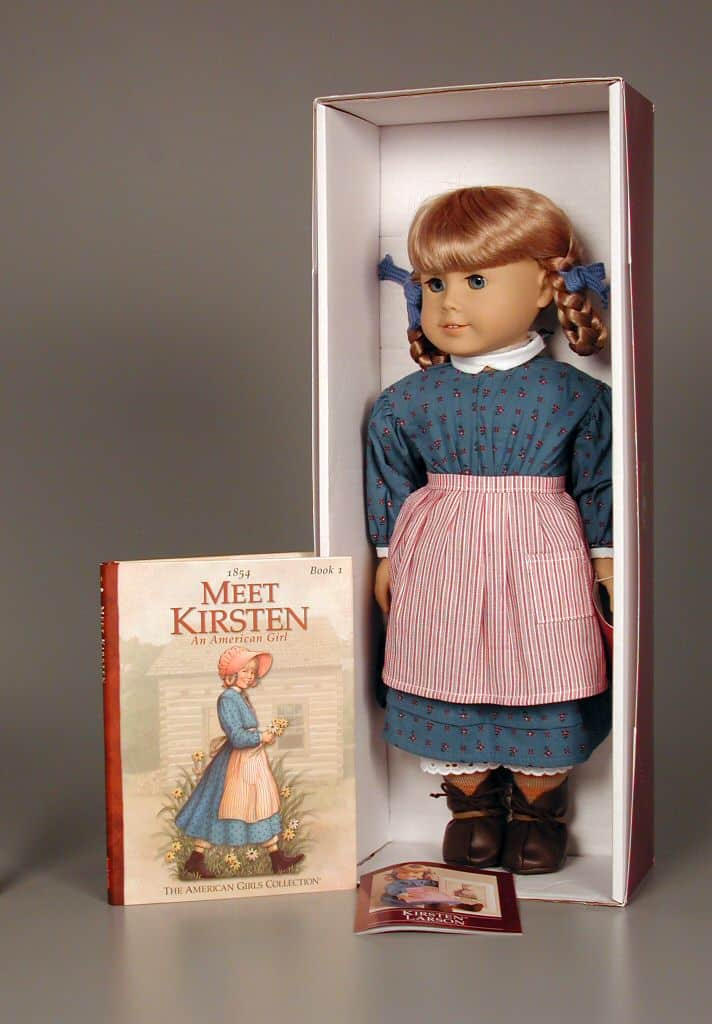 The American Girls series taught girls about cultural traditions, too. Though I never acquired my own American Girl doll, I have fond memories of a fourth grade tea party at my friend Jackie's house, inspired by Kirsten's Saint Lucia holiday celebration. Additional characters joined the product line, representing other major cultures (such as Native Americans and Jewish immigrants) and events in American history. In 1995, Pleasant Company began offering a customization option, in which you could create your own "American Girl of Today" doppelganger, complete with modern outfits and accessories.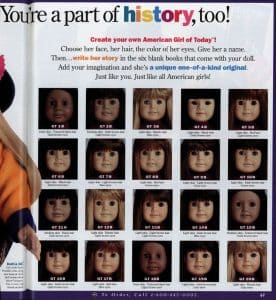 As I grew up, my dream of owning a Felicity or a Molly doll faded, but their stories never left me. (I know several fellow history majors who cited the American Girls as a springboard into the field.) Whether you favor the historical characters (many of whom have since been "retired" by the American Girl brand) or enjoy the current "Girls of the Year" line, there are lessons to be learned from each and every doll's back story.