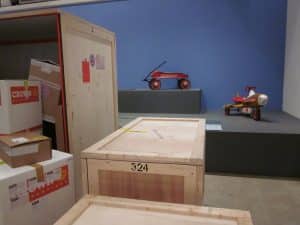 Have you ever wondered how The Strong uses artifacts not currently on display at the National Museum of Play? Scholars from around the world visit Rochester to study firsthand The Strong's collections, which are unique not only for their rarities but for their breadth and depth. Museums also borrow The Strong's artifacts for temporary exhibitions, resulting in travel opportunities not just for the objects but occasionally for the collections manager who so carefully coordinates their excursions (that's me!). Just such a request brought me to Helsinki, Finland, last month.
The exhibition Of Toys and Men appeared at the Grand Palais in Paris, France, in the fall of 2011 before traveling in February 2012 to the Helsinki City Art Museum. The Strong granted the exhibition curators' request for dozens of artifacts including dolls, transportation toys, and a pedal car. If we packed the objects to withstand jostling and fluctuations in temperature and humidity, the borrowers would transport them overseas and use them to illustrate a sweeping history of playthings. Simple, right?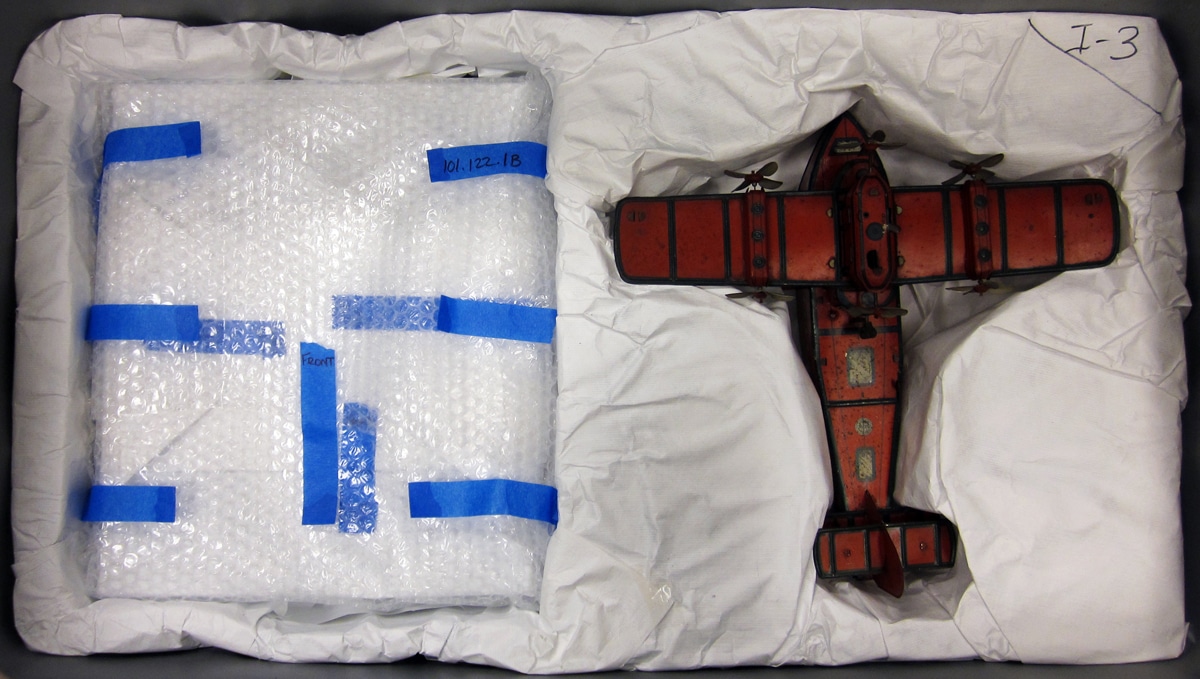 The Strong's conservator, Rick Sherin, cleaned and stabilized the artifacts before joining acquisitions cataloger Victoria Gray and me for several epic packing sessions. We nestled each artifact in layers of soft and rigid materials. After wrapping the objects in acid-free tissue paper and bubble wrap or Tyvek (the smooth nonwoven barrier material you might have seen wrapping new homes under construction), we cradled them inside cavities custom-cut from dense foam blocks with an electric carving knife. The foam fit snugly in durable waterproof plastic bins, which traveled in wood crates lined with additional shock-absorbing foam.

The artifacts withstood the traumas of a traveling exhibition and received professional care along the way, as I could see when I arrived in Helsinki to courier the artifacts back to Rochester. Art handlers transported the objects from their display cases to a well-lit workspace, where a conservator and I reviewed their condition. The art handlers packed them and sealed the crates for one final transatlantic flight.
A customs broker guided me through the security screening at the Helsinki Airport cargo terminal. The crates glided on a conveyor belt through an enormous X-ray scanner before a forklift operator hoisted them onto large metal pallets bound for the belly of the same commercial airliner that would carry me to New York.
Back in Rochester with my cargo safe and sound, I have resumed preparations for six imminent outgoing loans, including one of Will Wright's design notebooks destined for Australia. And while that crate was far too small to accommodate me or my wanderlust, I am delighted that The Strong's artifacts continue to reach venues on multiple continents.