By Adam Nedeff, researcher for the National Archives of Game Show History
This year, Game Show Network is treating fans to a blast from the past—the channel is launching a revival of Split Second, a tough Q&A game that enjoyed a three-year run on ABC with host Tom Kennedy in the 1970s. Split Second returned in the 1980s with executive producer Monty Hall pulling double duty as host. While it ran for only one season in first-run broadcasts, Hall's version is probably better known to game show fans because of how much it popped up in cable reruns in years after.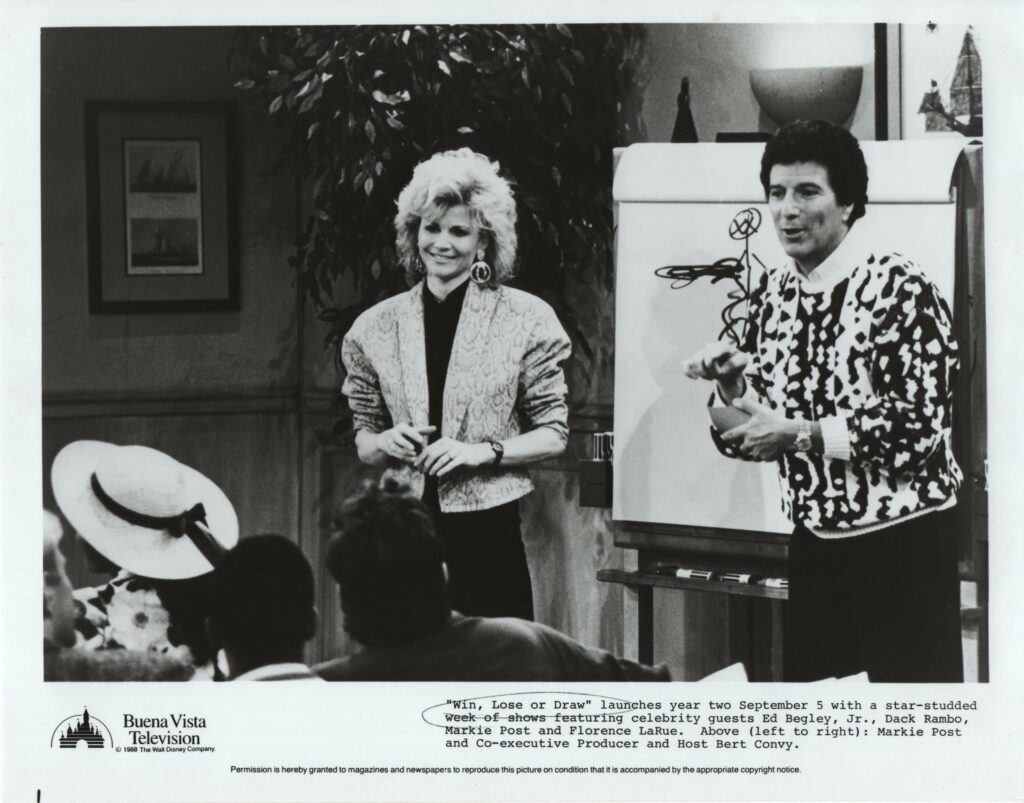 Meanwhile in 2023, NBC has enjoyed a breakout hit with another revival of an old favorite, Night Court. The 1980s sitcom has come back with a (mostly) new cast and the same classic theme, and it looks like it will be sticking around for a while based on the reception.
What do these two reboots have in common? The name Markie Post. For seven seasons, she was public defender Christine Sullivan, Judge Harry Stone's sometimes-love interest and Prosecutor Dan Fielding's constant target.
Before that, in 1973, Post was a question researcher for Split Second. In game shows, a researcher is a fact-checker who reviews the writers' material; they verify that the facts stated in the body of the question are accurate, and that the question is written in such a way that only one correct answer is possible. If the researcher discovers that some statement made in the question isn't actually true, or finds that the phrasing of the question means that some other thing is a viable correct answer, it's sent back to be rewritten.
In 1983, while being interviewed by Johnny Carson, Post talked about her time as a Split Second question researcher. She said, "I had four years of college education, but two years of [Split Second] was more than I learned in college. I just read books all day!"
Split Second may have been Post's first on-camera appearance. When the series was cancelled in 1975, Monty Hall & Tom Kennedy ended the series by bringing the staff onstage to take a bow. Among many of her co-workers, Post walked out and shook the boss' hand while Hall thanked her for her service.
From there, Post took a job at Goodson-Todman Productions, which used her as something of a jill-of-all-trades for their various shows. For a time, she worked for The Price is Right, tasked with finding unusual prizes for the show (among her finds was a lucite piano). From there, she was associate producer for a short-lived dud from the company, Double Dare (not to be mistaken for the more famous Nickelodeon game of the same title) and brainstormed questions to ask survey groups for Family Feud. Eventually, she moved in front of the camera, dealing the decks for Card Sharks. 
She departed in 1980 to focus on her blooming acting career, getting her big break on The Fall Guy before moving over to Night Court. And then it was right back to game shows. Not as a researcher or a prize finder. She was a full-blown guest star, appearing on a slew of '80s games, including The $25,000 Pyramid, Super Password, The Match Game/Hollywood Squares Hour, and Win, Lose, or Draw. She was good on those game shows—and game shows were good to her.
DO YOU REMEMBER…THESE OTHER STARS WHO GOT THEIR START BEHIND THE SCENES?
NEIL SIMON—Before making his name as part of the phenomenal writing team behind Your Show of Shows, Neil Simon whipped up some of the wacky stunts that contestants had to complete on Beat the Clock.
JAMES DEAN—But first, those stunts had to be tested to make sure they were possible. Nobody wants to watch contestants struggle with an unwinnable stunt. James Dean, a starving actor looking for his first break, made money by coming to the Beat the Clock theater each week to perform the stunts that the writers had created that week, just to see if they could be done.
JOHN MOSCHITTA JR.—Speaking of beating the clock, here's a man with quite some talent for that. Starting out as a production assistant for Shoot for the Stars on NBC, Moschitta went onto fame for his strange talent of speaking very quickly. Clocked by the Guinness Book of World Records at 586 words per minute, Moschitta would become a favorite for advertisers who had a lot to say. Depending on your age, you might remember him as "the guy from the Federal Express commercials" or "the guy from the Micro Machines commercials."